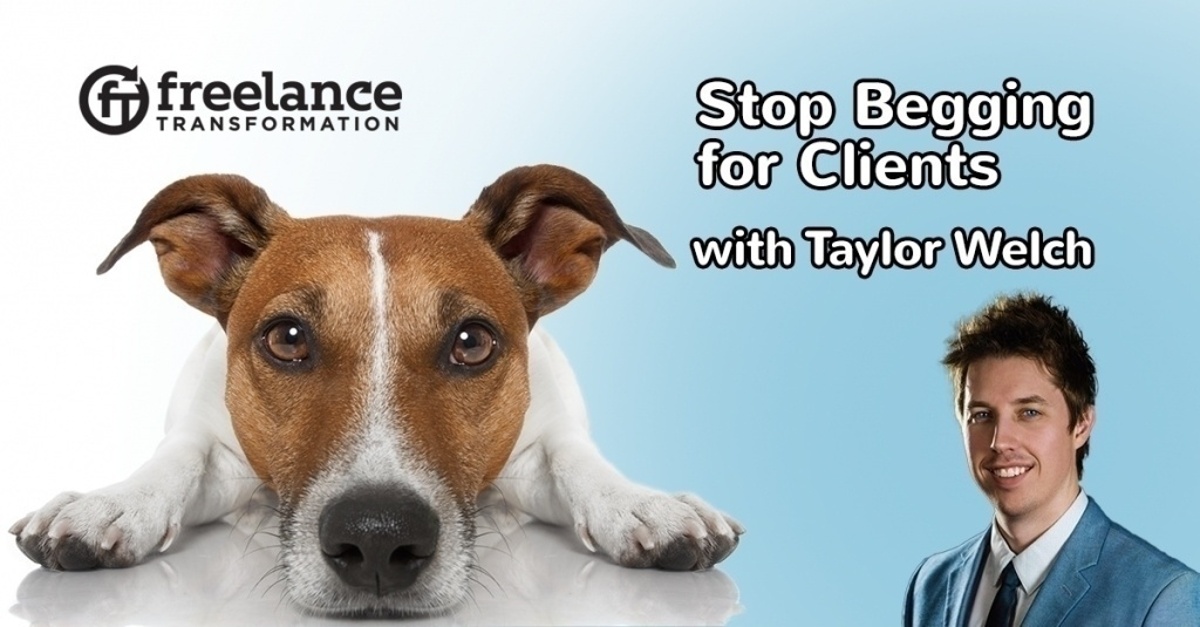 FT 106: Stop Begging for Clients: Get Prospects to Come to You with Taylor Welch
In FT episode 101, Chris Evans, from Traffic and Funnels, laid out a strategy for using paid traffic to get clients for high-ticket services (a service that is at least $10,000). Chris's business partner, Taylor Welch, shares how to convert the prospects coming from the paid traffic funnels and other sales funnels into paying clients.
Taylor shares the three steps to his sales process, how to attract the right prospects who can benefit from your services, how to prompt prospects into recognizing that they have a problem that you can solve, how to close a sale through honesty and recognizing whether a prospect is a good fit, and how to set expectations so you have happy clients.
Listen now:
Listen on iTunes Listen on Stitcher
Podcast RSS Feed | Download MP3
Taylor shares with us:
Taylor became interested in marketing when he was helping his then girlfriend, now wife, promote her hair salon. Then Taylor got some more marketing clients on the side, all while still working a day job.
He got his first client from a sales group on Facebook. He posted a pitch on a group made up of freelancers and entrepreneurs. The pitch, something like "I will rewrite your copy for free, and it will increase your sales ...", went viral, in the worse way possible.
"The process was extremely humiliating and embarrassing."
The response to his post was very negative: "You need a copywriter to write your pitch," "What is it that you actually do?" But one person did reach out to him to write landing pages and an email sequence, etc., for $400. At this point, Taylor didn't even know how to take the money so his client had to set him up a paypal account. When it was over, the client didn't even use his copy.
But, Taylor felt like he was on top of the world. $400 and not from going to work!
"It was so empowering emotionally and psychologically."
Taylor realized that he needed to invest in himself, such as how to sell himself and how to close a client. The investments allowed him to grow much more quickly than if he were on his own and doing trial-and-error through client projects. The next client went much more smoothly. He figured out the process: what the client needs, getting them to understand that Taylor understands them, and if it is a good fit, building the client relationship.
After 11 months of working and freelancing, he realized that he was losing money going to work because he could make so much more freelancing. So he quit his day job and started freelancing full time.
Taylor's process for closing clients:
There are three parts: Pre-close, Close, and Post-Close.
Pre-Close:
Pre-close is marketing. You help the prospect self-identify where they are stuck and come to you understanding that they need help. And also letting them know what problems you solve.
Seed the costs of inaction. You explain what the problem is and what will happen if they ignore it and barrel ahead anyways. You are not telling people how to fix the problem.
At this point, you haven't talked directly to the client yet. This is an offering such as a pdf or email sequence, or article that prospects will read and self-identify with.
Close:
If you haven't already, make people apply to work with you! An application makes sure that prospects know that there is a greater demand for you than there is a supply of you. Even if that's not true yet, once you get going, it will be true.
The most important part of the sales process is that the client is a good fit. You should not take a client if you cannot help that client.
"The goal of this call is to figure out what is best for you. It might not be working with us."
If it is a good fit, then you say that you think that you can help them and explain what it is that you do. If it is not a good fit, then you say that you aren't a good fit right now. They need to do some things first in order to benefit from your services later on. 50-60% of the time, Taylor will refer clients to someone else because they aren't a good fit.
Helpful Tactic: Tell the prospect what you are going to say and ask if that is ok. Then the prospect will feel involved and think that it was their idea.
This is Taylor's sales process: It's about making sure that the prospect knows that you understand them, compared to actually understanding them. Ask about who their customers are, what services or products they sell, what their current and future revenues are, and the critical question: "What do you feel is stopping you from getting from where you are to where you want to get to?"
Then wait. They will start talking. At the beginning, it feels like a sales call, but then there is a shift where the client feels like they have to prove their business to you.
"People will make investment decisions when it's simple and when it's clear."
At this point, you present your offer and what you do to help people. Make the offer sequential and super clear so the prospect knows exactly what the steps are to get to a solution.
Next, you have to handle the objections.
Taylor's advice: Don't talk! The prospect is probably thinking through things in their head to decide whether they want to work with you. So the prospect says, "That's a lot of money." That wasn't a question, that was a statement. Don't answer it! Don't sell to them. Let them get to the sweet spot on their own.
"The best form of proof is simply confidence and authority."
Post-Close:
You need to set expectations upfront so the client understands exactly what they are getting and how it's going to be delivered. When the client has the same expectations as you do, then you will hit the target every time and have happy clients.
Example of bad expectation setting: "I'll write this copy and you'll get 1,000 sales in the next month and you'll be rich." That person is going to refund because the expectation is not going to happen.
Instead, be honest: "We are going to test it in the first 60 days. It might not work, it might work. You are investing into me to get the best chances of success right out of the gate. But this is what I do. So if it doesn't work, we are going to tweek it and tune it until it does work." This tactic is much better client retention.
Taylor then built a system to get information from the clients and build expectations. He would send a video congratulating them on their wise investment and reinforcing that they made the right call. He also had worksheets for them to fill out to tell him about their business, their products, etc. He would have deadlines for the client to fill out worksheets so he can have the project done on time. He emailed every week to keep the clients in the loop so they never felt like he disappeared on them.
People want results, but they also want to feel like they are being taken care of. It's an emotional investment as well. Cater to that.
Decide what kind of client is right for you:
Being a generalist is difficult. It is much easier to figure out who a good client is if you know the type of problem you solve for a specific type of person. Specialize around a problem, not a specific industry.
For example, Taylor and Chris help freelancers, service providers, coaches, and consultants create high-class, high-value offers and build acquisition systems to dominate that market and create consistency. Taylor knows that their system only works for people selling something for at least $1500.
Final Tips:
Don't take a client that doesn't have a proven product.
If you can help that person, then it's a good fit. If you can't help the person, it's not a good fit.
Resources Mentioned:
Find Taylor Online:
---