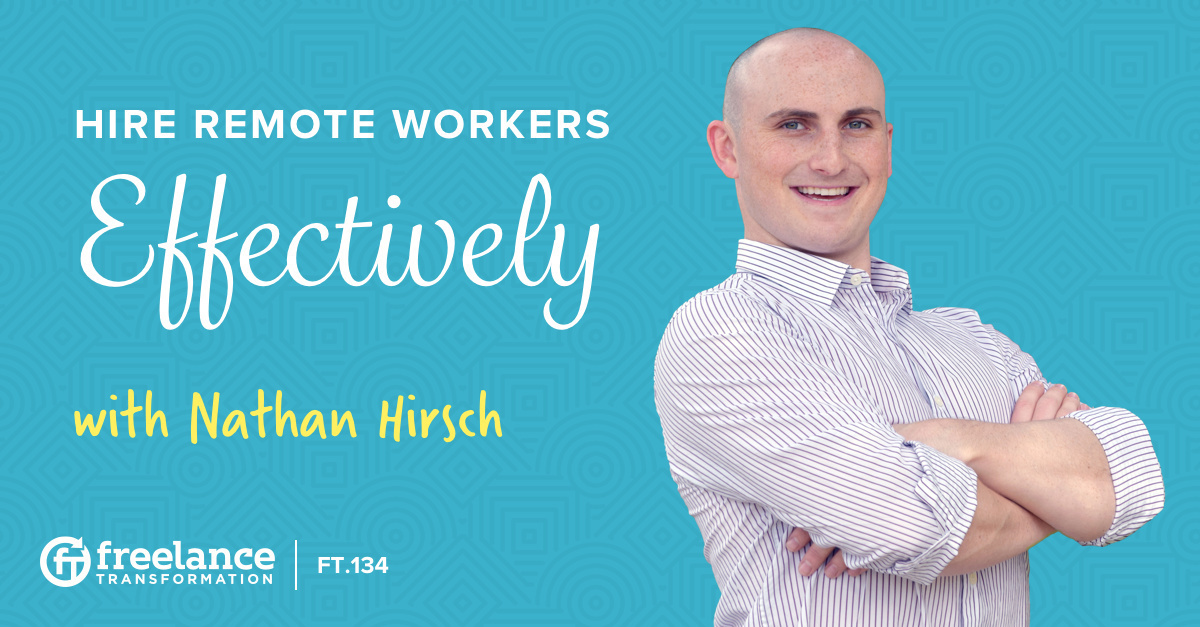 FT 134: Hire Remote Workers Effectively with Nathan Hirsch
This episode of The Freelance Transformation Podcast speaks to anyone managing a remote business who may just need an extra pair of hands. Nathan Hirsch, is the founder of FreeeUp, a marketplace that specializes in pairing up freelance business owners with their ideal remote workers from around the world. He created a four-step vetting process based on his own hiring strategies in order to help other freelance entrepreneurs build and manage their own remote team of employees. Whether you've just decided to scale your business or you've been working with a remote team for years, Nathan has advice for every stage of your business – starting with how to hire. Nathan Hirsch also founded Ecombalance.com, a monthly bookkeeping service for Ecommerce Sellers/agencies and OutsourceSchool.com where he teaches his hiring processes.
Listen now:
Listen on iTunes Listen on Stitcher
Podcast RSS Feed | Download MP3
Nathan shares with us:
A Faster Place to Hire
Nowadays, there are so many places online where you can find freelancers for almost anything. Writers, developers, even social media managers can be found on any number of job posting websites. You're probably familiar with the routine of posting a job to any one of these sites, waiting for people to apply, and then personally interviewing each of your favorite applicants individually. This can be effective, but it isn't really efficient, and that's what Nathan was looking to fix when he created FreeeUp. He saw a need for a faster and more economical way to connect clients with remote teams of talented people, and he created just that.
Whenever you think you should do it better or can do it better, that's when you start your next business.
Nathan hired hundreds of freelancers over his entrepreneurial career, so he knows first-hand how time-consuming and expensive it can be to search and interview all on your own. Creating a process that does all of this for you was Nathan's plan. He has implemented hundreds of effective hiring processes that consistently produce quality working relationships between his clients and the freelancers he connects them with.
I've been on both the client side and I've been on the worker side, so I know what people like and what's reasonable.
How to Hire the Right People
Nathan looks at these top three specific things when he interviews freelancers: skills, attitude, and communication. These are his top three because they are unique to working with remote teams of employees. When you aren't working in an office with someone every day, you don't have the luxury of watching them work or communicating with them directly. That's why checking references is key to verifying the skills of a remote freelancer. Nathan also advises looking at your freelancer's track record and noting the reviews previous clients have left. He further breaks down his skill-testing process and includes tips for catching red flags that reveal someone isn't as skilled or as happy in their work as you initially thought.
There's a time and a place for a five-out-of-ten worker and there's a time and place for a ten-out-of-ten worker. As a business owner, you need to be able to know who's a ten-out-of-ten.
Attitude plays a huge role in whether or not Nathan hires a freelancer for his business. It could even be more important than their skills, he argues, because the bad attitude of one person can start to negatively affect your entire team. Nathan believes someone with a bad attitude is less likely to communicate regularly with their team or their clients, which is very bad for a business that works predominantly online.
Hiring the right people for your remote team isn't as hard as you think. Nathan talks about the mistakes he made so you can avoid them, and he dives right into all of the processes he's put in place to guarantee that he hires the best people. There are tricks to testing people skills, checking out their references, and watching how they communicate during the interview process that will help you narrow it down to the best match for you and your business.
Hiring Around the World
Don't be intimidated by hiring a remote team from around the world. Building a remote team online means you have a huge hiring pool to choose from, and you're going to connect with people who have skills and experiences you never considered before. Diversity can do amazing things for your business, and it's a big reason why Nathan and many other entrepreneurs prefer to work with remote teams from all over the globe.
Having a remote team, besides saving you money, just has a lot of benefits…you get access to talent from all around the world but you also get to diversify.
The opportunities around the world are endless, and Nathan shares his own personal opinion on the pros and cons of working with different types of freelancers. You'll be hiring people from other countries, cultures, and time zones, and his input will prove to be very valuable.
Managing a World-Wide Team
Out of Nathan's top three, communication plays the biggest role in team management. Communication is so important when you're working with a team scattered across the globe, and Nathan discusses which apps and software work best at keeping in touch with your team.
The way you communicate with your freelancers will be what defines your business relationship. Your freelancers can live in different time zones and work with an array of different clients who have different expectations. That's why it's important that you communicate all of your expectations up front. The person you hire wants to work their best for you, but it's up to you to let them know your personal version of best.
Over-communicate at every possible level and constantly repeat yourself over and over.
Communication is the only way you can guarantee high-quality work, Nathan says. Breaking down your process and repeating your expectations is the best way to make sure you and your freelancer are on the same page. Because communication means something totally different when you're working remotely, you need to consistently and politely provide feedback so your team knows that it's okay to ask questions and communicate their updates with you. Making yourself available with open methods of communication is key to successfully managing a remote team. Nathan himself has five remote assistants that maintain his methods of communication, including email and Skype accounts. That's something to consider if you're looking to build a worldwide team.
Resources mentioned:

Find Nathan Hirsch online:
---