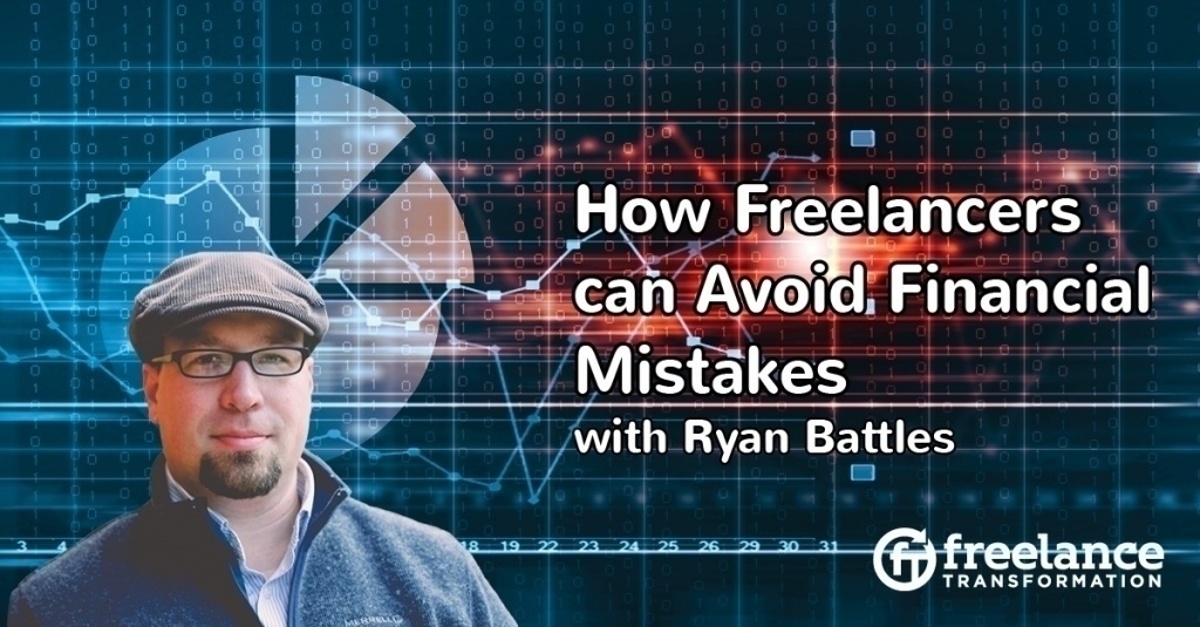 FT 062: How Freelancers can Avoid Financial Mistakes with Ryan Battles
Getting paid and seeing that bank account go up is a very rewarding part of freelancing. But are your finances on track? Are you leaving time for both billable and non-billable work such as marketing, bookkeeping, billing, and so on? Do you know if you are going to be financial solvent three months down the road?
In today's episode, Ryan Battles, expert on freelancer finances and co-founder of Harpoon, shares how freelancers keep their finances on track, the big financial mistakes to avoid, which billing methods work best for freelancers, and where money fits into life.
Listen now:
Listen on iTunes Listen on Stitcher
Podcast RSS Feed | Download MP3
Ryan shares with us:
How to keep your finances on track:


Ryan used to say that he tries to make as much money as he can, but he never really knew if what he was bringing in every month was enough to cover all his bills or save for what he wants. Now, Ryan has a set yearly goal broken into monthly goals to help him see exactly how much he needs to make each month to keep him on track. If he is behind a month, he knows that he has to bring the hustle. If he is ahead, he might be able to afford a couple days off.

Having yearly goals removes the emotional biases of being an entrepreneur. If you just closed a big sale and feel good that your bank account went up, you may relax your selling, which is fine if you met or exceeded the monthly goal. If you are still behind on your monthly goal, you need to pat yourself on the back for this success, but keep hustling.

Biggest financial mistake to avoid: Not understanding what your costs truly are.


There is a big difference between billable and non-billable work. Billable work is that stuff you can charge the client for directly. This is what most people do when they go to a job. As a freelancer, you don't spend the whole day working explicitly on client work, at least you shouldn't if you expect to have work in the future. You also need to spend time bookkeeping, invoicing, marketing, and planning for your business. You can't charge the client for this stuff.

So how do you figure out what your costs are? Start tracking your time. Ryan finds that a productive day means 4-6 hours of billable time and adjusts his rates to account for his non-billable time. The exact split between billable time and non-billable time varies person to person. If you have a higher rate, you can spend more time getting clients and working on business development. If you have lower rates, you have to spend more time directly on billable work.

What happens if you know work is going to dry up in 3 months?!


First off, don't panic. You won't sell well if you are perceived as desperate.
Start focusing on client outreach. This could be calling up people you have met at conferences, or clients you worked with in the past and telling them that you are looking to fill up your schedule. Is there anything you need done? Ok, some clients will get back to you saying that they have something that needs to be done now or even two days ago! Those are clients you may want to avoid. Clients who schedule in advance are often better clients because they are planners, are patient, and have respect for you and your time.

Use your emailing lists and social networks to find potential clients. Always be producing content in blogs or speaking engagements because you get a step up when they already know who you are and you don't need to prove yourself.
Resources Mentioned:
Find Ryan Online:
Use the coupon code: TRANSFORMATION for 50% off your first month
---