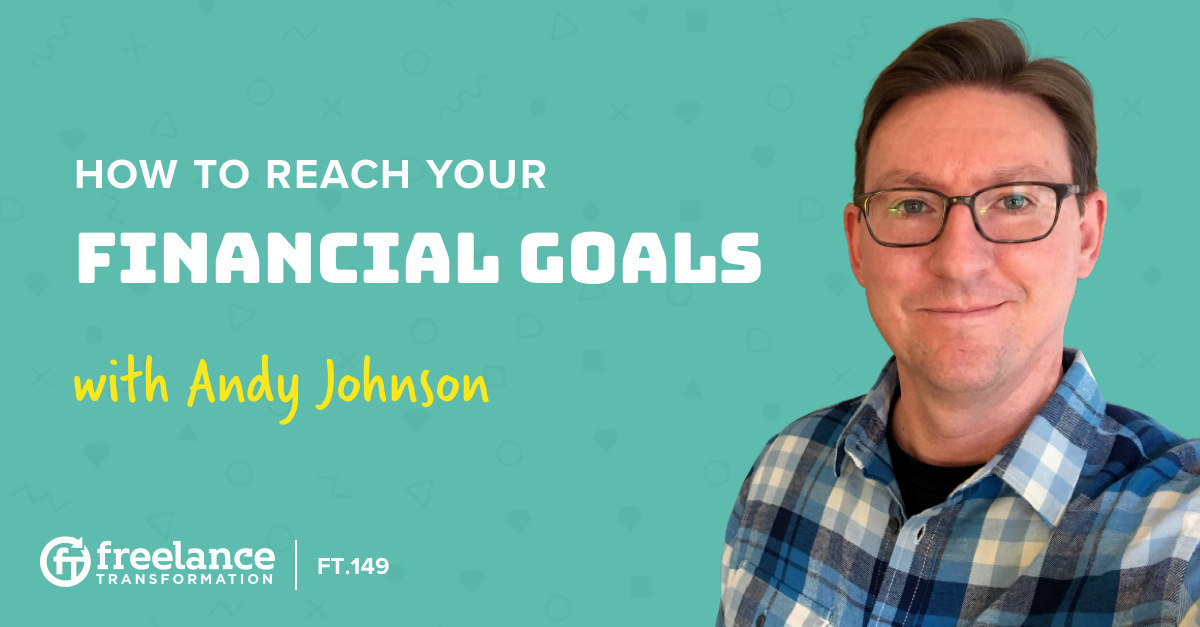 FT 149: How to Reach Your Financial Goals with Andy Johnson
Andy Johnson is a UI/UX design director and the creator of Harpoon, a finance management app for freelancers. He's tested out his own financial theories, and he's here today to talk about goal-based financial planning and how this strategy can help you meet your financial goals this year.
Listen now:
Listen on iTunes Listen on Stitcher
Podcast RSS Feed | Download MP3
Andy shares with us:
If you're trying to figure out your financial goals for 2018, remember that you are a freelancer. You're not an employee. You are the boss of your own business, and that comes with its own unique challenges and financial burdens.
How to Set the Goal
Andy takes us through his first year of freelancing. He shares all of the ups and downs and how his big mistakes helped him and his wife come up with what they call "The Big Number". This big number is their annual financial goal. Figuring out that goal and setting an achievable plan to meet it was no easy feat, and he shares what he learned during the process.
The worst part of that first year was the overall lack of predictability. It was just like stepping off of a bridge into space and not knowing what to expect.
In order to figure out that big number, Andy made specific and realistic financial goals for his business. That means for you, it's time to sit down and work out exactly what it's going to cost to keep your business and your lifestyle running smoothly. You want to envision the broader picture of what is possible for your expenses, your investments, your savings, and anything else you want to achieve financially.
This yearly financial goal reflected what the actual lifestyle was that we wanted to live.
Rather than letting your business run you, it's time for you to run your business. Setting financial goals like Andy is the first step to taking real charge of your budget and your business. It may sound intimidating at first, but Andy has some strategies for setting and breaking down goals so you can come up with a financial plan that works for you
How to Achieve that Goal
Once you set that goal, you can start figuring out how to achieve it. Andy's advice is to work backward from that goal and break it down piece by piece. You may want to break it up into monthly goals, or even quarterly goals, whatever math is easier for you. But do it in a way that allows you to turn your big financial goals into something you actually visualize and manage.
When you aren't an employee, the expenses of the business become your personal expenses. That is definitely intimidating, mostly because it always ends up being more expensive than you think. Being your own boss is more than just working. You have to be a manager, a bookkeeper, and sometimes an employer in order to make your business run. Budgeting for these business expenses means changing your business behavior. A new mindset comes from creating goals that are based on something real and tangible.
After digging into it, I realized that these are just expenses that are necessary for running a business so buck up and tackle it and see what you can do.
When you understand what your finances mean for your business, it becomes much easier to achieve them. Knowing where your money is going and what you are actually investing in turns your financial plans into something you can see, hear, touch, and feel.
How to Maintain Your Goals
Achievement is more than just making an annual income. You want to be able to maintain your financial goals for the long-term. Nothing happens overnight. And none of this success will even happen in a month or two. It's going to take you at least a year to get into the rhythm of building your business. The ups and downs are normal, and your income is no different.
Give yourself a lot of leniency that first year to experiment and try different things and not get too bummed out if you're not perfectly executing your goal-based plan.
It's easy to maintain your goals if you can continue to make improvements to your financial plan. The more you learn, the more your goals will evolve. Whether you're learning from your mistakes or taking advice from colleagues, you will get to the point where you can create multi-year goals that are easy to visualize and even easier to achieve.
Learning from his own financial planning mistakes is how Andy thought to develop Harpoon. The app helps other freelancers design, visualize, and achieve their financial goals by breaking them down piece by piece. Big annual numbers can become manageable monthly goals that will set your freelance business up for exponential growth. If you need guidance setting your financial goals this year, tune in now and hear how Andy determined his own financial goals.
Find Andy Johnson Online:
---