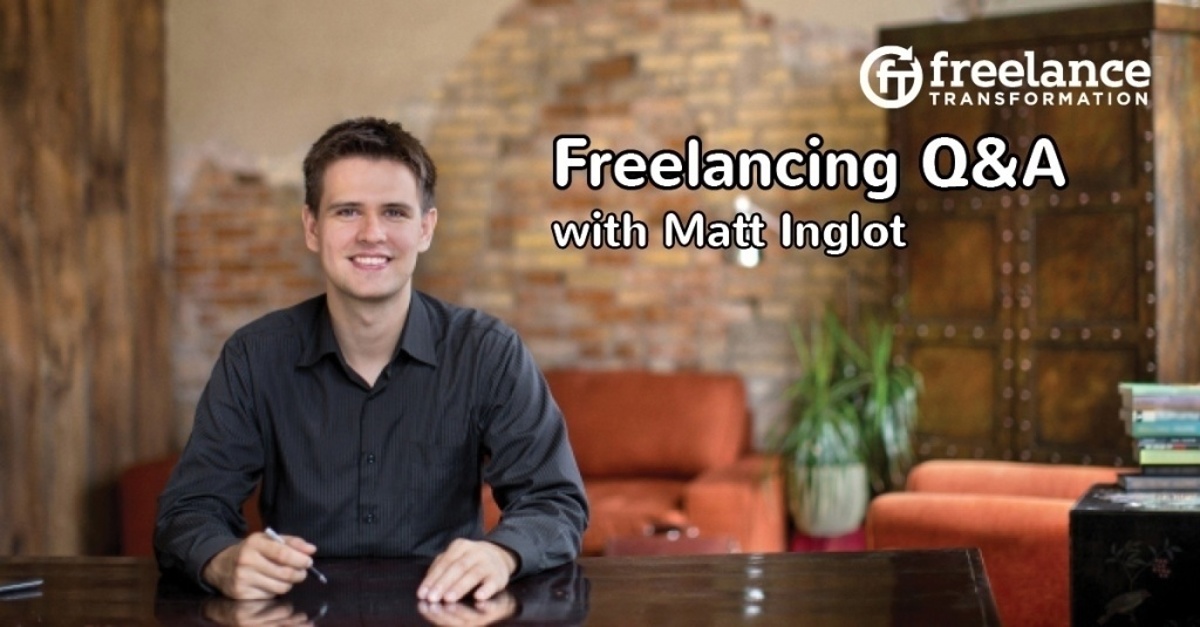 In this episode, Matt answers some of the frequently asked listener questions about freelancing.
Does working remotely mean no local clients?
How do I start getting clients?
What is a fair price to charge?
How much time should I spend on client work?
Listen now:
Listen on iTunes Listen on Stitcher
Podcast RSS Feed | Download MP3
Does working remotely mean no local clients?
Many freelancers have gotten into freelancing because they want the freedom to work anywhere in the world. Laura Elizabeth shares her tips on how to find clients while working remotely, in FT 076.
But, there is a misconception that if you work remotely, you must depend on the internet to find clients and that the clients will be remote.
However, working remotely is not at odds with having local clients. You can start building connections locally that can link you to global clients. You can agree with your clients that you will mainly communicate through online means rather than onsite meetings, even if you are local. And of course, you can still use the internet as a tool to get remote clients.
Brennan Dunn talks about how he got started with local connections that linked him to clients around the world in FT 075.
Michael Roderick, in FT 079, shares great tips on how to effectively build connections and earn referrals from your network.
How do I start getting clients?
Start talking to people and tell them what specific problem your services solve and who could benefit from your services.
When you go out to talk to someone, be very specific about who you target. If you are vague, such as saying "I build Wordpress sites for small to medium-sized businesses," then the person you are talking to won't know how to help you.
However, if you are specific, such as "I help real estate agents find home buyers online," then the people you talk to will know exactly who they can put you in touch with, realtors!
Need help figuring out your niche, try the Freelance Niche Finder. And follow through with the email course Find and Win Your First Freelancing Clients.
What is a fair price to charge?
Is it ethical to charge $100 per hour? It all depends on the amount of value you create for your client.
Let's look at an example. First, there is company A that pulls in $10 million a year in sales. Then there is company B that pulls in $10,000 a year in sales. If your work could increase sales by 10%, then company A would make $1 million more per year, while company B will make only $1,000 per year. It would be completely ethical to charge company A $100,000 for that project, which is 10% of the extra profit that your work gained for the company. But it would not be fair to charge company B $100,000, since that would be a negative return on investment for company B.
Notice that this example deals with the cost of the whole project and the value that the project gives to the client. The example does not break it down into an hourly figure, why? Because it is a fatal flaw to believe that a dollar figure per hour is somehow the way to measure the value of someone's services.
For more about pricing and the flaws of hourly pricing, check out Jonathan Stark's book, Hourly Billing is Nuts. And while you're there use the code MATTSENTME to receive 30% off <3
So what is a fair price? It's actually any price that is fair to you, meaning that you are earning enough that you are happy to do the work, AND it's fair to the client, because they are earning a high enough return on their investment to make it worthwhile. ANY number that meets both criteria is fair, and it really doesn't matter what that works out to on an hourly basis.
How much time should I spend on client work?
As a freelancer, you are not only doing client work, but you are also running a business. You need to make time for both. How much time? Exact hours will depend on your personal goals and how far you are in your freelancing career. In terms of percentages, 50% on client work and 50% on running the business, marketing, sales, and everything else.
Each freelancer allocates more or less to client work and running the business, in one direction or the other, but the main idea is that you can't neglect either. This is really important when you start calculating your rates.
You shouldn't assume that you will be working 30-40 hours on client work every week because this won't leave enough time for working on the business. You will find yourself working much longer than expected if you do client work for that 30-40 hours and business work on top of that. Or, you will find that you aren't earning as much as you expected if cram business work into that 30-40 hours a week.
Resources mentioned:
Other Announcements and Notes:
Matt is speaking at Up Conference on October 13 in Vancouver. Check it out!
---