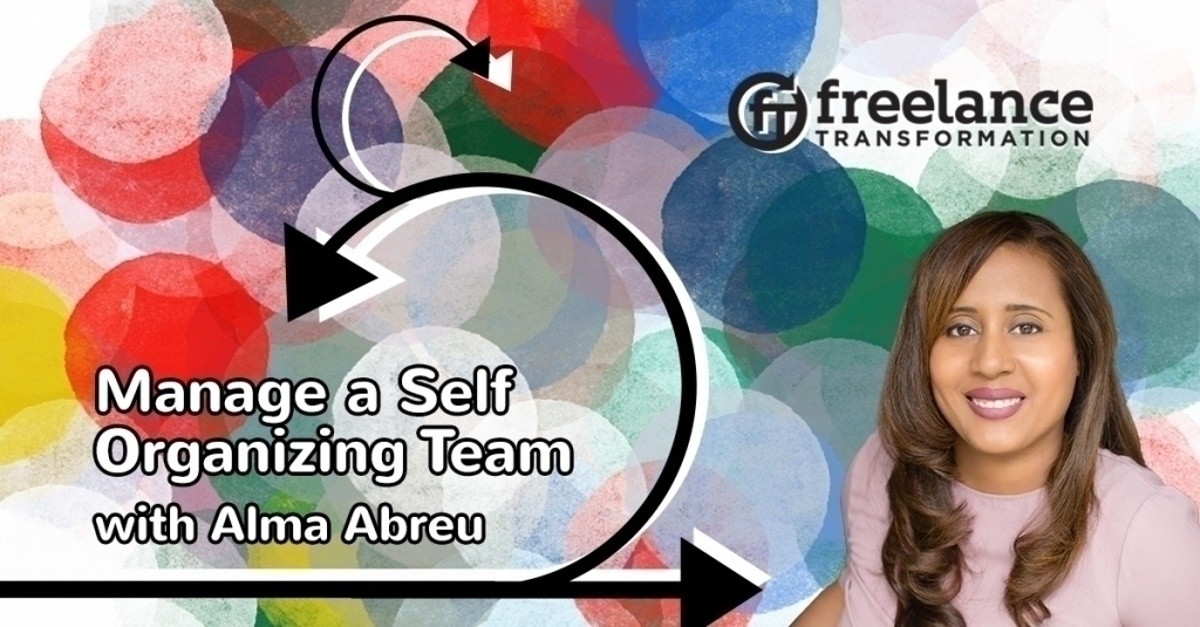 FT 109: Manage a Self Organizing Team with Alma Abreu
Alma Abreu, from 360 Agile Pro, is a project management pro and specializes in showing small business owners, start-up founders, and entrepreneurs how to manage a virtual team and how to do project management for service based businesses. She also owns a content marketing business where she applies all of the best project management strategies, allowing her to take a step back from the day to day business management.
Alma shares her story of stumbling onto her perfect niche, trying to do it all herself, getting overwhelmed, and then hiring freelancer writers and editors to complete the content work. Alma went beyond just removing herself from writing content to creating processes to manage her virtual team and training a virtual assistant to do the project management, allowing her to pursue the lifestyle she wants.
Listen now:
Listen on iTunes Listen on Stitcher
Podcast RSS Feed | Download MP3
Alma shares with us:
Alma was a database and business analyst for various companies. But around 2009, Alma took a break from contracting and consulting and started writing articles as content marketing for companies as a freelancer.
After a while, Alma began to feel burned out and overwhelmed with the writing and managing social media. At this point, she was writing in English and finding clients on online job boards. She hired 4-5 freelance writers to help with the demand, but still felt overwhelmed with the day to day running a business:
"It felt like I had to do everything. I was running the business, managing the writers, editing every blog article, doing the admin, doing the marketing, trying to get more customers at the same time to grow."
But this was not the type of life she wanted to live. She was so burnt out that she had to leave it and got a regular job as an IT project manager. The change allowed her to gain certification as a project management professional (PMP), and in Agile.
Fast forward, a client from her content marketing days contacted her to produce content in Spanish, her second language. Alma stumbled into this unique niche, Spanish. There was so much demand for Spanish content that it became a viable business for her.
Alma developed a team of writers to make custom content in Spanish, not just translated. Spanish is a huge market and is the second most spoken language in the world, after Chinese. Alma was surprised to find that there was so little competition in the Spanish sphere compared to the highly competitive English marketing.
Building a team
Alma knew her limitations in Spanish as someone who was brought up in an English school system. So pretty quickly into starting her Spanish niche, she hired writers, editors, and a translator who knew grammar and spelling in Spanish. First, it was freelancers and virtual assistants. Now, she has 3 full-time writers and 3-4 additional team members as needed.
Alma used her project management techniques to automate her business. When a client needs something special, Alma's VA finds freelancers with the skills needed. Again, that's her VA that manages the team, not Alma. She trained her VA in project management and now she doesn't have to do the daily chores and housekeeping of her business.
Alma also has a training guide for every new person who joins the team. Further training is done through the VA, not through Alma.
"I believe in training the trainer."

Alma holds weekly online meetings with her VA so she can manage the VA's workload. The VA manages the team through a weekly online meeting with all the team members.
Alma uses Trello to list out repetitive and special tasks, with due dates, that the VA and other team members need to get done. Having clear due dates is key, especially when team members are all over the world and living in different time zones.
Just setting up tasks and due dates isn't enough. You also need a process to check up on the progress of the tasks. The weekly meeting with the whole team is really useful for the VA to follow up with other team member's tasks.
At the beginning of on-boarding a new client, Alma sits down and sets up all the deliverables and timelines for that client's project. These tasks are revised at the beginning of each month with specific due dates and subtasks, and assigned to team members on their Trello boards.
Self-Organizing Teams
A self-organizing team is an agile concept in which the team takes ownership of their own tasks. To accomplish this, Alma works hard to ensure that the team has a creative environment and they have a chance to develop camaraderie with one another, even though it is virtual. The weekly team meetings then have an aspect of creating a culture of teamwork and belonging.
They also need to have the tools so there is visibility in how their work fits into the business value for the customer.
One way to make sure that everyone knows the business value is to create a roadmap of the project. You start by gathering features and user stories. For example, a feature might be a membership login. The user story is "I need to be able to login to see the dashboard so I can access the online courses." Now everyone on the team understands the end goal of the project and knows where their work fits in.
Documenting Processes
Alma uses dropbox or google drive to document the standard operating procedure (SOP), explaining the processes of things that you do all the time.
For more complicated projects, especially development projects, you should also have a product backlog, or a list of everything that needs to get done in the project. You can use an excel sheet or Trello or Jira. Go through each item on the list with your team and assign an estimated completion time in hours. This lets you give a pretty good estimate on how long it will take.
This method follows agile project management, which is about delivering small chunks of work in iterations, every two weeks or so. That way the whole team can see all the stages of the project and the client can be kept in the loop. If the client doesn't like something, because of the check-ins and delivery of some feature every two weeks, you will know quickly that it doesn't meet client expectations and you can make necessary changes without jeopardizing the project.
You don't have to apply agile to every single project, especially if it is a smaller project, such as Alma's current content marketing consulting team. For smaller projects, Alma uses Trello and creates a board for each team member. On a team member's board, there will be three columns: to-do list for the month, work in progress, and done.
Alma's VA sets up the to-do list column every month. Then, the teammember can move tasks from "to-do" into "work in progress" as they work on them. Then, the work in progress task is moved into "done" and the cycle repeats. It works really well for content marketing in which clients have signed up for monthly goals.
An additional column that is really useful is "QA" or quality assessment. That way, someone can actually check and edit work before moving it into the done column.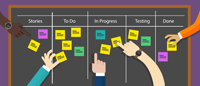 You can even use whiteboards in person.
Deadlines!
As a project manager, you are always managing deadlines with your team and expectations with the client. The most important thing is to make sure you keep the client up to date with your progress. So have weekly or biweekly check-ins.
So communication is so important! Especially if you think that you are going to be late. Tell them sooner rather than later. And when you can't deliver on the deadline, tell them your work-around plan. Don't leave it in a blackhole. If you don't communicate with the client, you lose their trust.
How do you know that you are on track before the due date?
Alma uses her weekly team meetings to track where everyone is on their tasks. Each person shares their trello board and gives an update. Specifically, Alma asks them if they think they are going to make the deadline.
Between the weekly call, Alma or her VA also checks in on the boards to keep track of the tasks. Sometimes, she will notice that a task is due that day, but she hasn't received it yet. To be proactive and prevent the fear that people have of missing deadlines, she will send an email to the team member:
"Hi (name), This is due today. If you feel like you need more time, just let me know exactly when you can get this done. Just give me a status update."
A trick that Alma uses is to assign due dates a week ahead of when the client expects it. That way, Alma minimizes risk that the task isn't done on time.
Recap: Setting up a new project
Alma will meet with the client at the beginning of a contract get the requirements. From there, she and her editor create an editorial calendar which includes when her team will pitch content topics, when the client needs to approve topics, when each topic is going to be published, and when the client can expect progress reports. All of this, as well as specific client requirements such as the target audience or how formal the writing should be, goes on a special Trello board for that client so her team can refer to it later.
At the first weekly meeting of the month, the new client material on Trello is presented to the team. Now the team knows exactly where their individual tasks fit in the big picture, the business value.
Alma's VA (Alma used to do it) will assign all the tasks associated with that client to different team members in their "to-do" columns on their individual Trello boards. Each task will have a specific due date to help keep everyone on track.
Now her team has to create the content. Alma has guidelines and SOPs for the content creation, such as a checklist that each blog article has to pass, including things like SEO key word placement, how to login to wordpress to post, formatting guidelines, etc. The guidelines are stored in google drive and the links to the guidelines are in the task card in Trello.
Alma gets a status update from her VA every Thursday so she is aware of any potential problems that might pop up. The VA, meanwhile, is checking in with the team members through out the week. The VA is the glue with the team. The VA is also the person who talks to the client mainly through email with updates and monthly reports.
Then, on Monday, Alma holds the weekly virtual team meeting. Everyone shares their Trello boards and Alma asks them if they have any issues. The team supports each other during these meetings to solve problems.
As the business grows, Alma wants to have 1 or 2 people, project managers, report to her and manage the day to day, such as finding and solving issues and communicating with the clients. Alma doesn't want to be stuck working 16 hour days and never getting a chance to go on vacation or spend time with family.
Resources Mentioned:
Find Alma Online:
---