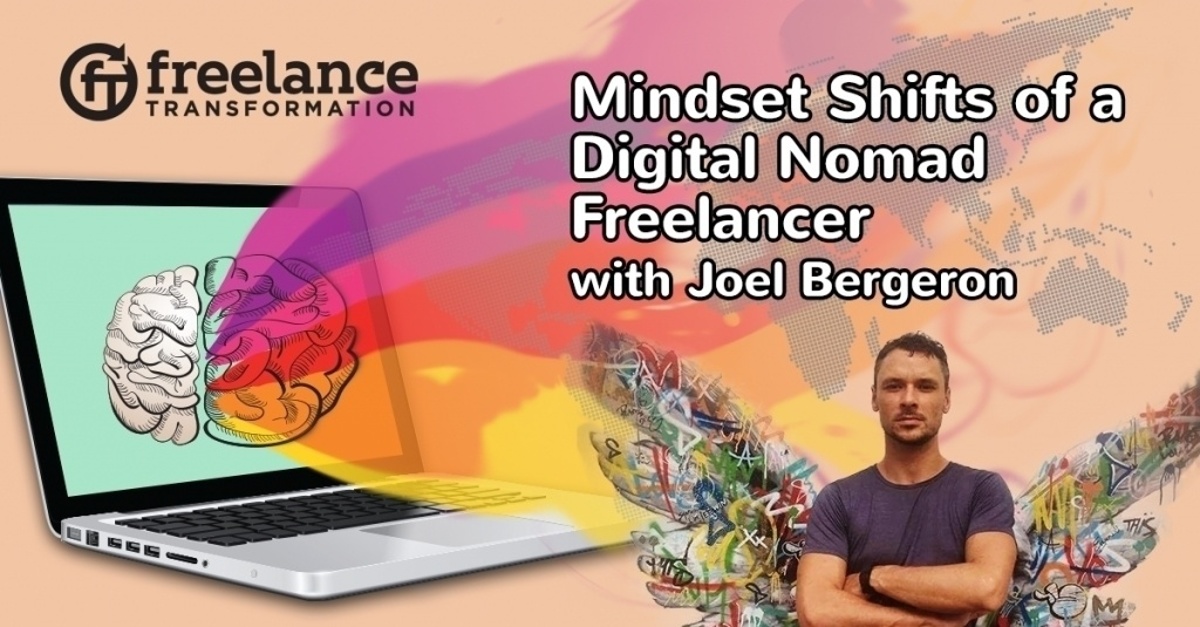 FT 104: Mindset Shifts of a Digital Nomad Freelancer with Joel Bergeron
Being a digital nomad isn't about sitting on a beach with your laptop. It's about choosing to live a certain lifestyle as you start and grow your own business. And it can be really hard if you are plagued with toxic mindsets.
Joel Bergeron, co-founder of The Future is Creative and Freelance Business Success Summit, shares how he got started as a digital nomad, the lifestyle of the digital nomad, the critical mistake he made with his first business, and the key mindset shifts about freelancing that he had to make in oder to find success. Joel shares what you have to do as a freelancer to have a business that you enjoy.
Listen now:
Listen on iTunes Listen on Stitcher
Podcast RSS Feed | Download MP3
Joel shares with us:
Joel's transition to freelancing started when he asked his boss if he could work remotely so he could move to Spain. His boss, surprisingly, said "Yes." Joel quickly learned how to manage a team remotely and, significantly, that his 8 hour work-day wasn't the same as everyone else's: he could get his work done in 4 hours instead of 8.
"It opened my eyes to the idea of working for myself or starting my own business."
The problem was that he kept burning out after 2 years of working at the same company because he would give all of his energy to that company. He calculated that if he put just 20% into his own thing, he would be successful and stop burning out. So he moved to Bali, set himself up in a co-working space, and started his first freelancing business.
"I always wanted to go out on my own and I always wanted do something for myself."
Bali, Indonesia and Chang Hai, Thailand are the hubs for digital nomads. The benefit to living in these places when you're starting out is that your living expenses are minimum, but you also get a great lifestyle. There is also great support from other digital nomads.
To get him started, he went to where his clients hung out. Joel gave talks at the co-working space in Bali about how landing or explaining videos can help their businesses which brought in referrals everyday. He provided value to the other digital nomads in Bali, making them his clients.
Co-working spaces:
Joel has worked in co-working spaces all over the world during the past 10 years. He has lived in most countries in Asia for about a year each and is currently in Melbourne, Australia. Joel likes co-working spaces because he needs a space that isn't distracting and, more importantly, has a good community who can relate to what he is going through.
No digital nomad actually sits on a beach with their laptop. It's not practical. You need a space.
Also, setting up in a new country, learning a new language, and being part of the culture can be challenging and tiring on top of the challenges of starting a business.
Having a community helps you get through those difficulties.
"Life is a trade-off. You can't have the backpack and the Ikea house."
There are financial trade-offs when you are a digital nomad. On the pros side, Joel was able to pay off his $50,000 in student loans by the time he was 30 years old. As a digital nomad, he is living on about $1,500 a month and saving $500 a month. That's better than 80% of North Americans with mortgages on their million dollar houses.
Getting Higher Paying Clients:
Giving talks at co-working spaces got him started, but it wasn't very structured. Joel didn't want to be trapped doing the millions of small jobs to make an income. So he switched focuses.
Joel started to target the higher-end, more premium clients, such as wedding companies.
"I set a rule for myself: I will not take a job that doesn't allow me to live for 3 months."
His motivation behind this rule was financial freedom and stability so he wouldn't have to stress about making rent. It was a simple rule of thumb to weed out clients who couldn't afford him. And it worked. After 6 months of applying this rule, he was about a year ahead.
To target this new types of clients, he used new strategies around building authority and nurturing client relationships.
He hosted monthly, open, google hangouts, advertised on his website, to help people figure out what video could do for their businesses. These meetings became huge lead magnets for him.
Joel also focused on referrals from his current clients so that by the end of a contract, he had another contract lined up through a referral. He specifically asked his clients to name two of their friends who are struggling and what they are struggling with so he could come up with a personalized video solution. That way, he didn't have to find cold, new clients.
He also asked his existing clients for video testimonials. His clients talked about the changes they went through and how they changed their businesses for the better. The testimonials are authentic and provided social proof for Joel.
Mindset Shifts:
"Business is 85% mindset. The rest can be learned or studied or emulated. If you can control your mind and the emotional rollercoaster that is your business, then you are solid."
Joel's Big Mistake:
"I took my corporate job and created it in freelancer form."
He was doing his old job, which he hated, and had to do all the business stuff as well. He couldn't scale. He was the employee, contractor, sales guy, and business owner. This mistake cost Joel his first company, Video Guru. He knew he had to make changes to start his second company, The Future is Creative.
Mindset shift:
"You are a business owner first."
Recognizing that he was a business owner, not just a freelancer, urged Joel to invest in himself and training to build a business. There is a bootstrapping mentality in many freelancers, which can be great, but can also be a hindrance if you are just being cheap. You can't grow and scale a business without investing in it. So get the training and buy the tools that make your life easier.
Mindset shift:
"You can't do everything as a business owner. You really do need to choose."
What are you great at? What are you natural at? And what do you like doing? Contract out the stuff that is heavy and draining.
Mindset shift:
"Someone's going to figure out that I'm not the expert."
This is imposter syndrome. It is crippling and disabling. And everyone feels like that, especially freelancers. Joel suggests: Fake it till you make it. Joel still feels like an imposter sometimes, and thoughts still come into his head. Before, they kept him up at night. Now, Joel will label the thought as imposter syndrome and move on.
Labeling thoughts is a technique used in meditation and Buddhist philosophy. You don't have control of which thoughts pop into your monkey brain. But you can control whether you will give a particular thought an emotional response and credence. If it is a negative thought, categorize it, label it, and let it go.
The founding of The Future is Creative:
Joel found that in all of the co-working spaces, the creatives were the ones struggling the most and having trouble with toxic mindsets:
"The starving artist"
"Money is bad"
"I'm selling out"
Joel started consulting with them and saying, "If you want to sell your awesome products, then you have to learn fundamental business skills." As the name of the company suggests, Joel believes that if you can create something, you are in the best position possible for the future. But you have to get rid of the mindsets that are holding you back.
How to get over the mindset:
Stop calling it a gig. An architect would never say that they have a gig building a skyscraper. That's not a thing. Instead, own your craft. It's not a gig, it's your job.
Get over the idea of selling out. If people love your stuff, they're willing to pay for it. It's a medium of exchange. If your stuff isn't selling, it's maybe because no one wants it. Use your skills to give people value.
Invest in yourself. Take a business class and learn a few basics, contract out the rest. There is no "business person". The only thing business people have in common is the right mindset. Specifically, learn about target marketing and how to apply it: how to niche, position yourself, who to sell to, where they hang out, who are they specifically, etc. Learn branding or hire someone to brand you: how to communicate your message, copy, logo design, colours, etc. Everything else, you can probably hire someone and contract it out.
Be flexible at the beginning so you can change where the business goes. Start with a minimum viable service at the beginning rather than investing in a big website before completely understanding what your market wants.
"Treat your freelancing like a business so that you're not just doing willy-nilly gigs and treating it nonchalantly because the mindset things will come back to bite you even harder."
Joel's Morning Routine: Golden Hour:
Joel takes an hour every morning for himself.
He meditates for half an hour to tame the monkey brain and keep the chatter at bay. Usually the half hour meditation can prevent chatter for about half the day, then it pops up again.
Then, Joel journals for half an hour to get his thoughts in order. He writes down goals and to dos for the day as well as impressions from his meditation, such as "I'm feeling a lot of imposter syndrome today."
Freelance Business Success Summit:
Freelance Business Success Summit is an online summit aimed at helping freelancers and aspiring freelancers start, launch, and grow their own business.
There will be 30+ experts giving 35 talks about what they learned while they started and grew their businesses, and the challenges they had to overcome. (Matt is giving two talks!) It is a course-like summit so every talk has a tangible take-away that gives you the advice, tips, and tools to get you going.
There will be 10,000+ attendees. And it is free during the summit week!
Get your access pass at freelancebusinesssuccesssummit.com/transformation.
Find Joel Online:
---