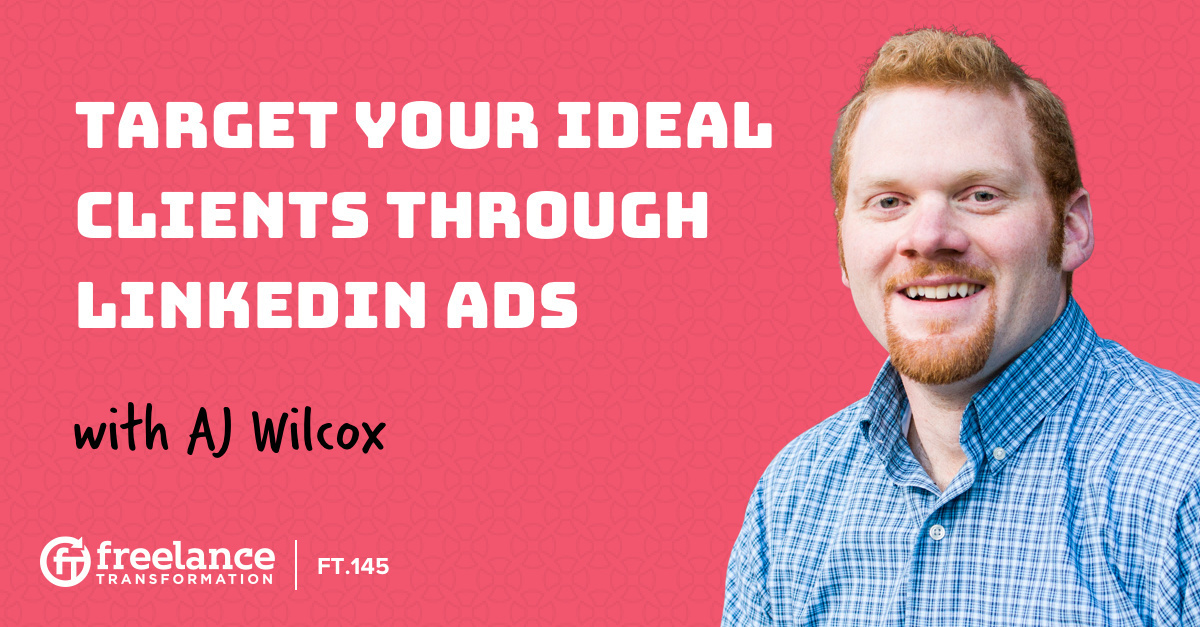 FT 145: Target Your Ideal Clients Through LinkedIn Ads with AJ Wilcox
Have you ever wondered about the effectiveness of the ad campaigns feature on LinkedIn? Have you wondered if it would be useful in attracting your ideal clients? In this episode, the mystery will be revealed by AJ Wilcox, an expert in that particular area of the well-known professional network. AJ's company B2Linked, is an agency that specializes exclusively in helping B2B businesses to find customers with LinkedIn ads.
Listen now:
Listen on iTunes Listen on Stitcher
Podcast RSS Feed | Download MP3
AJ Wilcox shares with us:
AJ's business is currently one of a kind in its focus on advertising with LinkedIn. His strategy will help you use LinkedIn in a new way and encourage you to niche down your freelancing business and teach you how to get in touch with more people who absolutely need your services.
Business to Business Marketing with LinkedIn
If you're marketing to businesses, then LinkedIn is the best place online that will connect you with those kinds of clients. AJ enjoys B2B marketing with LinkedIn especially because it's a little more challenging to track than other social media campaigns on Facebook or Twitter. You really have to invest a little extra time in the search and the messaging, but it pays off. AJ shares two case studies of his favorite clients to give you a better understanding of how he helps them and how to use his strategies in your own marketing campaign.
There's no other place on the web where you can scalably target people for business-to-business.
Unraveling the aura of mystery around LinkedIn means realizing that your profile puts you in direct contact with CEOs and CFOs all over the world. That can seem overwhelming, but AJ's techniques for using the site's search features will help you narrow down that large client base. It can be more expensive than using Facebook ads but you will be able to find the exact client you want to target.
Starting a LinkedIn Campaign
AJ doesn't want to call it a funnel because LinkedIn isn't particularly great at re-targeting. Instead, his strategy for searching and tracking people involves pushing them through to your different ad services or getting them directly to your website. He discusses how you can track people who visit your profile, funnel them to your website, and how to use your landing page to seal the deal.
Every time I approach a new advertising campaign, I keep the acronym AMO in my mind…A stands for Audience, the M stands for Message, and the O stands or Offer.
The audience is your ideal client, and you can use LinkedIn's search features, including job title, groups, and education to find your perfect audience. But don't just look at them professionally. AJ advises that you need to look at each person as an individual to find out who they are and what makes them click. Check out their skills and the groups they are part of in order to truly understand them. This way you will know which people will benefit most from your unique skill set.
Once you've found your audience, you can start to focus on the message. Messaging on LinkedIn is kind of minimal in AJ's experience, but it still gives you plenty of room to be creative. With only 128 characters, you have to be clever. You could be cutesy and creative with your message but from his testing and experience, AJ recommends just getting straight to the point. You want to be a specific as possible while using the image to catch your potential client's attention.
Try to stay away from stock photos. Try to use images that are oranges, reds, greens…The whole purpose of that image is to get someone to look and consider reading your text.
The image you choose will be the first thing your clients see and you want it to be the piece that inspires them to keep reading. From there, AJ discusses how you can build a message with a strong introduction and headline that will play off this image and get your new clients working through the steps of your campaign. Another piece of advice that AJ gives is after 28 days to just run a new image and refresh the ad without changing the copy. Just by changing up the image it will look fresh and people might be willing to give another look at it.
Creating an Ideal Offer on LinkedIn
There's more to LinkedIn ad campaigns than messaging your target audience. The resources you offer them with your initial message is very important. You need to create an offer that fits the specific needs of your ideal client. AJ recommends talking with your existing customers and really focusing on their pain points. This way, you can perfect your offer and give out a free resource that will actually benefit your new clients.
You have to assume that if you're reaching out to someone on social media, this is the first time that they've heard of you.
These new, potential clients may have never heard of you before. This gives you a clean slate to establish yourself as an authority they can really trust. Every client is different, and while some enjoy an overzealous pitch, others prefer to absorb the information at their own pace before reaching out. It's up to you to decide what kind of client you're working with. AJ's gut instinct when it comes to this is to reach out two or three times before selling to them.
Start a relationship where you are giving, giving, giving, and providing value before you ever ask for something. And then by the time you do ask for it, you should have a much higher response rate.
Your offer should include 2 or 3 more touches where you offer follow-up content created specifically for them. This custom content shows that you know what you're talking about and that you want to use your expertise to help clients. It gives you a more personal edge that will really stand out when you're marketing online. Too often, B2B marketing becomes to salesy and anonymous, and you really want to be that personable type of person potential clients can easily talk to about their problems.
In summary, LinkedIn's ads are a fairly untapped resource when it comes to marketing campaigns for B2B. Since the platform has updated and upgraded its ad functionality, it has become much more advantageous for freelancers to use to target professional clients. AJ offers a free resource called '8 Steps to Launching Your Own LinkedIn Ads' in the 'resources mentioned' part of the show notes down below, to help get you going on your own LinkedIn ads. Happy ad campaigning!
Resources Mentioned:
Find AJ Online:
---