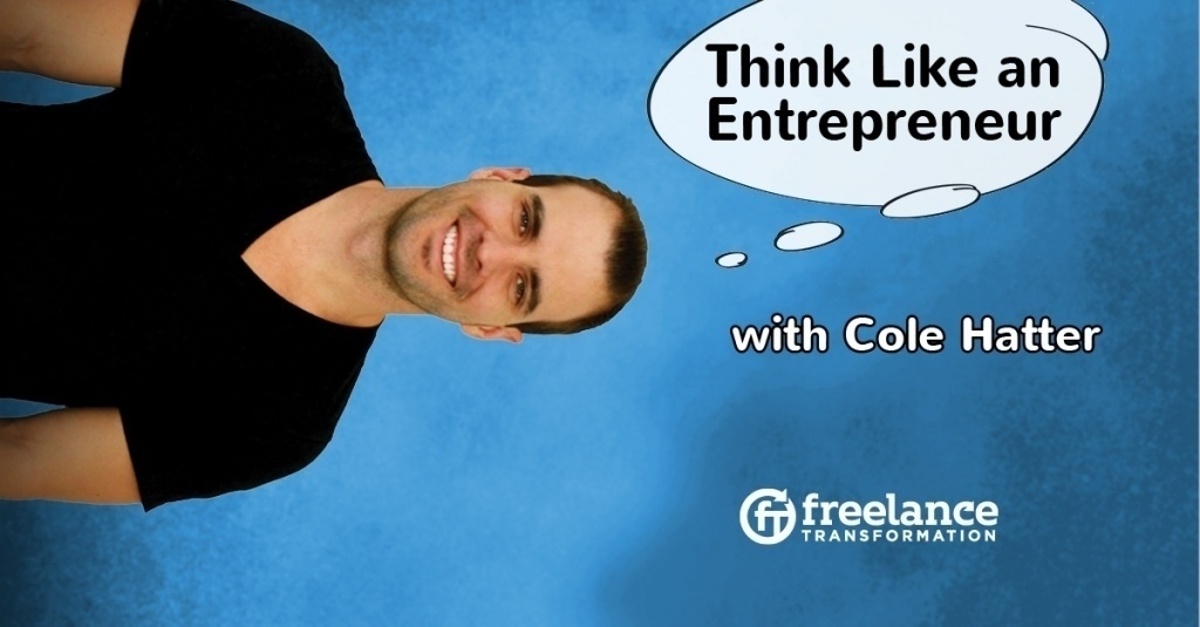 FT 085: Think Like an Entrepreneur with Cole Hatter
Why is it that some people seem to pull off seemingly impossible feats, such as winning incredible clients, scaling their business, or just getting something that they really want? Meanwhile others seem to get stuck at every obstacle that's put in their way. To be a successful freelancer, you have to think like an entrepreneur. That's true whether you're looking to stay solo and small, or you're looking to build multiple seven figure businesses.
Cole Hatter is a serial entrepreneur, and somebody that embodies finding a path forward instead of giving up. Cole started out as a fireman, found himself wheelchair bound after a really bad accident, started a real estate business, had that fall apart in the 2008 crash, learned his lessons, then rebounded with new companies, and helped others along the way.
Listen now:
Listen on iTunes Listen on Stitcher
Podcast RSS Feed | Download MP3
Cole shares with us:
"True entrepreneurs take losses as lessons and apply those lessons into the future."
Cole Hatter is a serial entrepreneur and has started so many businesses that have failed, and a few that have succeeded.
His first business was in real estate. He flipped houses in California for three years until the market crashed in 2008 and he lost everything. The loss changed his outlook. It taught him humility.
Cole learned that even though he had lost everything, his house, his car, everything, he was still rich compared to the world's poorest people. He spent seven months in Mexico, living off $100 a week, and realized that just $20 could feed an orphanage for a month. His perspective was completely revised and he realized that he could make a major difference if he made his money matter. This realization drove him to start an orphanage in Mexico and subsequently to start for-purpose businesses that could support the orphanage and other philanthropy projects. To learn more about for-purpose businesses, visit Cole's website for his conference, Thrive.
The economic crash also taught Cole that luck isn't everything. He had built up his first real estate business through the luck of being in the right time at the right place. But, when the market crashed, he was vulnerable. He decided to invest in education to learn sustainable strategies that would be resilient to short term economic changes.
"If you look at the successful people and where they are and you do what they did to get there, you will get similar results."
Cole approached Than Merrill and invested $30,000 into coaching so he could learn the strategies that worked for Than. Cole was broke at the time so he charged this to his credit card. Some would consider this to be very risky, too risky to make it worth while. But Cole figured that it was like paying to attend an Ivy League university and depending on the reputations and networks of the professors to learn everything you need to know to be successful in life.
Cole cautions though that coaching and investing in education only works if you do the work to apply everything to your business.
And you don't necessarily need to pay that much for education. There is a lot of free content available for people starting out in any niche and there are also conferences and local meet ups to expand your network.
Your network is probably one of your biggest assets. This is the second year that Cole is running his conference, Thrive. The way he started it was to ask his friends, who happened to be New York Times best-selling authors, to speak. He didn't start out with friends like this 10 years ago when he was a fireman, he built the relationships up from conferences.
Cole heard them speak at a conference and would strike up a conversation after their talks. He would talk to them long enough so that they would remember them then contact them later with business ideas and opportunities. They would start out as business colleagues who evolved into friends.
"Entrepreneurism: Seeing what friendships you have, what connections you have, and ideas you have and go do something about it! I've failed 10 time more than I've succeeded, but the successes have made me a million times more than my loses."
The fastest way to fail when starting a business is to try to convince the customers that what you are making is what they want. No. You need to listen to the customers. The fastest way to succeed is to ask customer what they want and give it to them.
The next ingredient to successful entrepreneurship is persistence. Persistence wears down resistance. You just have to keep trying. If you are trying to reach someone, you have to keep calling until they return your call. Calling twice and giving up because they aren't interested isn't going to get you anywhere. Keep calling.
If they say no, then you are talking to the wrong person. Call someone else and try again. Rarely is it ever a true no.
"You don't need money to start a business, you need motivation."
The final ingredient to entrepreneurship is motivation. You can start a successful business from nothing. Cole, and many others, started out with nothing. For example, Cole didn't buy his first house with his own money. His backers took a risk on him and fronted the money then split the profits 50/50 until Cole found other ways to get investment money. You don't need money, you need motivation.
"You can't do everything!"
Once Cole was back on his feet (his first sale paid off the $30,000 and then some), he was ready to grow the business. But he was limited by his own capacity, the output that a single person can do each day. After 10-12 hours, he's fried. And the idea of hustle by Gary Vaynerchuk is awesome, it still doesn't let you expand beyond yourself. Cole came to the conclusion that he had to outsource to grow.
He started by outsourcing the things he absolutely hated doing, such as answering emails, or booking flights and meetings. For this, he hired a virtual assistant with Chris Ducker's help.
Then, he hired a bookkeeper to do the things he isn't good at such as accounting and numbers and paying all his bills. He also added programs and used technology to make client management, lead capture, and other processes more efficient.
All he has to do is focus on ways to get money coming in, which is the part that he enjoys and really the part that only he can do.
Cole's business is also special because he has designed it to be able to work from anywhere, not having to go into an office everyday to do daily management. Although he has toyed with the idea of having a large firm with hundreds of employees, he would rather have the flexibility to be able to travel and spend time with his family.
"At the end of the day, nobody's going to say, 'Wow, Cole made millions of dollars,' and nobody's going to say, "Wow, Cole had the best cars I've ever seen.' They're only going to talk about the meaningful difference I made in their lives with the time I had."
Resources Mentioned:
Find Noah Online
---