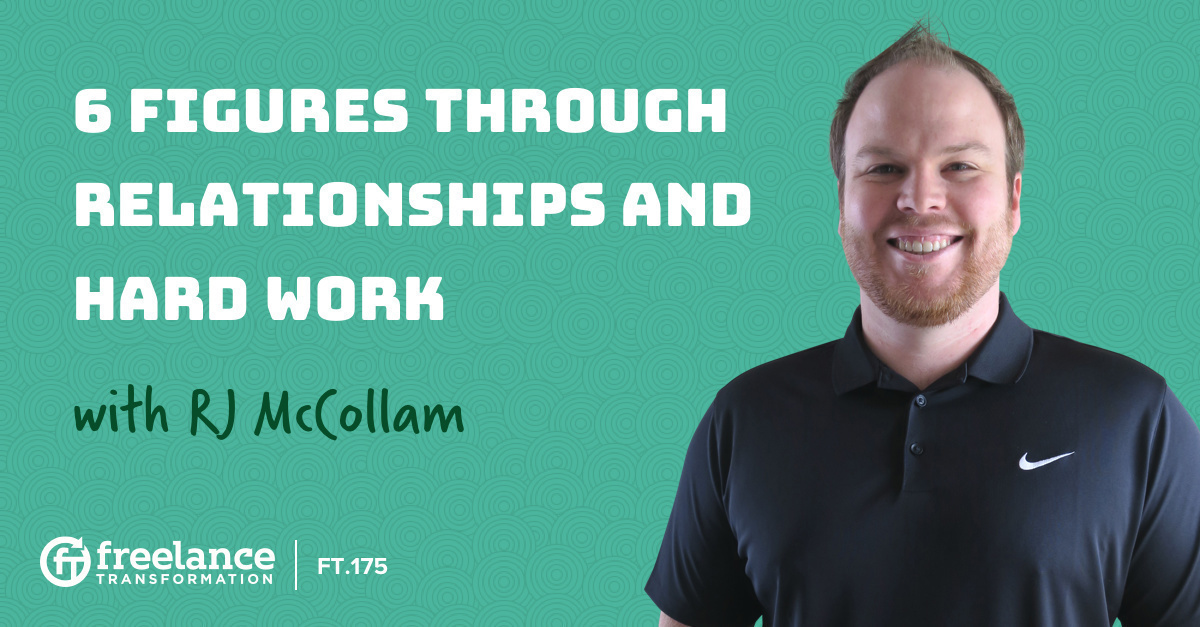 FT 175: 6 Figures Through Relationships and Hard Work with RJ McCollam
Before becoming a freelancer, RJ McCollam was fired from his job, evicted from his apartment, and even had his car repossessed. It took losing everything to inspire his motivation. Now, ten years later, he's a successful web developer who's guest spotting podcasts to share his experience with the rest of us.
Listen now:
Listen on iTunes Listen on Stitcher
Podcast RSS Feed | Download MP3
RJ shares with us:
RJ is talking today about building a freelance career from the bottom up. He taught himself how to build websites and used his skills to find a full-time job. That full-time career eventually led to his freelance transformation, and he's sharing all the steps (and mistakes) he made along the way.
Building a Network
When starting his freelance career, RJ will tell you that he did everything wrong. He tried to start an agency right away without building a network first. Luckily, his agency interviews led to a budding friendship that eventually led to a strong network of referrals and clients.
It's a pretty beneficial relationship to have. You've essentially created this remote networked contractor sort of agency.
These relationships led to RJ's successful freelance business. Don't underestimate the power of friendship, especially when each of you has your own skills to bring to the table. RJ recommends seizing every opportunity to work with someone new. When you feel good about the person you're working with, you're more likely to benefit from the relationship.
Building a network can also help you make the mental transition into freelancing. Not that a full-time job isn't important, but freelancing requires another level of discipline that you can't learn overnight. It is much easier to make that transformation when you have a network of people you can rely on for advice and for clients. A small handful of friends can bring you a steady influx of work that saves your time and your sanity.
Success Breeds Success
Once you've built a network, it's much easier to pick and choose your projects. As RJ says, you want to make sure it's worth your while. There's no point taking on more work than you can handle. You want to keep your plate balanced, and RJ offers a bit of advice on how to say no to clients and their money. His secret is sticking to his skillset.
The kicker is that we all know with the relationships I have that this is the gap that I fill with my skillset, and I stay within that.
When you know what you're good at, you're going to continue attracting clients. RJ focuses on being the developer and fills his network with individuals who have complementary skills. Web designers can recommend him for the development side of projects, and he can return the favor when his clients are looking for designers or marketers.
I've had more success as a freelancer working for myself than any other job that I had previously, and I've really been able to focus on what it is that I enjoy doing.
Freelancing is hard to do, but it doesn't mean it's impossible. You can be a successful freelancer if you put in the work and focus on what you're good at. Find a good balance, keep the machine running, and always keep learning. RJ is still trying to find a happy medium, but the insight he shares today can really help you set yourself up for success even if you think you've already peaked.
Find RJ McCollam online:
---