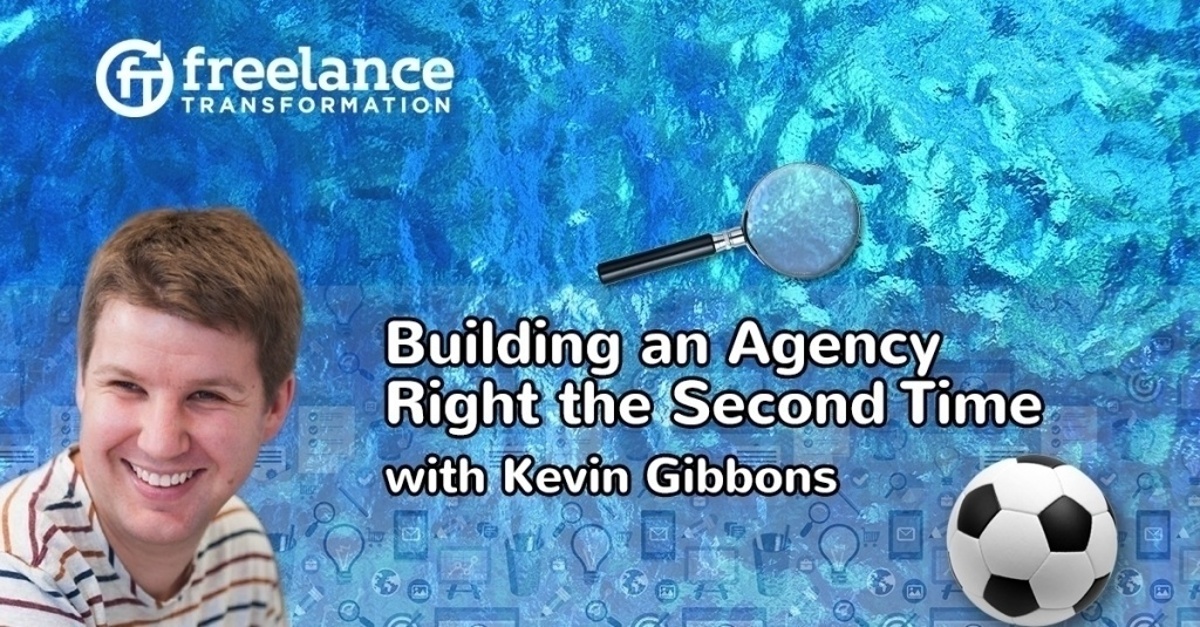 FT 111: Building an Agency Right the Second Time with Kevin Gibbons
Kevin Gibbons is the founder of the UK branch of Blue Glass, a content marketing agency based in London. Coming off the successes of his first agency, Kevin deliberately decided to challenge himself with something new, building a second agency, Blue Glass, from scratch.
The many mistakes and learned many lessons along the way of building both agencies has allowing Kevin to create an agency that he, his team, and his clients love. Kevin shares his strategy for managing client relationships (spoiler alert, it involves coffee, football, and pubs), winning clients through his personal network and referrals, and how to grow by making the top priority to do great work for your existing clients.
Listen now:
Listen on iTunes Listen on Stitcher
Podcast RSS Feed | Download MP3
Kevin shares with us:
Getting Started
Kevin's story starts long before Blue Glass. Kevin was working as a web developer, which he didn't completely love, until he dove deeper into SEO. In 2006, Kevin started a solo operation, SEOptimise. He started generating affiliate income from websites that he made and blog about it as he learned.
Kevin quit his web developer job and took off to Australia where he started working for himself. His goal was to make enough money to get by and travel. Kevin established a routine of enjoying the warm weather during the day and working in the evening with UK clients on SEO. He communicated with his clients primarily by email and phone calls, since he couldn't meet in person with them anyway since he was in Australia and his clients were in the UK.
When his year of travel ended and he returned in the UK, his natural inclination was to find a job, but no companies were hiring for SEO. So he decided to grow his business into an agency.
The first step, Kevin enlisted a partner with a business background. Then they grew. They built up a strong local client base that expanded nationally through reputation.
That brings us to 2012. Kevin decided to move to London and split from the initial agency. Kevin teamed up with Blue Glass, becoming the UK arm of the agency which was originally from the US. The US branch ended up closing down only 6 months after Kevin joined in, leaving Kevin to find his own way to keep the UK branch running and growing.
"Although it didn't go to plan at all, massive lessons behind that, it's really helped crystallize my thinking in terms of how I can take us forward as a company, and what's important, what's not, and how to grow in what I consider to be the right way."
What's important: Doing good work for his clients. He decided to build a strategy around doing high quality work and getting good result for his clients and having happy clients.
"Trying to add value and help people has really helped me in return."
Happy clients means growing alongside their successful clients and getting new work through referrals from happy clients.
Starting over
"At the end of every year, I see the next year as being: how do we do what we did last year but better, and do the stuff that we did well, do more of it, and the stuff we did badly, let's not make the same mistakes again."
Right now, Blue Glass has 15 people in London, 15 people in Zurich, and 8 people in Tallinn, Estonia.
In 2012, he started with 3-4 people with $250,000 of revenue in year 1.
Kevin found that one of the biggest challenges was bringing clients from his previous agency with him to Blue Glass. He had already spoken with his old business partner, so it wasn't an issue of client poaching. The problem was the perception of risk that client's had signing on with a small new agency after working with a medium-sized established agency, even though it was still Kevin.
The other problem was focus.
"The reason why my previous company was successful was because of the focus on SEO."
When starting the new agency, he had added new services as clients asked for them: ppc, social media, analytics, etc. They were good at it, but they weren't great. He wanted to be outstanding at something. After some soul searching and an extensive study of his client base, they found it was content marketing based on the SEO background.
Stepping back from the day to day and running a client analysis, an 80/20 analysis, was a huge part of directing the agency's focus and future direction.
In his analysis, Kevin found that the organic traffic dropped about 20% every year for clients that didn't do content marketing with him, which was about 50% of the client base. For the 50% that did content marketing, he got 80-100% increases in traffic every year. They were getting amazing results, but only with content marketing.
"Let's just forget about the stuff that doesn't work and focus on the type of clients that we want to work with and are the right fit for us."
When you get good results for your clients, it's easy to retain them.
Growing and winning more business
Year 1 was a set back for Kevin: $250,000 revenue (a good start, but going back from what he made before) and making a small loss
"There was a lot of self-doubt along the way, on if I can do it again or if I want to do it again."
To turn things around in year 2, Kevin tried to drum up as much interest as he could by building the company's profile. He started speaking at conferences across Europe and the US, and blogging. He also went back to his client analysis and found that the best clients came from word of mouth, reputation, and personal relationships he gained over the past 10 years of experience in the SEO field, not salespeople.
"My realization was I didn't need to know new people, I just need to reconnect with the ones do know."
Kevin started saving time and money because he no longer had to travel to conference to meet new people. Instead, he had coffee-dates, meet-up at pubs, and even set up a football league to stay connected with people in the industry. Kevin stumbled into the consultative sell:
"I'm not a salesman, I will have a chat with someone and try to help them, but then I realized that by trying to help them, that's actually giving them ideas on how they can work with us."
Building client relationships
The definition of reputation has changed for Kevin over the years. Five years ago, Kevin would have said that reputation means speaking at events, blogging on all the industry sites, having a good public profile, etc. Now, having a good reputation means doing good work for their clients and making them as happy as possible.
A good indicator to determine if you have a good relationship with your clients is that they will come back to you and say what they liked, but more importantly, what they didn't like. This gives Kevin a chance to fix it. An indication of a bad relationship or an underdeveloped relationship is a client saying you're fired because you did something three months ago, but they never told you about it at the time or since.
Getting referrals from clients
Kevin doesn't do much to ask his clients for referrals. He doesn't ask at all. Instead, he depends on his happy clients talking about the projects they did with his company to their friends and colleagues. Kevin's job is to do the best he can for his clients, including doing such good work that the person that hired him at the client's company gets promoted.
"How can we make sure that what we are doing is making them look as good as possible? Because we know that that's going to make us look good as good as possible."
Kevin also runs an annual dinner event for his clients in London at a nice venue so his clients come together, have a good time, meet each other, and, for Kevin, keep his company front-of-mind. And per head, it really doesn't cost Kevin that much since he has about 12-15 clients at a time and knows all of them personally.
How to decide whether to take on a client
First, the client has to be a good fit. Kevin's team must be offering the service that the client needs, SEO and content marketing, and they can get a good result. Kevin will refer them to someone else if the service is outside of their fit.
Second, the client's ambitions have to match up with Kevin's agency's ambitions. Kevin's agency is there to make changes and make stuff happen. He wants to make an impact for the client's business. Working on a client's project is working as a partnership where he and the client energize each other. He won't take on a client that isn't rewarding from a personal perspective. If he has to constantly prove himself to a client, it isn't going to work.
When to hire
"You can't just hire a team and hope that the work comes."
Kevin has a good network of freelancers, SEO consultants, designers, writers, etc., to step in when a project comes in that requires Kevin to ramp up production quickly. Kevin prefers working with freelancers compared to making a panic internal hire where he might not hire the right person for his team.
Many of the freelancers that started as project-based contracts have become permanent members of the team as Kevin's company has grown and is doing more work on a consistent basis.
Kevin is also selective on which clients he works with. He will only bring in one new client a month, not 10. So it gives him time to recruit and find great people that he can either contract with or hire down the road.
In 2012, Kevin tried to do it all and be the best at everything. He would get the sale, set the strategy, do the hands on work, deal with PR, manage client meetings, run the business, get new clients...
"That was really damaging because it just means that I can't take myself out of lots of situations."
He learned to hire people who are specialists. Teams are split into pods, and the pods are assigned to particular clients. The pods have a specialist in technical SEO, in content strategy, project management, account management, digital pr, etc. The specialists are much better at what they do than Kevin could ever manage on his own.
"I think the key step in order to do that is accepting that people will do things in their way which is different in the way I would do things."
It might not be as effective as Kevin would do them initially, but as they learn, make mistakes, and figure out how to work in the team, they make improvements to the company and innovate what the company can do. The lesson here is to let go of control and let your team take accountability.
And if you hire the best people, then you will get good results for your clients and attract clients by the quality of your team. The experts on you team are going to be the ones who will keep the clients happy and keep referrals coming in. That means, you can't just hire someone when you are desperate to have someone to work on a new project coming in the next 2 weeks.
"It's not about the next 2 weeks, it's about the next 2-3 years."
That's where cultivating a good stack of resumes or CVs and having a good network of freelancers is key. Don't hire when you are desperate.
Find Kevin Online:
---