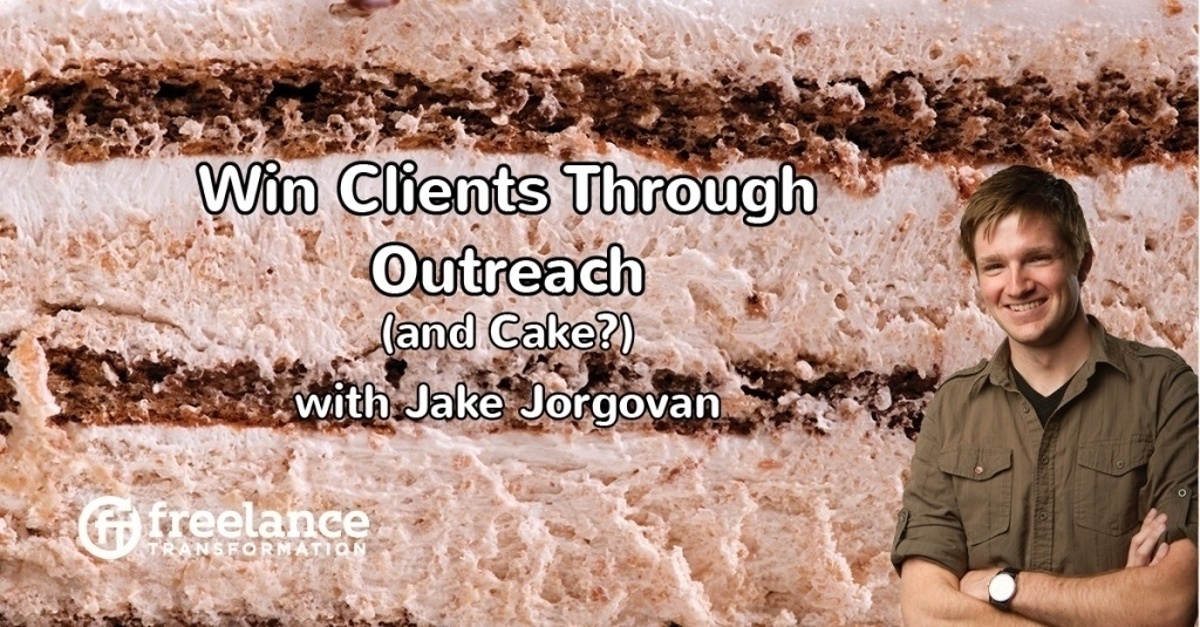 FT 088: Win Clients Through Outreach (and Cake?) with Jake Jorgovan
Jake Jorgovan is the founder of Outbound Creative, where he helps consulting companies and agencies win their dream clients. But he doesn't just talk the talk. Before starting this agency, he did business development at a video production agency where his strategies allowed him to bring in multiple fortune 500 clients and A-list touring artists.
Jake shares strategies to reach out to clients directly as well as strategic partners who have the same clients that you want to target. Jake shares how to identify your dream client and dream strategic partner, how to do the research to figure out who to talk to and how to contact them, and how to reach out through email, conferences, podcasts, and cake. Yes, cake.
Listen now:
Listen on iTunes Listen on Stitcher
Podcast RSS Feed | Download MP3
Jake shares with us:
In his previous agency, he and his partner ran a video production business. The break down of operations became Jake doing all the sales and outreach while his partner did project management and execution. Jake discovered that he was really good at getting clients!
Once the partnership broke up due to the pair taking different paths in life, Jake decided to start Outbound Creative to help other consulting companies and agencies get clients.
What are the strategies that get you clients?
There really isn't a specific single strategy that works for everyone. It is different for each industry.
That means, you will have to test multiple approaches. In particular, you should test at least two approaches. One approach should be directed at the end clients by sending highly personalized emails after doing homework on the potential clients upfront. The other approach should target the strategic partners who serve the same clients.
Sometimes, direct outreach doesn't work as well for freelancers who provide services rather than a product. People often put a lot of weight on referrals when it comes to services because they trust the person giving the referral. That person should be your strategic partner.
For strategic partnerships, think about anyone else who provides services to the same clients that you serve and who would be able to provide referrals for you, and vice versa.Then you have to figure out how you can build a relationship with them.
How to put together a campaign:
First, identify who you want to target.
Figure out who are the types of companies you want to work with. What size are they? What industry are the? Write up a description for what signals make a client a good fit. To start, try to replicate you best existing customer rather than shooting for the stars. You can build up to that later.
Do the same for your strategic partners. Think of who could be a good referral source for you and surrounds your customers or sells to the same customers. Do some research and put a list together.
You want to build a list of the top 5 companies that you want to work with. Sometimes, Jake has to go through 15 or more potential clients and evaluate each one to see if they would be a good fit. Ask yourself why they would be a good fit or not, then add that to the criteria for someone to work with.
Second, do the research.
As the owner, you will have to come up with the criteria of what makes someone a good fit or not. Then you can pass on the actual client research to a team member or virtual assistant.
It is challenging to figure out who the decision makers are in the bigger companies, above a few hundred employees. LinkedIn makes it a bit easier to figure out the company hierarchy. Looking at the company's website also helps to show the titles of the bigger players.
The exact title might be different depending on who exactly you are targeting, the marketing manager, the VP of engineering, CEO, CMO, product marketing manager... It's good to have more than one entry point into an organization.
Jake also uses an online tool, Get Steward, to help him find email addresses of the people he wants to contact.
Third, reach out.
Here's a mistake: sending a massive email with a 1950's salesy style.
Instead, keep the email short and sweet. Keep it benefit driven, what you can do for them, and well researched. It should be handcrafted to that particular person.
For example:
Hey,
I saw this article about you online. You look really interesting.
I'm so and so. I do this and I produce x, y, and z results for these clients. You can learn more about me here (link to portfolio).
I would love to collaborate. Would you be interested to hopping on a quick call?
- Jake
You can also use conferences as a way to get in touch with the decision makers in a company. Make a hit-list of people you want to talk to at a conference and meet up with them on the ground. Very personal and effective.
If you are in the web industry, you can create a website critique for SEO or digital marketing with specific points where they could improve their website.
Podcast interviewing also helps you reach out to potential clients and strategic partners directly.
You can also send physical mailers depending on the industry.
For example, Jake has sent out cakes with a custom url on top. The url would take the client to a 60-second personalized video that showed a successful outcome for a similar client and asked them to set up a time to chat. Below the video was a contact form to let the potential client give Jake more information right away.
Jake would always follow up the delivery with an email the next day, which got him an 80% response rate from even the biggest companies.
These physical mailers are costly and logistically difficulties, but also help break down some doors and are quite effective. The pay-off is only good for high-value clients that you really want to get in front of.
Nutshell: Always think outside the box. Email is just one method.
The biggest take away though is that you have to do outbound in volume. The potential client may not be thinking about buying at that time so you might be reaching out to them when they aren't ready for you. You often get responses such as, "Now is not a good time, but we will keep you in mind."
So you need to reach out to a lot of people and you need to send more than one email to the same people. You should be seeing some early signs of success, some sort of engagement or response, otherwise, you need to reevaluate your strategy and your target list.
You should have a product at a low price point that the end customer can buy at any time. Jake made a sales teardown and strategy blue print that gives the client a report on their current business. The client can then sit on this and use it for themselves or come back to you for help fixing the problems that you found for them. These analyses and strategies are really useful for building trust with the client even if they aren't ready to buy a full marketing campaign or website remake from you.
Case study: Jake's Video Production Agency
For Jake's video production agency, he first started getting clients by running a "dream client" campaign. First, Jake did a lot of research on the players in the event industry and compiled a list of the top 50 event planners in the industry. Jake and his team then narrowed the list down to the 30 companies they thought would be the best fit with them and wrote reports up on each of these targeted companies. They learned as much as they could for each company. That way, when Jake wrote the outreach email, it was person, well-written, and well-researched.
It didn't end there. Jake kept following up with them and kept trying to get a foot in the door. After a year of this outreach, Jake and his team ended up with 3 clients. Doesn't sound like a lot, but those 3 led to Jake working on huge events for fortune 500 companies and receiving referrals ever since.
It was a huge investment in time and took a lot of commitment to follow through with the strategy, rather than thinking it wasn't working after a few months and switching to something else, but it panned out, big time.
The reason it was worth the time and effort was because these clients had really high lifetime value. Any of these clients were well worth over $200,000 so getting only 3 of these a year meant a huge return. Plus, it let them do big, awesome work rather than small, mediocre work.
Also, the event planners weren't just the clients that Jake was going after. They were also strategic partners that linked Jake up with the fortune 500 companies because he could show what his agency was capable of.
Resources Mentioned:
Find Jake online:
---