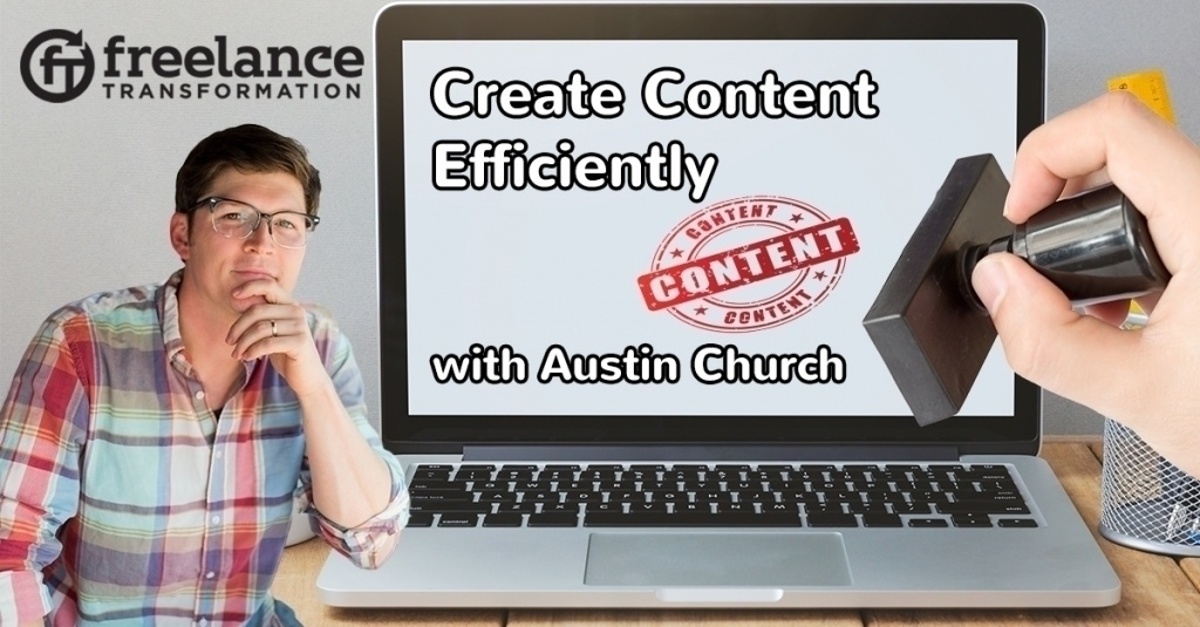 FT 121: Create Content Efficiently with Austin Church
Content marketing is an excellent strategy for reaching clients at scale. But inevitably there's a hiccup that holds people back. To execute a content marketing strategy, well, you need content.
Austin Church is the founder of Wunderbar, an agency that helps consultants and tech companies to grow their businesses through content marketing. Austin shares how you can actually create content sustainably, and do so without it being an endless time suck. If you're currently using content marketing or considering doing so, this conversation can help make it much more feasible.
Listen now:
Listen on iTunes Listen on Stitcher
Podcast RSS Feed | Download MP3
Austin shares with us:
Austin started out as a poet then found himself in an agency as a copywriter, and got laid off 6 months later in 2009. Since then, he has built up a freelancing business that he loved.
He works in an un-agency model, working with a team of contractors for each project. Content marketing is his specialty.
"I fell in love with marketing, marketing strategy. I stopped seeing myself as just a writer and started seeing myself as a strategist too. I was very surprised to learn along the way that I love efficiency, that I love process, that I love smooth operation. I love systems."
Most of Austin's clients, especially the SAS product clients, require high efficiency and no hand-holding (the fewer meetings, the better). He is the perfect match for them.
Austin's clients recognize the importance of thought leadership. Austin helps them with blogs, books, and products by doing the day in, day out processes of creating content.
In 2015, Austin wasn't sure where the business would go after finishing some mobile apps and getting back into consulting. Where was the business going to go? Would it become something new or go in the same direction?
"I didn't have all those answers yet, but I knew that I wanted to write."
Writing made sense. He looked at what the people he admired were doing and their main advice was that you had to commit to a writing schedule of 1 new blog post per week for 24 months. So that's what he challenged himself to do, while also juggling other business responsibilities that came with being a solopreneur.
But every week, he found himself up against the deadline, barely finishing the blog posts as he had promised to do. Something had to change.
"I was overwhelmed and exhausted and honestly, the content I was putting out was much lower in quality than I would have liked. Again, if I am going to call myself a writer, it had to be a cut above, not a cut below."
Austin's Content Journey:
Start with a list of topics, i.e. create the Content Roadmap: Figure out what you want to write about. You can do this by brainstorming a table of contents. This allows you to be very strategic about the content you create. Have a little bit of vision. Think about how to use a piece of content in several different ways: blog, podcast, book, video, talk, etc.
"Every single blog post I write, I think can potentially become a section in a book or a module in a course or even a talk that I could give at an event."
With a list, you can minimize the mind blanking that comes with staring at an empty white screen with a blinking cursor. But you also have to "get in the way of opportunity", or how Kai Davis puts it, "stepping in front of the train."
Take topics that you believe that you can write about and that you believe you can add to the conversation, then go and see if those topics are trending and important to your audience. This second step is key!
Buzzsumo shows you the most popular articles on a particular topic or keyword, based on the number of shares across social media platforms. Then you can tell if your topic won't waste time and you make sure that you write about stuff that matters to your audience.
You can also ask your audience directly, "What are you struggling with right now? What is your biggest challenge in business?"
Asking your audience gives you insight into problems that you may never have thought of. For example, Austin was once asked for advice on how to gain confidence as a writer. Confidence was never a huge issue for him and certainly isn't an issue now, so it was a valuable topic that he would never have come up with on his own.
"I have two audiences because I have a product business and a services business."
The first audience is composed of tech and SAS businesses. He provides a service to these businesses through Wunderbar by managing their content marketing for them. Most of his clients come from referrals, speaking engagements, hosting retreats, holding workshops, and direct outreach. For example, he will directly email a list of prospects.
The second audience is composed of other freelancer writers whom he helps through his consulting and coaching services and products. For this business, he primarily uses content marketing to connect with his freelancers.
But there is overlap. Austin often gets clients for Wunderbar who read the content that was meant for other freelancer writers because these posts have positioned him as the teacher, or the expert that other content marketers want to learn from.
Austin also learned valuable lessons and processes from his self-proposed challenge to write a blog post every week. Because client work had picked up, he became short on time. He had to figure out how to keep up with weekly blogging while being as efficient as possible.
Making Processes:
Let's focus on blog posts. There are two types, thought leadership posts and SEO oriented posts.
It can get boring to write "How to" tactical articles in your specialization. That's where business strategy type posts add a bit of relief. You need the variety and you need to share your unique perspective on business.
"SEO posts are what bring people to the blog, but some of the posts that are uniquely you, your voice, your perspective, are the ones that get people to stay, the ones that make people want to subscribe."
Pro-tip: Voice memo.
It's time to start a new blog post, but you don't have time to write. To speed up the process, make sure you've done step one (have a content roadmap) with topics that you have qualified as trending and important. Then, take out your cell and riff for 5-8 minutes. Austin uses an app called Rev (https://www.rev.com/voicerecorder) that then transcribes the voice memo (or you can hire someone to transcribe off of Upworks). Voice memos allow you to recapture time, such as driving or walking, when you otherwise couldn't write. It also helps get over writer's block. Save it! Send to your transcriptionist. This is your first draft of your blog post!
So now you have a messy first draft (don't post this yet!).
Now you can clean it up yourself or hand it over to someone else to clean up the language, tweak verb tense, organize the thoughts, etc. Then you have a final draft ready for review. Check out Upwork for good writers (contact Austin if you want advice on this!)
The other big time suck for Austin was formatting the articles on Wordpress (sourcing images, playing with header styles, etc.). Austin outsourced this too. He hired a virtual assistant to format the final article.
Look at your process and find ways to make them more efficient. For example, set a timer for 5 minutes to find an image. Tasks take the amount of time that you allot. And picking the perfect rowboat image isn't going to make a huge difference to your business goals.
There are high leverage and low leverage tasks. High leverage tasks are ones that Austin enjoys doing, make money, or he is remarkably good at. Low leverage tasks are the ones that Austin doesn't enjoy and doesn't require a lot of experience to do.
As you architect your own content marketing process, you can choose to keep the high leverage tasks and outsource or automate the low leverage tasks. Your high leverage tasks might be different from Austin's. Austin likes to edit and write, so for him, those are enjoyable tasks that he is really good at. For you, you might be a great graphic designer so making the banners would be something you enjoy and are really good at, making banner design a high leverage task. Outsource or automate the rest!
Let's talk about automation.
Austin recorded a step-by-step video for creating every detail of his blog post, such as here is how to find an image, here is how to format a blog post, here's how to make a blog post SEO optimized. Make the training videos, a resource library, so someone else can do it.
Austin also automates some of the promotion through MeetEdgar.com and SmarterQueue. Austin tried to outsource the social media stuff but found that his assistant wouldn't make the same promotional choices that he would like made. Different parts of his articles would be emphasized than what he wanted to be emphasized. But automation really helped. Check out the Resources Mentioned for links to useful apps.
Getting ROI:
"The benefits of consistent content marketing far out weigh the costs."
ROI will come only with consistency. Spending $50 a week on an article will pay off if you stick with it. One blog post every three months will probably not generate enough traffic to get conversion.
How quickly will you see ROI with content marketing? That's more about the promotion of your articles than the articles themselves. Of course, the topic, as already discussed, is very important in positioning yourself as an expert and a teacher of a very important need.
"The more strategic you are in the topics that you pick, the sooner that you can see ROI because you are starting conversations."
Now, you take the link to your articles and the main points from your articles and you spread them around your socials with automation help.
Successful posts answer questions that clients ask you a lot, which gets them shared a lot on social media. Follow up with the shares and the mentions and do some direct outreach. "Hey, let me know if you have any questions."
"Really good content starts conversation. If you are doing a really good job at promoting the content that you create, you will spark more of those conversations."
Resources mentioned:
Find Austin online:
---