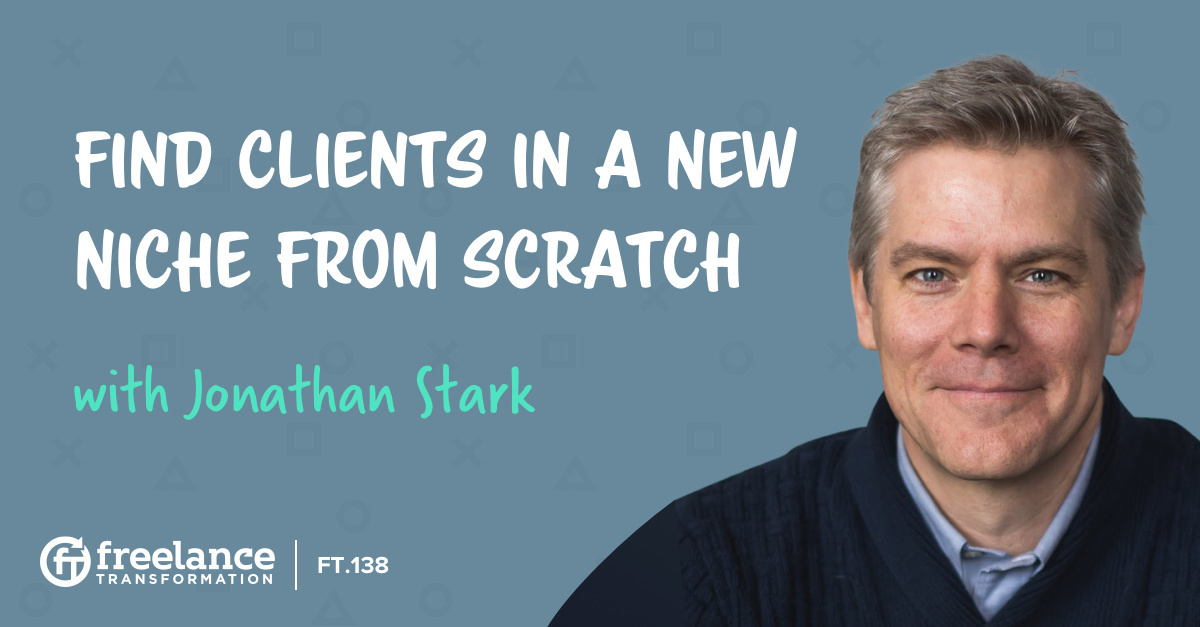 FT 138: Find Clients in a New Niche From Scratch with Jonathan Stark
One of the best ways to stand out as a freelancer is to niche down your services. But how do you pick a niche? And once you do, how do you find new clients? Jonathan Stark shares what it's actually like to find the right niche and reframe your brand around your new clients.
Listen now:
Listen on iTunes Listen on Stitcher
Podcast RSS Feed | Download MP3

Today's episode is brought to you by Harpoon!
Harpoon is the all-in-one financial management solution built specifically for freelancers like yourself. Harpoon is the first online invoicing and time tracking tool, at least that we've seen, that helps you actively predict if your freelance finances are on track to meet your goals, instead of just reporting them in hindsight.
Try Harpoon completely risk-free for 14 days. And if you love it use the coupon code TRANSFORMATION to receive 20% off the first 3 months of your subscription!
Jonathan shares with us:
Honing in on Your Niche
Jonathan is a mobile consultant, advisor, and coach who recently shifted his position. He still helps clients increase their mobile engagement, but he focuses specifically on credit unions these days. Before, he was working with businesses all across the board. He had so many different clients in his rolodex that he was getting lost in the crowd. The leads stopped coming in because there was nothing there that made him stand out.
As freelancers, we all know what happens when you stop standing out. The leads stop coming in, the work dries up, and you're forced to find work elsewhere. But rather than let it come to that, Jonathan advises that you stuff yourself in a box and really focus on one thing that truly stimulates you.
In my coaching business…the first thing that I recommend that they do is pigeonhole themselves. Stuff themselves in a very small box that is going to be very easy for people to remember.
Narrowing your focus and really honing in on one niche with one type of client like Jonathan does makes you better at what you do. With a niche, you aren't distracted by other trends or other businesses. You know how to speak the language of your customer and you become the one person they rely on to solve their problem and build their sales.
Niche Down with Something Stimulating
Honing in on just one niche does take a bit of introspection. Jonathan recommends finding a niche that you're excited to work with. Finding clients who align with your worldview will make the work you're doing much more stimulating and rewarding, and this will translate well in your client relationships.
Jonathan likes to get tactical, and he shares today why he chose to work with credit unions specifically. The excitement in his voice is enough to tell you how much fun a stimulating niche can be. Maybe you already have an idea of a niche that really speaks to you. Jonathan offers advice on how to use your passions to help you find your perfect niche.
If you make a name for yourself right when it's approaching the top of the hype cycle, you're going to automatically get business.
Timing is also important when it comes to niching down. Pay close attention to the trends in your field so you can jump on one at the right time. Look for trends and niches that others don't typically think of so you can stay ahead of the game. When it comes to your niche, you want to be in the know so you can continue to bring your clients the highest quality work.
Jonathan also recommends looking for an industry that really needs your help. You may not have the mobile development skills that Jonathan has, but you do have something else to offer your clients. Pick out your special skill and deliver it to the unique niche that's looking for someone exactly like you.
That's the big thing. They know they have a problem…and they know they don't have anyone in-house who can solve it.
Most businesses don't budget for the kind of staff needed to keep up with evolving technology. They are willing to hire out and pay top dollar for a freelancer who specializes in the unique thing that they need. Advertise your unique skill set so you can attract the type of clients that need you the most.
Advertising Your Niche Specialty
Advertising your unique skillset is key to connecting with your niche. Jonathan breaks down his process for finding and connecting with new clients. The way he uses social media distinctively makes him stand out, but his website is also a critical component in his strategy.
When first finding your niche, you want to update your website in such a way that it publically announces your new specialization. It helps if you streamline your social media to match, or at least the ones you want your clients to reach you on. Jonathan goes through his website design strategy and what social media he has the most success with. It doesn't really matter which one you choose, just that you're consistent with your content and your copy.
I wanted to change the copy so that it spoke directly to the people who are my ideal buyers.
With copy like that, you're already tailoring your marketing to your exact niche. You've started your outreach without putting in any extra thought or effort, and from there all you have to do is keep that momentum going. Connect with those clients that are convenient and affordable to meet and communicate with. Jonathan recommends taking a more personal approach to your copy and your communication in order to build more of a relationship with your clients.
Most importantly, don't think that niching down means you're alienating yourself from any potential clients. You are still available, you're just focusing your energy on one thing as opposed to one hundred different things. Tuning your activity to a certain frequency will actually make you more marketable, and you will be more open to various experiences and job offers that come your way as you start building yourself a really good reputation in your niche.
Resources mentioned:
Today's Sponsor!
Harpoon (use the coupon code TRANSFORMATION for 20% off your first 3 months)
Find Jonathan Stark online:
---