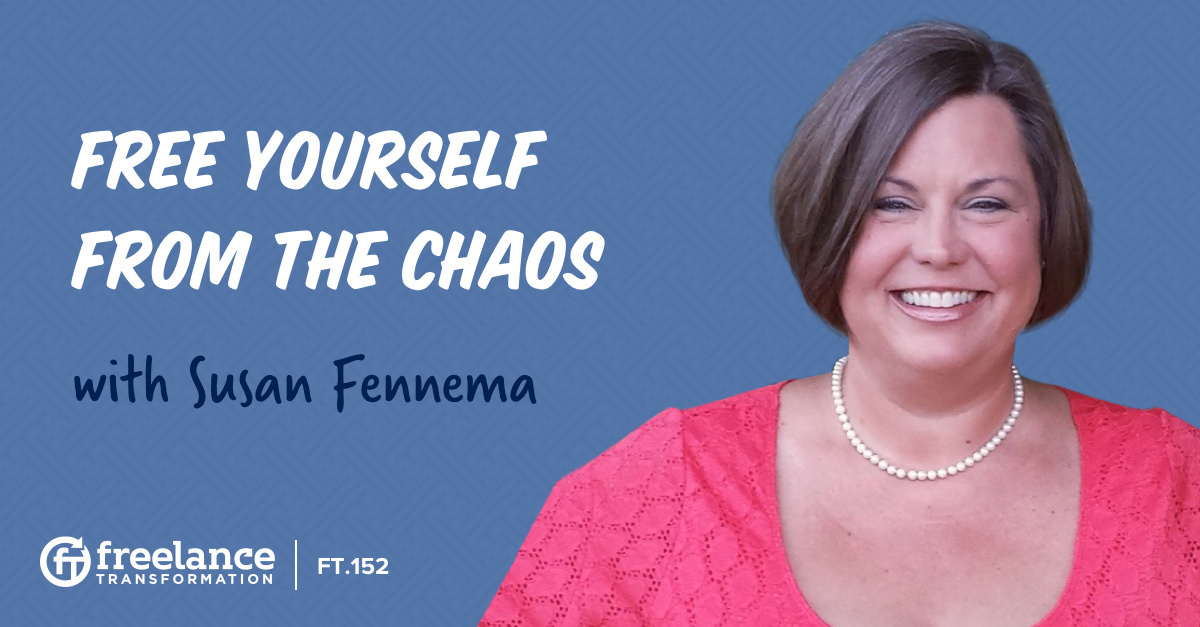 FT 152: Free Yourself From the Chaos with Susan Fennema
Susan Fennema is a project managing genius. She is the CEO of Beyond the Chaos, and she helps freelancers reclaim their lives. She has tips and tricks to help you keep track of all the little details, and we discuss the strategies she uses to help freelancers put systems in place to run a better business.
Listen now:
Listen on iTunes Listen on Stitcher
Podcast RSS Feed | Download MP3
Susan shares with us:
We can't all be organized all of the time. Sometimes our businesses get away from us, and we are consumed by all the little things we need to do to keep our business running. But you don't have to let your freelance career consume you or your free time. If you're struggling to find that work-life balance, this episode of The Freelance Transformation Podcast is for you.
Time to Get Organized
Luckily for us, Susan loves organizing. She naturally fell into project management early on in her career because she loves to keep people organized. She knows what systems to use and what software is the most helpful. More importantly, she understands how important it is for freelancers to balance working from home.
I love working from home. And I love that unity between life and work, as opposed to the separation.
To maintain this unity, it's important to remember that you are in charge of your business. You run your freelance career, not the other way around. It's easy to lose sight of that, so Susan recommends putting plans and structures into place right away. If you feel yourself drowning under deadlines and bookkeeping, take a step back and start systematizing your business.
Systematize a Timeline
The biggest thing missing from most freelance business plans is project management. You need to make sure you're meeting all of your obligations every day. While some of us just wing it, it's much easier to have a timeline in mind before you start your day. This timeline should be your priorities – the deadlines you have to meet for client projects, the chores you need to complete around the house, and maybe there are a few errands you need to run. Once you know what you need to do today, you can start to face your tasks head-on.
Knowing yourself and how you work will help you structure your day better so that you're more productive overall.
Susan shares what a productive day looks like for her and some of her clients. You may find that some of these strategies work for you, and some don't. Only you know what time of day you function best, and you are at liberty to plan your day around your most productive times. Taking this kind of control of your schedule is the first step to reclaiming your life.
When you have a timeline in place, you're more likely to keep the promises you made to your clients. Without a timeline, you'll find yourself being pulled in multiple different directions. Your work is going to suffer, and so is your mental health. This is why project management is so important. When you create a systematic timeline, you not only keep track of your priorities and deadlines, you are also creating a process that can be used over and over again.
Creating Expectations
Susan's tips for sticking to a timeline will help you develop some realistic expectations for yourself and your business. If you're just starting out in your business, you may not really know what your expectations are or what they should be. But setting up a timeline and a process for getting work done will help you wrap your brain around what's most important to you.
Use your skill set for your things and look for the right people to help you with the others.
You might be an amazing writer or an amazing web developer, but your skills may not transcend to project management. It's completely fine if you aren't the most organized person. But that's when you reach out and find someone that can help you develop better processes and timelines. Hiring a project manager or an assistant could be one of the most important steps you take in your business, even if it is a little overwhelming at first.
Susan shares her advice on what she thinks is the most important part of hiring and training someone new. She recommends that you create your own systems and procedures for your business so that you will be able to understand the kind of expectations that you have. It will become much easier to explain what you need someone else to be able to do for you when you decide to hire someone. At that point, you will be able to start delegating tasks which will mean communicating your goals and expectations effectively.
Through that explanation, that's how you're developing your system and your delegation ability. If you don't, they cannot meet your expectation.
No one ever said training someone would be easy, so don't expect to hire or keep the first project manager or assistant that you interview. While you are beginning to structure your business, you will be learning what your expectations are and what kind of person you need to hire. In fact, all of this is a learning process and you need to take it one step at a time. That's where your timeline becomes very important. Make sure you determine what you want your days to look like and how you want your processes to happen before you decide to bring someone on. It will make the hiring process much more seamless!
Resources mentioned:
Find Susan Fennema online:
---