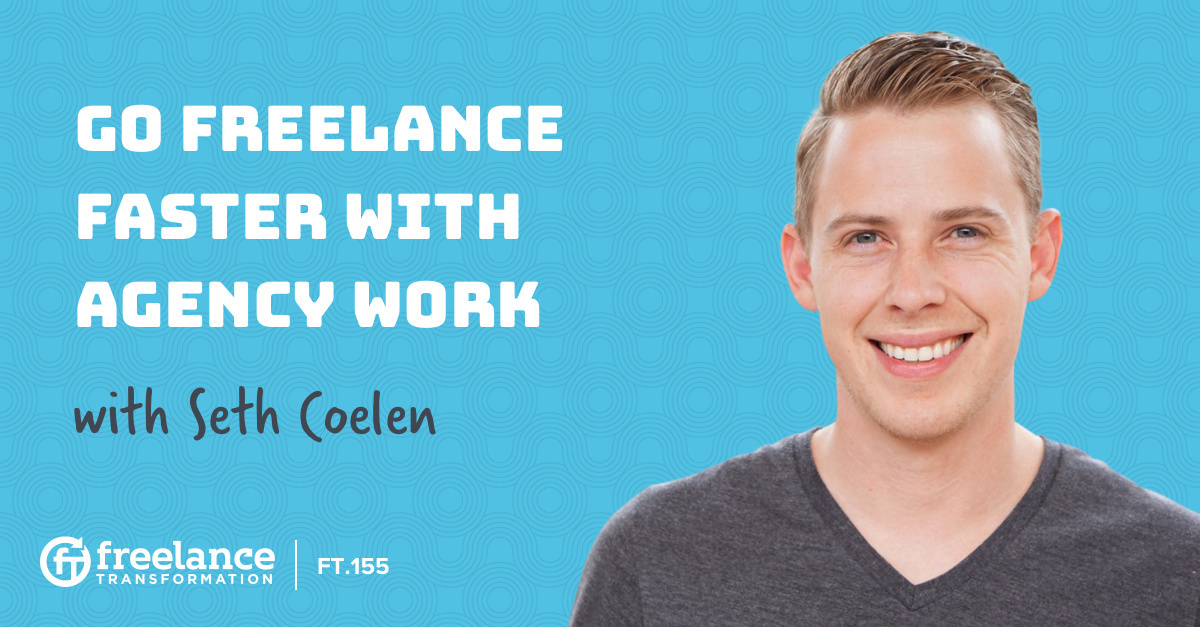 FT 155: Go Freelance Faster with Agency Work with Seth Coelen
If you're trying to find enough freelance work to finally quit your full-time job, tune in now for Seth Coelen's first-hand experience. Seth is on the podcast today because he truly knows how to set freelancers up for success. His techniques for finding clients and determining rates will help you establish the strong starting point you need to jump successfully into a freelance career.
Listen now:
Listen on iTunes Listen on Stitcher
Podcast RSS Feed | Download MP3
Seth shares with us:
Freelance VS. Full-Time
Seth Coelen is a UI/UX designer who really loves his work. He had no problem working his corporate job all day and then coming home to pull in freelance projects on the side. But stretching yourself too thin is one of the fastest ways to burn yourself out. Seth and his wife knew that something had to give. So he gave up the corporate job to focus on his freelance pursuits.
Part of the rub in working for an agency or a corporation is that you can do fantastic work, you can do overtime, or you can do just enough to get by and by-in-large you're going to get paid the same thing.
Although Seth fell naturally into his freelance career, it wasn't from a lack of support. Seth set himself up for the inevitable dive into freelancing by building a client-base and a savings account. He shares his techniques on the show today and breaks down his good work habits so you too can finally seize the opportunity to work for yourself.
How Do You Know You're Ready?
When you're ready to work for yourself, you'll know. But don't act on your impulses. If you're having a bad day at work, don't just quit your job to suddenly freelance full-time. Seth doesn't really recommend the cold turkey approach. Rather, take a few months to refresh your resume, network for clients, and – most importantly – build a savings account.
You might not be able to successfully freelance or give it the best shot possible because you don't have enough savings or because you don't have your networking in place.
If you're ready to freelance full-time that means you're probably freelancing on the side already. If that's the case, then Seth recommends putting your extra freelance money you earn in a savings account. This will better prepare you to easily transition into full-time freelancing without worrying about running out of money. You'll have a better time doing your work rather than stressing about earning enough to pay the bills.
Network Like Mad
Networking is a long game. You aren't going to get any instant gratification from building relationships with other freelancers in your field. But what you will get are amazing mentors and job leads that can and will eventually lead you to success.
Connect with people around you who do the same type of work you do.
Building relationships is key to having a successful freelance career. Seth's biggest piece of advice today is to connect with colleagues who are already doing what you're doing. Don't be afraid to reach out on social media and ask to take someone you admire out to lunch. People are more open to the idea of teaching and helping others than you think, so don't hesitate to take the chance.
Use an Agency to Your Advantage
The biggest strategy Seth shares on the show today is how to use agencies to find work and build your portfolio. Agencies will take on the overhead work of finding clients so you can focus on the doing the kind of work you do best.
It's a lot easier to connect with agencies and land a project or overflow work with them than it is for you to land a large direct client project.
Connecting with an agency via LinkedIn or local employment agencies can help you get consistent work while you build your reputation as a freelancer. Talk to recruiters online or get in touch with employers who previously offered you full-time work. These people are more open to working with freelancers than you think, and working on a contract basis can protect you from the potential risks of freelancing.
Finally, if you're a designer, Seth has created Bootsketch for any of you out there using Bootstrap. It's an amazing product that could really boost your business!
Resources mentioned:
Find Seth Coelen online:
---