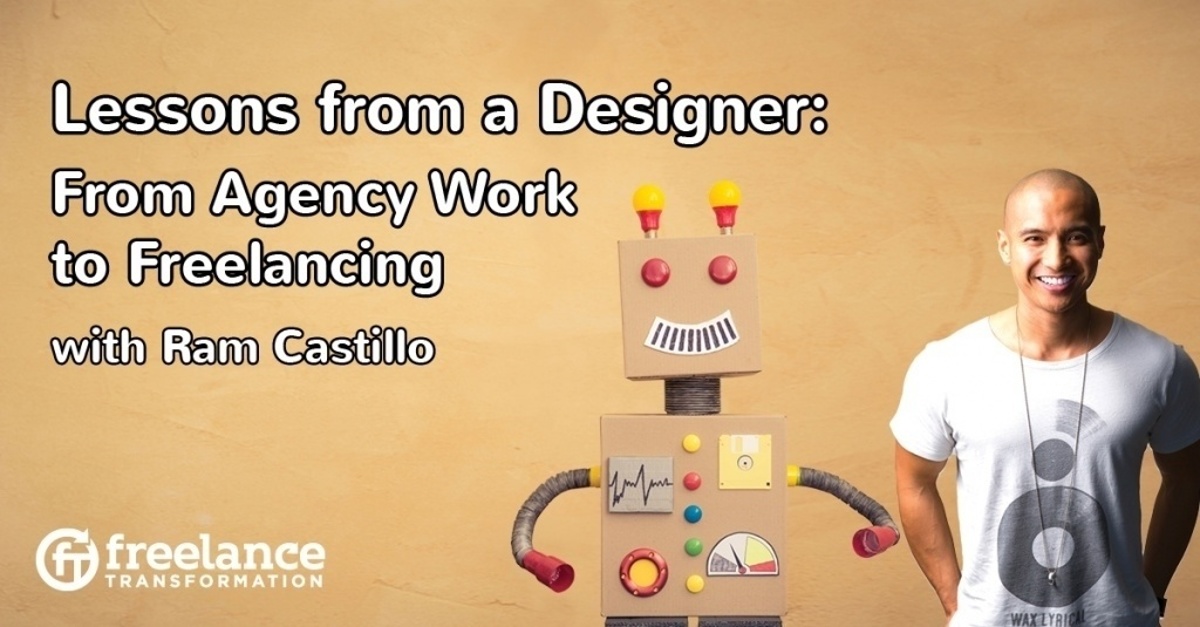 FT 078: Lessons from a Designer: From Agency Work to Freelancing with Ram Castillo
There are a lot of great reasons to get industry experience first before setting off on your own. When Ram Castillo graduated from design school, he acquired experience by working at a major agency. How did he get into a design firm when no one was hiring designers? He took a job in the mailroom. While he delivered mail and fetched coffee, he also had conversations with some of the top designers in the world who gave him insight into how projects are run in the real world and how to balance quality with budget.
Ram shares how he rapidly built a career working at major agencies and on major brands, how he created mentorship opportunities for himself at every step, why he constantly stood out, and how and why he transitioned into freelancing.
Listen now:
Listen on iTunes Listen on Stitcher
Podcast RSS Feed | Download MP3
Ram shares with us:
Ram's big break into design:

Ram started out working in the mailroom at Ogilvy and Mather, allowing him to get a foot in the door at one of the largest design agencies in the world. He received quick doses of mentorship from designers and project managers high up in the agency which gave him insight into budgets, resourcing and money. When he was in design school, he didn't learn how to balance staying in a budget while making quality work. Ram learned how businesses run and how to respect everyone's role in the business.
After working in the mailroom for a while, some of his contacts started passing him briefs that they were too busy to do and thought he could manage. At first, the design projects were small, such as his very first design of a play mat with puzzles and games for an airline, but as he kept raising his hand, he got more and more briefs for companies like Sprite, Amex, Dove, and Hyundai. Eventually he was hired as a designer because he was recommended by these contacts to other agencies.
At an interview with Smart Inc, he found out what makes a good designer in an agency. It wasn't about his design competence, it was about his attitude. When Ram mentors recent graduates from design school he tells them that attitude is more important than skill.
First, you need to have a hunger for continuous learning, which means you need to have the confidence to ask questions. Being overly shy or overconfident both cause communication barriers.
That's where taking initiative comes in. Many people are afraid that they are annoying their bosses by asking questions, but how else are you going to learn?
Then there is passion. Being passionate doesn't mean that you will only do something that you enjoy and comes easy for you and when it becomes difficult, you stop. It's about knowing what drives you and being curious, following doors that are open to you and taking opportunities. Going back to taking initiative, you have to go out and try a lot of different things to figure out what you are passionate about.
Finally, make friends, not contacts. This is about being genuine and authentic when you are talking to people. When you make connections, you don't want to ask "what can you give me," but ask "what can I do to help you" and being authentic with that. Being authentic means that what you say and what you do are in line. For example, if you are active on twitter, your posts should be in line with what you say your passion is.
Applying what he learned at agencies to freelancing:
Ram was driven to try freelancing because he was no longer feeling that the work he was doing aligned with his values. Ram likes to contribute and make significant differences. He has a motto, lead with generosity and follow with care. At the agencies, he was working on unfulfilling projects that may pay a lot but left him feeling like he was spiritually and creatively dying.
So he took the dive into freelancing by updating his LinkedIn profile to freelancer. Because he had built connections at different agencies for 8 years, he already had a client base when he started off on his own. Within 2 hours of his LinkedIn update, one of his connections from Ogilvy, now the managing director of a new agency, called him up and asked him to freelance for them for 9 months.
Freelancing has let Ram design his life. Although he is probably working more than he had at an agency, he now gets to work on the things that he loves and that matter to him. He gets to choose which jobs he wants to work on and gets to chose when he wants to take a break. Ram's style of freelancing lets him work full time for one client at a time for 3, 6, or 9 months to finish a project. He can then book clients in the future and have a sense of stability
Working at an agency before freelancing taught Ram many things. The most obvious one is the skills in design that make him constantly in demand by clients. He has an amazing portfolio. Less obvious is Ram's ability to quickly adapt to different agencies while working there full time. He doesn't require training at these agencies because he already knows how they run. Once he successfully completes one project for the client, and he does a good job, then the client relies on him because they know he can deliver.
Working at an agency also taught him about all the roles required to run a business, the same roles that you have to take on alone as a freelancer. You have to be a business thinker, manage time, find clients, network, produce the product, quote, and make sure milestones are being reached. And that's not a comprehensive list.
And finally, the most important aspect of working at an agency is the opportunity to meet people and network. Having contacts in the design industry boosted his career while working for agencies and while freelancing.
Ram's advice to freelancers looking for a mentor
Having contacts and mentors guide him was so important for Ram's career, that he has written a book for designers about how to get a mentor.
A mentor is someone who can give you shortcuts and help you see the blindspots. A mentor in your compass. But mentorship only works if it is two-way communication, not just watching someone on youtube. A mentor gives you guidance by advising, making recommendations, and supervising. They support you by listening to you and counselling you. They should encourage, inspire you, and motivate you like a friend would. And a mentor should be a role-model, someone who practices what they preach.
To get the most out of mentorship, you should prepare yourself as a mentee. A mentee should be willing to try what they have learned, be open-minded, and explore new possibilities. A mentee should certainly take action based on what their mentor recommends because you need to actually try the suggestions to see if anything works out. A mentee must also be committed to continue working on their craft and be resilient because the mentor will always put you in a place of discomfort by pointing out the things you don't see and pushing you to do something different.
Getting a mentor is about intention. But before you start asking people to be your mentor, you should go through the steps of personal analysis.
Ram recommends first writing a promise letter to yourself to help you follow through. Then you need to figure out who you are, what you were in the past, what made you who you are and what you are doing now. This is your baseline that you will be able to measure progress against.
Then you need to figure out what you want? What are you personal goals, professional goals, and physical goals?
Why do you want it? This step is particularly important because it will help you keep going during your lowest and most challenging moments. Ask yourself, how are you using your skill set to help others?
What's stopping you? List out all your challenges: time poor, lack of money, fear, failure, rejection, lack of confidence, lack of knowledge, or lack of connections. These roadblocks become your goals.
Then you gather a list of specific people that you can pair with each goal and can help you meet your goals.
There is more guidance and nuance in Ram's book "How to Get a Mentor as a Designer."
Resources mentioned:
Find Ram online:
Other Announcements and Notes:
Matt is speaking at Up Conference on October 13 in Vancouver. Check it out!
Want to get the closest thing to a freelancing MBA? Check out Brennan Dunn's Double Your Freelancing Academy and listen to Episode 75 on Freelance Transformation for details and a special offer for FT listeners!
---