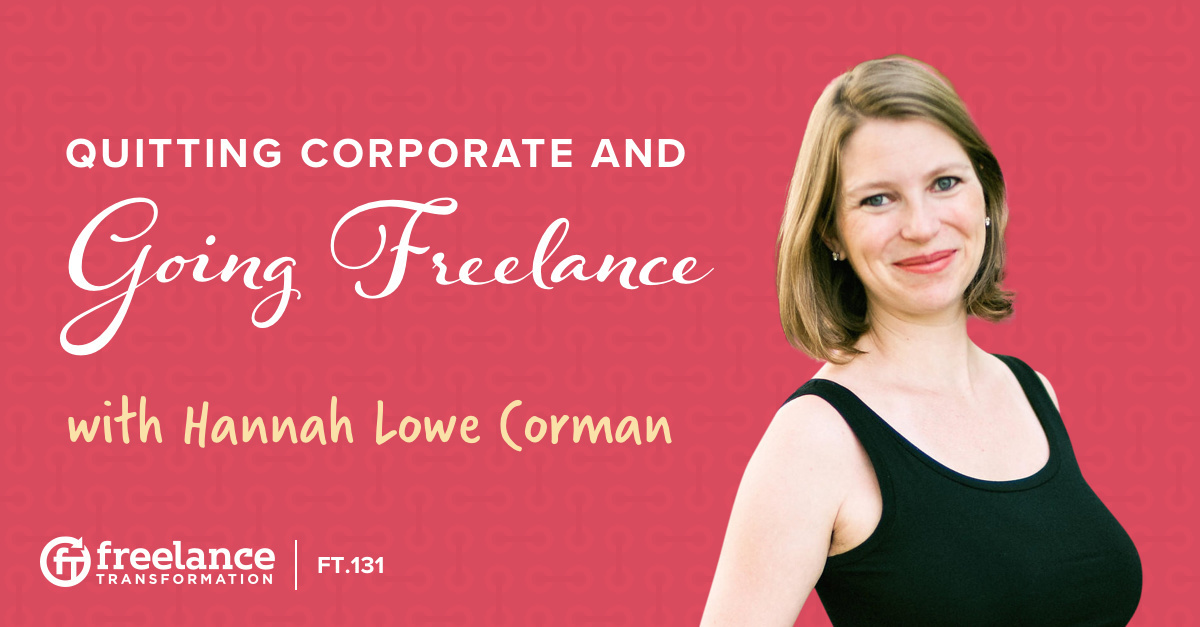 FT 131: Quitting Corporate and Going Freelance with Hannah Lowe Corman
Hannah Lowe Corman left her cushy corporate job as an investment banker to become the artist she always wanted to be. Today, she creates beautifully tranquil paintings to de-stress her corporate peers. Hannah paints a picture of what it's like to start a creative freelance business from scratch. Not only does she have tips for things like pricing, budget, and marketing, she also shares exactly what it feels like to leave the comfort of a corporate job to take on the unpredictable exhilaration of freelancing.
Listen now:
Listen on iTunes Listen on Stitcher
Podcast RSS Feed | Download MP3
Hannah shares with us:
I wanted to do something with my days that fulfilled me and made me joyful every single day, and I knew that was working for myself.
From Finance to Fine Arts
Hannah followed that prescribed path we're all "supposed to" follow. After earning her business degree in finance, she became a successful investment banker with a steady paycheck and a portfolio full of clients. Her life was stressful, but she was getting paid, and her hobbies for painting and yoga helped her de-stress and center herself. Not until her husband's job moved them both to New York City did Hannah really start considering art as a career. She met with a few creative entrepreneurs who boosted her confidence and gave her opportunities to show her art. When all of her pieces sold, she knew there was something there.
But when are you comfortable enough to leave your job? How do you start that process? It's no easy feat, but Hannah says you have to ask yourself what really makes you happy. Forget what you should or could do and ask yourself – what do you want to do? The thing about freelancing is that it can become the most satisfying choice you make for your career. You just have to trust your gut that you're making the right decision.
Those could's and would's and should's – the should's, I think, really get you sometimes.
Keeping a Corporate Structure
Working full-time gives you a purpose, so what do you do when that stops? Deciding to leave your corporate job is like throwing spaghetti at a wall and seeing what sticks. Like a lot of us, Hannah initially believed it would be easier. Freelancers have all the free time in the world! Right?
I never thought I was one of those people that identified my value as my job.

Reality check – freelancing IS a full-time job, and sometimes it's harder when you have to manage your own time. Hannah shares the three things she did to manage herself, her time, and create a winning business model. Time blocking, implementing processes, and networking are all staples of Hannah's business. Painting is just a piece of it.
At the beginning, it's pretty lumpy and you don't know if you're going to have 5 people request commissions or nobody, and that's definitely scary and a little bit hard to manage.
Building a New Kind of Portfolio
Where Hannah is gaining a lot of momentum is with her marketing strategy. A lot of the work comes from her virtual presence through social media marketing. There's a lot of potential to tap into on Instagram, and visiting her page will give you a peek at her work and who she is as an artist.
I enjoy trying to actually share some behind-the-scenes or some personal details of why I'm doing what I'm doing, rather than just 'here's a pretty picture!'.
Building a pipeline for clients as a freelancer isn't too different from a corporate model, but as a freelancer, you have the opportunity to put your own personal touch on it. Marketing with social media gives you a chance to show yourself in your work and connect with clients in a more personal way. Hannah uses unique techniques to stage photographs and manages her posts on Instagram so that they can be used as references for commissions. The possibilities are endless, and you can learn a lot from Hannah's marketing strategy.
The learning experiences that Hannah shares today could finally motivate you to quit your own corporate job. If you're thinking about chasing your passion and becoming a freelancer, Hannah's first-hand experience building a new business from scratch is the story you need to hear. No one said it was easy, but freelancing could be the most fulfilling choice you make for your future.
Resources mentioned:
Find Hannah online:
---