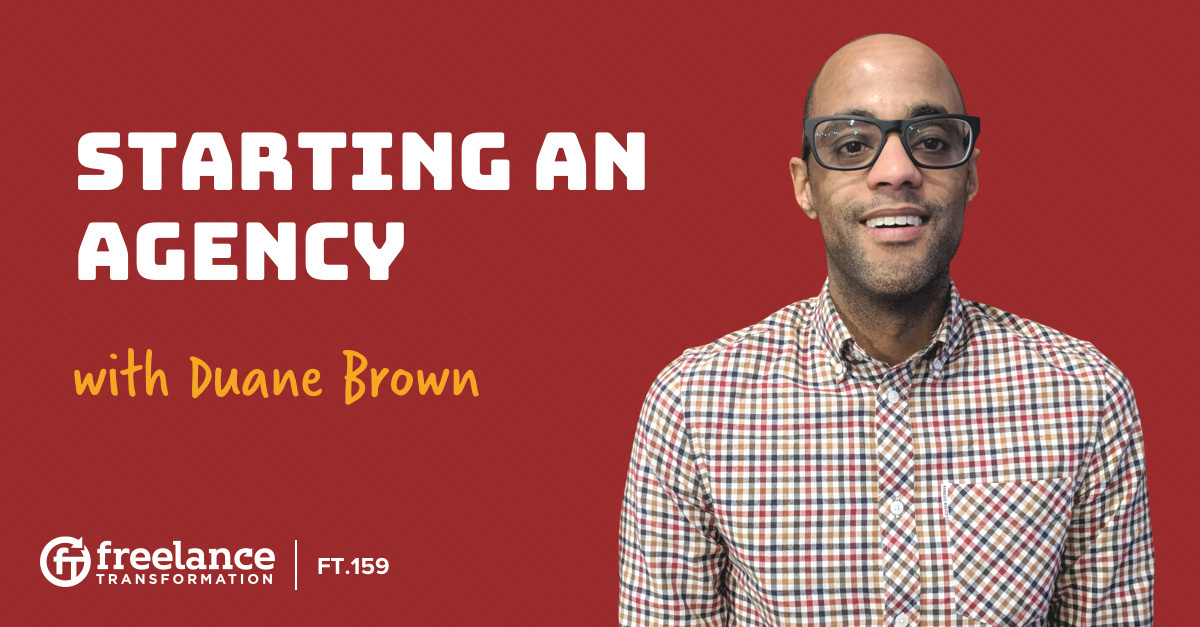 FT 159: Starting an Agency with Duane Brown
Duane Brown, Founder of Take Some Risk - a digital marketing agency, discusses his transition from freelancing to starting his own agency. Duane shares some of the risks he took to make that first leap and why and how he's decided to build an agency.
Listen now:
Listen on iTunes Listen on Stitcher
Podcast RSS Feed | Download MP3
Duane shares with us:
What does life look like when you decide to start your own agency? Upgrading from freelancer to solo-preneur is the trajectory some of us take in our businesses, but taking that first step isn't always easy. How do you know when you're ready?
The Ability to Work Anywhere
Flexibility was key to Duane's decision to start his own business. This man has been all over the world, and he wanted a career that could accommodate his wanderlust. Living and traveling abroad introduced him to so many people. He traveled, networked, and was able to build a strong foundation of support that ultimately inspired him to quit his job and pursue his true professional calling.
I had a worst-case scenario, and the worst-case scenario wasn't the end of the world…so I just decided I'm going to do this and I'm going to be happier emotionally.
Finding emotional and professional fulfillment was Duane's ultimate goal. If you find yourself unsatisfied with your current career, Duane recommends really sitting down and focusing on what makes you truly happy. When you're happy in your career, it makes it much easier to build a business.
Building a Dream Team
Hiring people is also easier to do when you're happy with your business and the direction it's going. Duane shares his personal hiring process, which he refers to as a "two-fold process". His success metrics are based on the revenue and profit the business makes per employee, so he only hires when it's absolutely necessary. And he only hires the best of the best.
We only hire when it really makes sense for the business and puts us in the right direction we want to go.
Duane loves managing campaigns and creating marketing plans, so he only hires when it's too much for one man to handle. He looks for senior talent that can assist him with busy client schedules or tackle specific tasks. Hiring at these times makes it possible for Duane to pick and choose the best from the hiring pool.
Finding senior talent isn't always the easiest thing in the world, Duane says. But it does set his business apart from the rest. He requires a minimum of five years' experience and looks for employees with niche expertise in social media and campaign marketing. They may cost a little bit more, but it's a worthwhile investment if you want to grow your business.
It's not about knowing what to do when things go right, it's about knowing what to do when things go wrong. That's where senior talent really excels and shows who they are.
Duane's advice for freelancers who want to build an agency and hire staff is this – save your money. It's easier to hire a dream team when you have the money to pay them an elite wage. Duane took a pay cut this year just so he could keep money in his company. This financial buffer gives him more wiggle room to hire the elite and build an agency worthy of six-figure clients.
Finding Dream Clients
It might surprise you, but Duane has used Reddit to find clients. It's not a traditional lead generator but using his expertise to advise and educate entrepreneurs on the online message board creates some interesting potential client relationships. He uses the site to help clients navigate their marketing woes. He establishes himself as an authority figure, answers questions, and attracts clients through private messages.
Building those relationships is what it takes to find dream clients. Duane talks about the three pillars of his business model – curiosity, courage, and honesty – and how they influence his hiring process and his client relationships. He shares the characteristics he's identified from his favorite clients and how to duplicate that same success with new clients. His personal approach is to keep the agency small and manageable.
One of the reasons I want to keep the company super small is that we can be picky and choosy about what we take on.
The smaller your business is, the more time you can spend building relationships with clients. You want to work with someone you can go out to dinner with, not the client looking for the cheapest solution. Trust is important in Duane's business model because it's directly linked to his pillar of honesty. He works with clients who trust his expertise and are willing to invest in senior talent.
Working Through The Weaknesses
Even with a dream team and dream clients, Duane is still learning. The Take Some Risk marketing agency is just turning a year old at the time of this podcast, and there are still a few kinks Duane is ironing out. Pricing is one of them. Duane discusses some of the frustration he feels about pricing and the processes he's put in to place to combat client's who are looking for "discount" services or those who only want to pay for a certain amount of "hours."
The challenge is that the industry may be not as progressive as I think about pricing sometimes.
His advice is to set a monthly budget for clients so he knows what they're willing to invest in their marketing campaign. If the client doesn't have the financial resources to keep up with the companies expertise, then he knows that this client may not be the best fit for the agency. Duane doesn't charge by the hour, he prefers to create fees for strategy and maintenance that he can adjust to meet a client's needs as their business relationship evolves.
No client should be more than 20-25% of our revenue at most, and if it ever gets to that point we need to have a discussion of why. But more importantly, every client is important.
Working through these weaknesses will come as Duane gets more and more experience. You can't learn everything about running your own business overnight. It's nice to hear how one solo-preneur is taking it a day at a time. Duane's advice on today's episode is priceless to those freelancers out there who are interested in taking on a team.
Resources mentioned:
Find Duane Brown online:
---