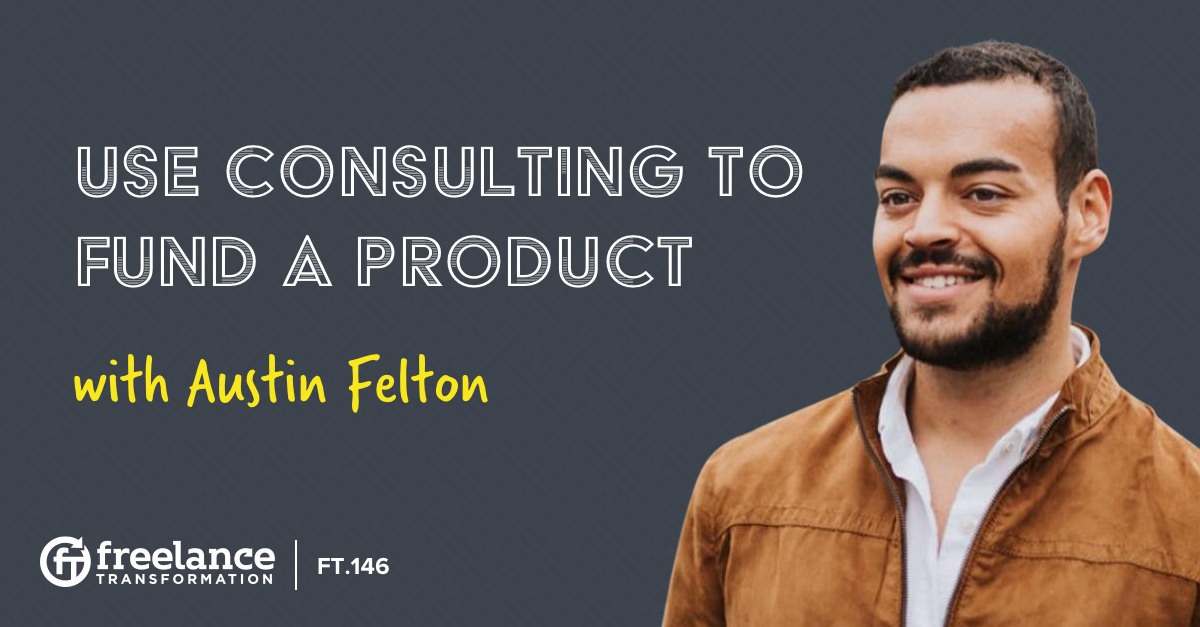 FT 146: Use Consulting to Fund a Product with Austin Felton
Austin Felton is a unique freelancer who used his consulting business to fund his product business. He's the creator of Entrecloud, a WordPress hosting software, and this product was inspired by his first consulting clients. While consulting influential entrepreneurs, Austin had the opportunity to ask clients directly what they were looking for and he tapped into a niche market that he could deliver to.
Listen now:
Listen on iTunes Listen on Stitcher
Podcast RSS Feed | Download MP3
Austin shares with us:
The Life Story
Austin Felton has always been an entrepreneur. He used Craigslist and a used car to find his first tech clients when he was only 15 years old. He drove around fixing and building computers for clients who were looking a for tech expert. This business later evolved into a six-figure endeavor that he was able to sell. Austin's young age didn't distract from his experience, and he took every opportunity he had to learn and move his business to the next level.
Society teaches us that there are these gatekeepers and that there are certain milestones that you have to hit before you can be something or do something, and while that may have been true in the past it's just not anymore.
Starting out early meant Austin used the skills he already knew to grow his business from the ground up. He took his passion for technology and turned it into a business. And the trick to his unique business strategy is to invest your resources into the one thing you already know how to do, already love to do, and grow your business from there.
Austin knew right away that he was very good at talking to business leaders and entrepreneurs. As he puts it, he has a knack for turning tech speak into business speak. He's able to communicate with entrepreneurs in a way that they understand and can get excited about. It means a lot to your consulting clients when you can explain their vision back to them and turn it into a reality that's easy to understand.
I needed to leverage myself, and that meant – I'm not going to learn how to be a developer, I'm going to learn how to hire and manage developers.
This communications talent was the skill Austin decided to invest in. It's the key to his business model, and it's this talent that inspired him to hire out and build the right team that could fill in the gaps he couldn't do on his own. Attending conferences gave Austin the opportunity to meet like-minded people and start the kinds of conversations he needed to practice before talking to his clients. He learned how to build relationships and personally connect with his clients, and he shares how this strategy transformed the way he works with his team. Austin breaks down the in-depth process he uses for each of his clients and how it can truly build those long-term business relationships and lifetime clients.
The Transition Story
How did Austin go from consulting to product-based business? The transition can be easy when you break down your projects into a step-by-step process, and he shares a part of that process today. Taking what he learned from his peers and his clients, Austin was able to hire a team that would help him build a piece of software many of his clients would need.
The way I viewed my consulting company from the very beginning…was a way to build cash flow and build something that is scalable.
Austin changed gears when he realized that a software company was much easier to scale than a consultancy firm. He was always good at talking to people, but managing a staff on a cash-for-time business model can become more expensive and much harder to manage. That type of business model is better applied to a product-based business, and that's the direction Austin took. He had always intended to make a product, and through consulting Austin was able to take the time to develop the kind of product his clients actually needed.
Talking to people is a big part of Austin's product business, Entrecloud. Meeting people at conferences and building strong business relationships through conversation gave Austin the opportunity to ask his clients about their specific problems and then develop a product around that need. He saw a need for faster loading times on web pages and used the skills he had in building relationships to pair up with people he wanted to work with in order to deliver quality software to the clients that truly appreciate it.
If you are committed and put all your time, energy, and effort into making it work, it's the dream.
Austin is sharing a lot of advice for young, up-and-coming freelancers looking to hone their own skills and find a niche. He has his reasons for avoiding investment capital in the early stages of your business and offers advice on how you can use your own talents to invest in your own business.
Resources Mentioned:
Find Austin Felton Online:
---