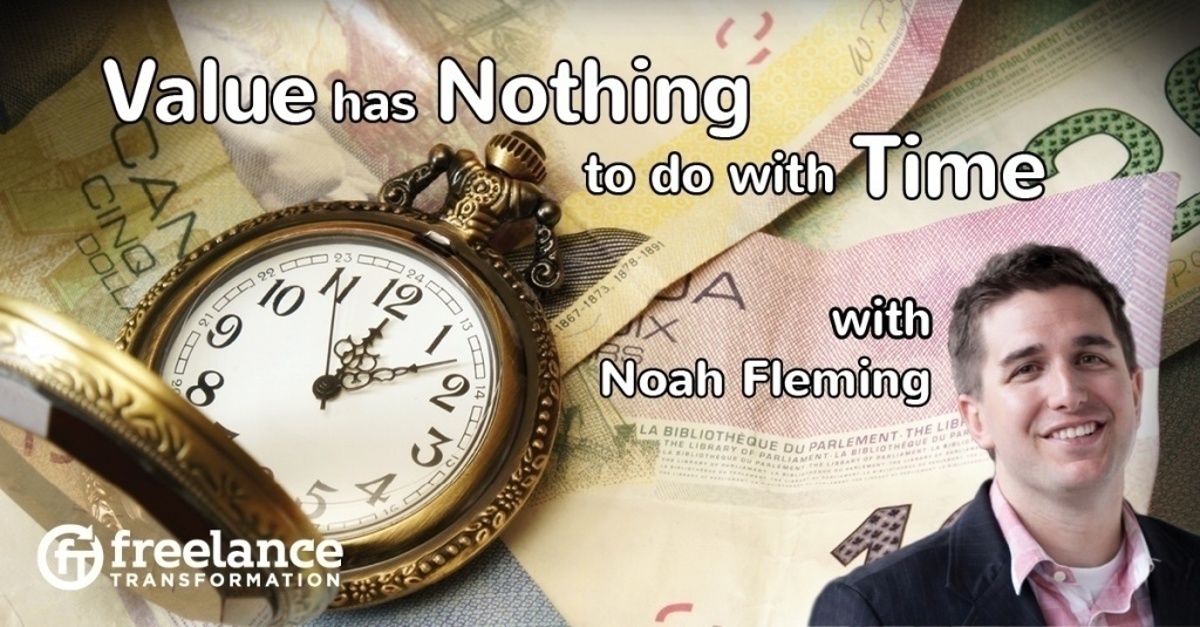 FT 060: Value has Nothing to do with Time with Noah Fleming
Noah Fleming has a successful consultancy, is the author of the book, Evergreen, and is a coach in Alan Weiss' private coaching program. Noah dives deep into what it really means to create value, use value-based fees, and how to identify and find the clients who we can deliver value for.
Listen now:
Listen on iTunes Listen on Stitcher
Podcast RSS Feed | Download MP3
Noah shares with us:
Why and how to invest in yourself: When Noah decided to take consulting seriously and start his own business, he decided to go to the source of knowledge, Alan Weiss. Noah invested in himself by working directly with Alan as a business coach. Sure, it cost around $40,000 over 12-15 months of intense study and work, but Noah adamantly says that it was the best investment he ever made. And sure enough, it got him a tenfold increase in revenue from $3,000-$7,000 projects to $30,000-$60,000 projects.
Why you should switch to value-based fees: Value-based pricing lets you work for results, rather than work by the hour where the incentive is to drag out the hours. Make the switch as soon as you can because you will find that you are not actually doing any work differently. Instead, you will find that you are building stronger relationships with the clients you like to work with and the clients will respect you because you are helping them with some aspect of their business, thereby providing value.
You are a ROI: A rule of thumb to base your fees on is centred on your return on investment to the client. Figure out how much money or time will be saved or gained by the client and ask 10%. That could mean that if your work could make your client $500,000, is it really absurd to charge $50,000 or 10%?
This may sound silly, but the first few times that you decide to increase your prices are going to be very hard. So, practice saying that your fee is $50,000 in the mirror. Seriously! Keep saying it until you can keep a straight face while you say your fee to the client.
How to find the buyer: While you change the way you price yourself, and how much you are charging, you may start to find that your clientele will start to change. Noah started with mom and pop businesses, but began looking at larger and larger companies, speaking with the owners or CEOs to sell his consulting. But Noah also warns that with larger businesses, it is sometimes hard to tell who the buyer is, that is, who is the person who says yay or nay?
You need to talk to the person who writes the cheques and approves the proposals. It is not always obvious who that is, especially family businesses. You need to talk to all the owners to build rapport and relationships, otherwise, the one person you talked to will go back to the other owners (siblings, partners, parents, friends...) who you have never met, leaving you at a disadvantage.
Some questions to ask early on during meetings with the client: Is there anything that we haven't discussed that could stop us from moving this project forward? Can you immediately approve the work? Are you responsible for signing the cheques?
What if someone reaches out to you with a project request? Is it a project lead? You have to push back and talk to the person who is responsible for the project and the business. You have to talk to the person who will approve the proposal.
Payment in advance means security: It certainly doesn't mean that now you can slack off, because if you do, you will lose that client and any referrals that client may have, which are extremely valuable to you. If the client can't pay up front, are you sure you want to take on the financial risk yourself of whether or not they will pay at the end? If the client pays up front, then they are investing in you and your services, they are serious, and they are ready to do the work to apply your expertise properly.
Tips for proposals: You need three things: objectives, measures of success, and value to the organization. And you should have already spoken about these topics with the buyer so nothing is a surprise and you and the buyer have come to "conceptual agreement" about what exactly the project entails, goals, how you know when or if you meet the goals and how your work has helped the company on the whole.
How to get clients: As always, the first step is to define your ideal buyer and know that you can help these people with what you do. From there, you can try in-bound and out-bound marketing.
The Book: Noah believes in the power of writing a book to build your brand. Alan Weiss, his mentor, always says that commercially published books are the gold standard in consulting authority. How can you argue with the author of Million Dollar Consulting, whose book is everywhere? That's the power. The book is seen by people before you ever try to sell to them and makes you an expert in your niche. You can also do what Noah does and send it out to potential clients as your business card. Sure it costs a bit more than a piece of paper with your name and number on it, but it has a much greater impact.
The Peer-to-Peer Referral: Alan says that while books are gold, peer referrals are platinum. Ask your colleagues and friends, everyone, if they know anyone who fits the profile of your ideal buyer. Utilize your social networks like LinkedIn.
The Weekly Newsletter: Noah writes a weekly newsletter that goes out every Tuesday, no matter what. He never misses a week, ever! It has gotten to the point that subscribers will start emailing him at 10:30 on Tuesdays asking where his newsletter is. Consistency is sometimes more important than quality. Again, this is an authority builder.
Host an Executive Breakfast: Noah has repeatedly had success with this trick. He invites 15-20 CEOs to a nice breakfast at a fancy hotel. He rents out a room and caters the breakfast for around $1,500 and presents ideas to all these ideal clients. Don't be afraid to put in a bit of an investment!
Speaking Engagements: Find conferences, association events, and CEO summits where your ideal clients are hanging out. Yes, it can get a bit pricey to go off to a conference, but if you just get one client from that experience, the conference is paid off. So get two or more clients!
Traveling: If you are going somewhere new, why not look up some of the local companies who you want to work with and ask for a meeting. Or you can hold an event, like an executive breakfast, to target more people. What are you willing to do to see a buyer? Don't underestimate in-person meetings in our digital age. They are still very powerful and can convince your potential client of how respectful and serious you are about their business.
Resources Mentioned:
Find Noah Online
---