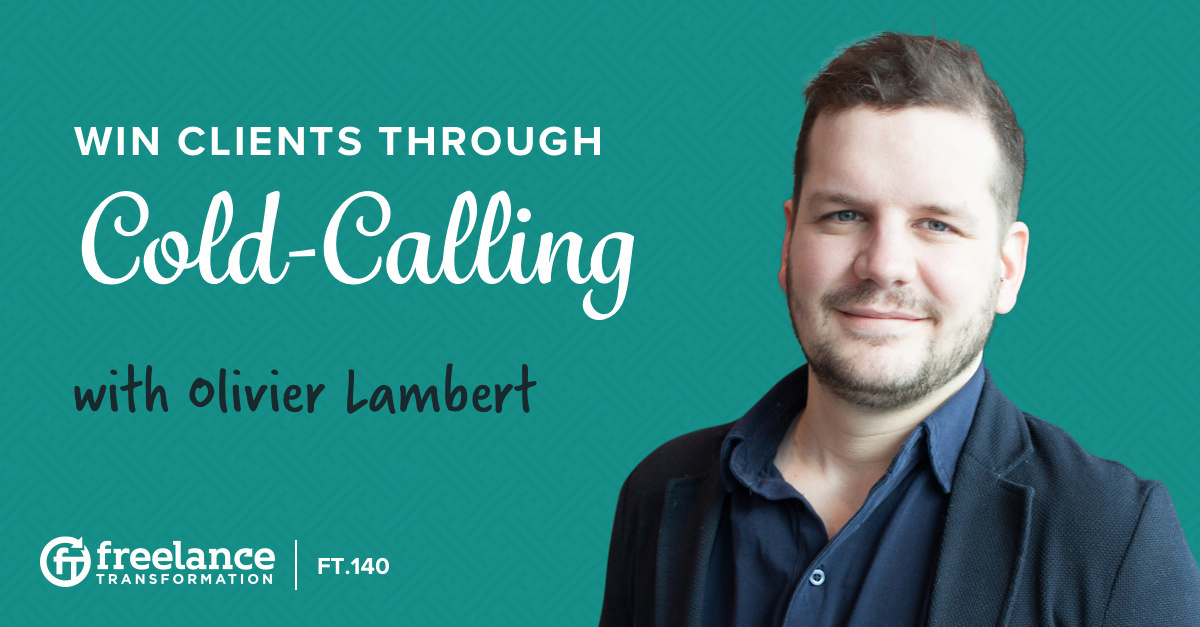 FT 140: Win Clients Through Cold-Calling with Olivier Lambert
If you've never considered cold-calling as a way to grow your freelance business, Olivier Lambert is going to open your mind to this approach. Olivier, of TactikMedia, worked hard to perfect his cold outreach tactics and now his cold calls account for nearly 40% of his client base.
Listen now:
Listen on iTunes Listen on Stitcher
Podcast RSS Feed | Download MP3

Today's episode is brought to you by Harpoon!
Harpoon is the all-in-one financial management solution built specifically for freelancers like yourself. Harpoon is the first online invoicing and time tracking tool, at least that we've seen, that helps you actively predict if your freelance finances are on track to meet your goals, instead of just reporting them in hindsight.
Try Harpoon completely risk-free for 14 days. And if you love it use the coupon code TRANSFORMATION to receive 20% off the first 3 months of your subscription!
Olivier shares with us:
Olivier has since expanded his business to become a consultant for freelancers just like you. He creates resources and tactics for up-and-coming entrepreneurs who want to use cold outreach as part of their marketing plan. He's here today to share some of these tactics and get you connected with the right outreach tools to build your dream client base.
Don't hesitate to start.
Picking up the phone and calling complete strangers is a little daunting, but Olivier's strategies will help you break through your fears and get started. The very first step in his cold outreach strategy is getting (and staying) motivated.
You really have to keep in mind that if you don't do it, you won't get results. Sales don't happen overnight.
If you want to start talking to real clients who will genuinely benefit from your services, then start picking up the phone. It takes a little practice to build your confidence, but Olivier has some tips to help you out. He was lucky enough to learn his icebreakers during his start as a door-to-door salesman, and he uses his firsthand experience to help people like you start picking up the phone.
You have to have the right mindset for cold-calls, and that means you have to hold yourself to higher standards than anybody else would. Finding ways to hold yourself accountable is one of Olivier's chief ways to stay motivated, and when the sales start coming in, you'll find that it only gets easier and easier to pick up the phone.
How to start talking business.
Making a cold call is more than just picking up the phone. Getting someone on the line is only one part of the overall process Olivier shares. He breaks down his step-by-step strategy for making a cold sales call, and some of his steps might surprise you. His first step teaches you how to find the perfect client.
You better have that great list of target customers, because you have the right to choose... And I'm going to target my ideal customer.
Olivier recommends taking a trip to your local Chamber of Commerce so you can get access to new and fledgling businesses in your area. Remember, you're looking for those clients that can benefit most from your unique set of skills. If you design websites or manage social media, look at business' trying to develop more of an online presence. Like Olivier says, you have your pick of clients, so take care to choose the ones that will mean the most to you.
Building that meaningful relationship with your client is key to Olivier's cold-calling strategy. He advises freelancers to focus on starting the conversation before making the sales pitch. You want to know that you can talk to this person, because you can't very well work with a client that doesn't use your vocabulary.
You're not selling on the first call. It's really just a step in your sales process.
Once you've started the conversation, you're on your way to building that meaningful sales relationship. Your potential clients notice how you take care of them and how often you follow-up, so you can't give up after the first call. Maybe they won't talk to you this week, but next week could be a different story. You want to show them that you're serious about helping their business succeed.
Build the dream client list.
What's amazing about these sales relationships is not closing the deal, although Olivier will show you how to do that on today's episode. But these relationships that you take time to build over the phone will turn into references and referrals you can use on your landing page, your LinkedIn profile, or even as testimonials in your portfolio. Future clients will start seeking you out based not only on the work you've done but on the way you treat everyone you work with.
Phone calls work when they're done the right way.
Finding the right clients means calling the right people. You have to get yourself in front of the directors of marketing to have a real effect, and that requires showing off the value you can bring to their business. Have a script and portfolio ready when you make your phone calls, and don't try to sell anyone anything on the first call. Olivier says your goal should be getting to know your potential client.
When it comes to cold outreach, it's going to be your effort that counts. If you're willing to put in the work, you can learn the ins and outs of one of the most overlooked strategies in marketing. You have the opportunity to build an amazing portfolio and a well-groomed list of references that will only help your business to grow.
Resources Mentioned:
Find Olivier Lambert Online:

---