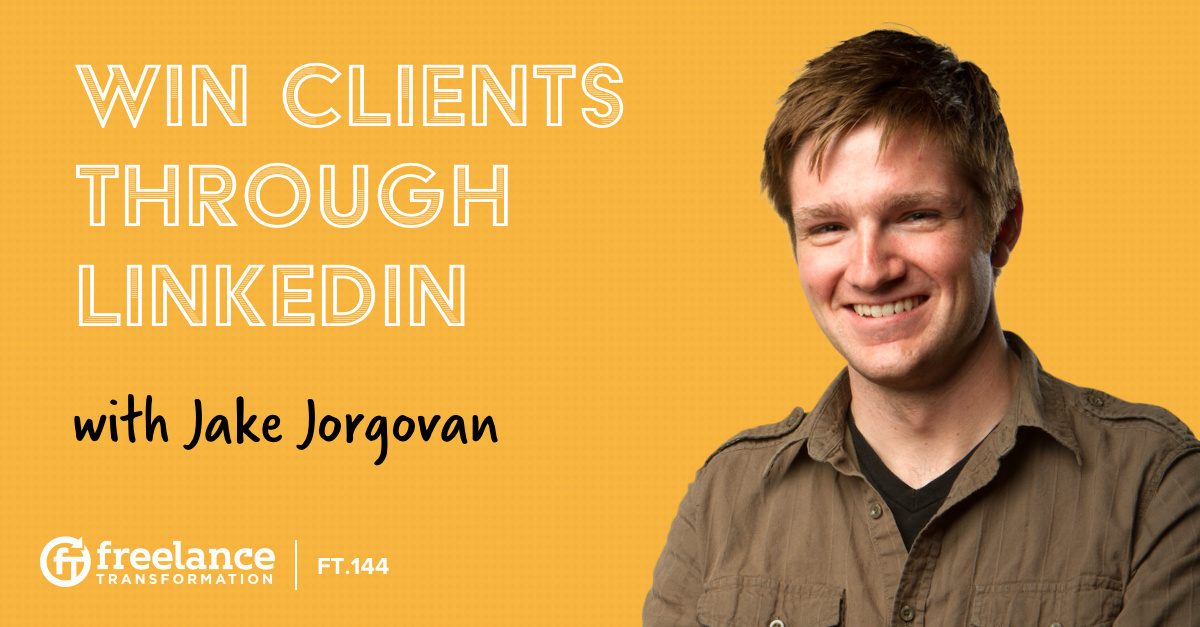 FT 144: Win Clients Through LinkedIn with Jake Jorgovan
If you've never considered 'LinkedIn Prospecting' as a way to find clients, it's something that you may want to investigate as a freelancer. Jake Jorgovan is the founder of Lead Cookie - LinkedIn Lead Generation & Prospecting, but he's been using LinkedIn as a way to connect with clients long before he started teaching other freelancers about it.
Listen now:
Listen on iTunes Listen on Stitcher
Podcast RSS Feed | Download MP3
Jake Jorgovan shares with us:
LinkedIn is the only social network that acts as a comprehensive database of professionals and companies that could be in need of your special area of expertise. It is possible that if you connected with these professionals, you could easily find the ideal clients you would want to work with. The strategies Jake shares today won't take you longer than two hours per day and could generate up to twenty leads per month.
What is LinkedIn Prospecting?
You shouldn't overlook LinkedIn in favor of Facebook. The access to professionals that a LinkedIn account gets you outshines Facebook, especially if you're niched down. Jake recommends getting yourself into a niche as soon as you can because it's going to be much easier to connect with the kind of clients you want to work with.
The more well-niched and defined your value proposition is, the better the results are going to be.
In order to perfect his own LinkedIn networking strategy, Jake applied a few Facebook-esque techniques. He shares a few tips for outbound outreach, including friend requests, but all of these tactics work better if you have a specific niche where you exclusively work. Jake explains that LinkedIn offers a plug-in for entrepreneurs who pay for an account. The LinkedIn Sales Navigator allows you to search for clients based on their company, their brand, even where they attended university. And the more niched down you are, the more refined your search will be.
And where you're going to see the best results is if you're doing B2B…and selling to other businesses.
To help you focus on your perfect client, Jake breaks down a few niches that have the most turnaround with a few tips to help you really stand out and catch their attention. While Facebook tactics work for LinkedIn, some of the features of LinkedIn make it very lucrative for freelancers in particular. Jake shares his favorite tactics and the three tiers he uses to help his own clients optimize their own LinkedIn Pages.
Three Pillars of LinkedIn Success
With Lead Cookie, Jake's consulting business, he applies this three-step process to each of his clients' LinkedIn profiles and networking strategies. The biggest mistake he fixes is for those people who treat their profile like a resume. You want to avoid general statements and the timelines that you typically see in a resume and focus more on selling yourself.
Think of your profile almost like a sales page on a website.
The first step in the process Jake shares is how to optimize your profile. Treating it like a landing page is exactly how you want it to look. Write about your customers and describe how you solve their problems and use referrals if you have them. Always include a call to action because that leads into the second step – outbound outreach.
The unique thing about LinkedIn is the way it includes a messenger and a newsfeed on top of the professional connections. The outbound outreach strategy Jake shares today includes all of these things so you can start what he calls "warm conversations". The goal of this strategy is to start a conversation, and as long as your prospective clients confirm your connection, you have direct access to send them messages at any time. You don't want to send them a sales pitch, but you do want to show your niche that you are here to cater to their needs.
You're not pitching them, but you're still positioning yourself and showing off what you do without trying to sell them right out of the gate.
The final pillar in Jake's strategy will teach you how to ramp up traffic. Responses to your outreach will start coming in, and your best strategy is to always seize the opportunity to start and continue any warm conversations you have with potential clients. You don't want to miss out on any opportunities.
Just basically sharing stuff in general on LinkedIn is a super powerful way to attract leads and get people looking at your profile.
LinkedIn's ultimate goal is to re-invent the way companies and freelancers approach sales. Jake's strategies are designed to help freelancers take advantage of the connections they can make while everything is still new and uncultivated. LinkedIn will give you access to a targeted list of potential clients that you can then filter through based on your niche services and skills. There are so many things happening as social networking evolves, and freelancers need to stay ahead of the game if they really want to succeed.
Resources Mentioned:
Find Jake Online:
---