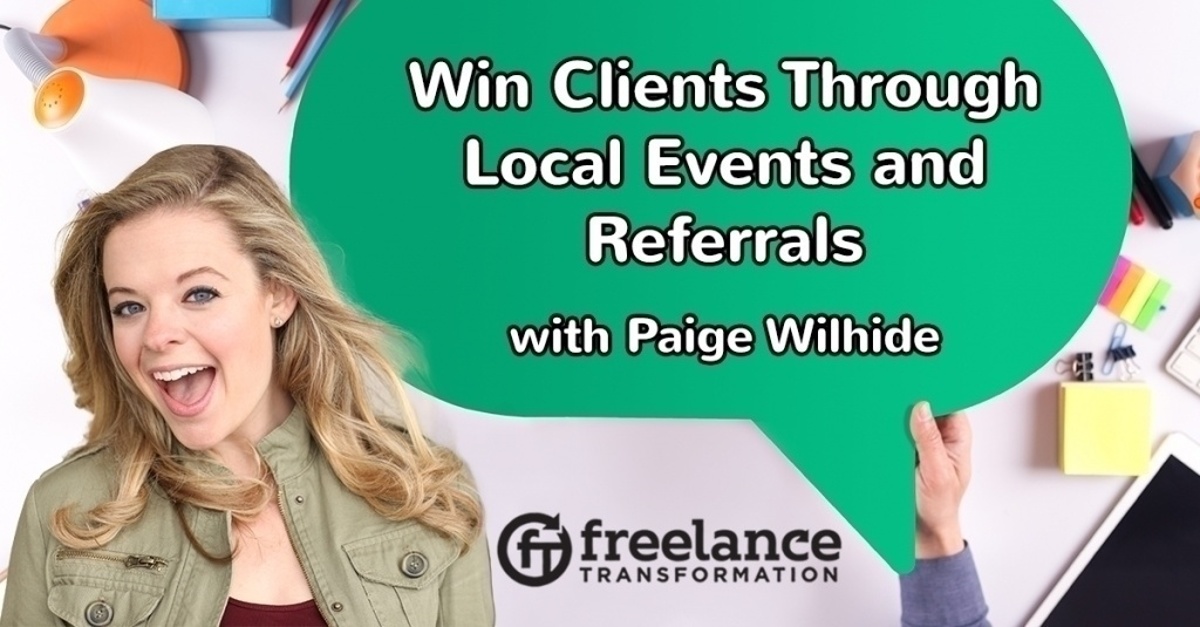 FT 123: Win Clients Through Local Events and Referrals with Paige Wilhide
It's no secret that there are a lot of very effective ways to find clients, but it can create the temptation to immediately try to jump into the fanciest and most complicated approaches and to ignore the simple time-tested methods that will get you clients the quickest.
Take networking and referrals for example. I don't know of a faster way to find clients than using your existing network and going out and building that network, such as by attending events.
Paige Wilhide used networking and referrals to build her business, Paige Media, a wonderful video strategy, and editing business. Paige shares how she systematically used networking to build this business and, of course, how you can use those same strategies to find clients for yourself.
Listen now:
Listen on iTunes Listen on Stitcher
Podcast RSS Feed | Download MP3
Paige shares with us:
"Video is taking over."
Paige is a video marketing strategist and founder of Paige Media in New York City. Paige helps awesome people create killer video content and a strategic way to tell their story in a really fun way through kickstarter campaigns, brand videos, youtube videos, Instagram videos, Facebook ads, etc.
"What is it that I really help people do? At the core of it, it is helping people tell their story and share their voice and vision with the world. The strategist part really resonated with me and I just stuck with it."
Paige Media started 3.5 years ago after moving to New York with a passion for theatre. Paige dreamed of being on Broadway, singing, and dancing. However, it wasn't in line with the kind of person she was, giving up your control of your future. Entrepreneurship was in her blood and something she could embrace.
"I made a list of all the things I love to do and I started exploring these online entrepreneur communities."
Paige always loved doing video and being on camera so she decided to run with it and see what she can do.
Quick Start: Get a Coach
"You really just have to be driven and fearless."
To get started, Paige worked with a business coach which was the greatest thing she could have done for herself since she had no clue how to market herself or start getting clients. Paige found her coach by asking the online entrepreneur communities on Facebook.
Her coach held her hand through the entire process with bi-weekly calls when Paige would receive homework from her coach. One week's assignment was: Make a list of 5 people you know who have businesses and reach out to them to see if they want videos.
Paige also made videos for free in exchange for a testimonial that she could put on her website.
"So I built it that way. I started building a portfolio. Then I started charging. And then I started charging more. And then I started getting more clients and more testimonials and it grows from there."
Networking Events:
Paige's first paying client came through someone she met at a women's breakfast networking event. One of the other attendees knew someone who needed a video made for them and introduced them.
"Seeing people face to face, talking to them, and telling people what I do, and there you go, I got a client out of it. It's not always that easy, but for the first time for me, it was a very simple thing that I did, just showing up."
Connecting with referral partners at networking events has been great for Paige. Paige went to 3-6 events per week when she first started, fewer now.
"I look for people who are tapped into the same client base that I want to be in."
For example, Paige will partner with a social media marketing expert because they develop the overall marketing strategy while Paige develops the video strategy. These partnerships pay for themselves over time because you can get work referred from them time and time again. Assuming that you nurture and "wine and dine" them to maintain a good relationship.
"The key is to find groups that have the same mindset as you."
Don't go to the free roof-top events paid for by a big sponsor. These events are just business card confetti events, where business cards are just thrown at you. These are worthless. Paige likes putting herself in groups where the mindset is about collaborating, sharing, and building a network, rather than hunting for clients.
"If you find people within your same mindset and figure out where they're going to be, that's where you want to be."
To get the referral partners, start with your own network. Approach your most connected friends and ask them where they are networking. Then you have a qualified event rather than an unknown. Meet people there and find out where they are networking.
"We're so quick to Google things or look on Meetup.com when the person sitting next to us has more valuable information than Google ever can."
Referral Partners:
"You want to invest in your referral partners. You want to deposit into these people. That can be as simple as taking them out for a drink, buying them a cup of coffee and picking their brain, wanting to learn more about them."
Paige also sends thank you notes after coffee meetings. She also sends small gifts that mean something to the other person. Paige also sends quick articles and links that remind them to keep her on top of their mind. Invite them to different events that you think they would find value from.
Paige keeps a spreadsheet of each of her referral partners and how many investments she has made into her relationships with them. 1 point for email, 5 points for a gift, etc.
The point is to nurture the referral so they start to think of you and start to naturally pass you referrals.
Picking a referral is a bit of trial and error. If they aren't good at getting back to you, red flag. You might not want to send referrals to them.
"I started my business because I want to work with people I love, people I want to be around, people I want to be friends with."
On meeting, if Paige vibes with them, then it is easy to get along with them and be referral partners with them. You want to surround yourself with people who want you to succeed, who will be your cheerleaders.
But you do need to train them so you get the right referrals. You need to be very specific in what you are asking for. It's not enough to say that you are an outsourced CFO. What would be a good referral for you? But if you say that you are an outsourced CFO for food start-up companies. Now your referrals know exactly who to connect you with.
And if you get clients who can't afford big projects, you really only have yourself to blame. You're the one who attracted them and took them on.
"There's so much fear around 'getting specific'. It is a real challenge for business owners to conquer that fear and really zoom in on who they want to work with."
Event Breakdown:
"First thing, you want to feel good."
No one will want to talk to you if you are tired and slouching. First impressions are huge so make sure you have an air of confidence.
"Forget about what you do and who you are looking to meet. Drop that all to the side for a second and focus on what makes you awesome. It's so hard for people to do."
This will help you build your sense of confidence. What do you love about your body, the way you look, your skills, and your accomplishments?
It can be really awkward and hard to walk up to two people talking to each other.
"I am a big fan of interrupting. Just go in and be like: Hey, what's up? I'm Paige, how are you doing? Sorry, I didn't mean to interrupt. What are you guys talking about?"
Another trick is to hang around the bar or food. Get people right after they get their refreshments because many people will grab a drink then look around for someone to talk to.
Also, don't defer to your phone. That is not going to get you business. "Keep your phone away as much as possible."
To get the conversation started, ask open ended questions. Focus on "what", "why", "how", but don't start with "do you..." which will give you a yes/no answer and close the door on the conversation. Common openers are: What do you do? What brings you here? What's your story?
"In my mind, I want to paint a picture of this person's life, how this person got to where they are and what they do everyday."
Paige will follow up with: What kind of clients do you work with? Are you working on any fun projects right now? Tell me about it. How long have you lived in New York? Do you have family here?
In general, talk less, listen more. That's how you will get to know people. Ask questions, listen, ask follow up questions, listen...
If the conversation has gone well, record a little bit about who they are on their business card, or in your phone (with their contact info). For example, if they said that they just had twin girls, then write that on the back of the business card as a memory jogger. In the follow-up email, ask how the twins are doing. This shows them that they are not just a name in the bucket to you. Then add that you would love to meet up for coffee, learn more about their business and how you might be able to help them with their business or work together.
The Follow-Up
Follow up the next day, within 24 hours so they don't forget who you are. Note something about who they are and have a clear follow-up, meeting for coffee.
If you met someone who you aren't sure about or who isn't for you, don't email them, don't follow up.
Paige also sends out a personal video since she has a video marketing campaign. She explains that she has recently met them at a marketing event and has signed them up for her newsletter so they can get valuable marketing information. If you are interested, stay on the list. If not, unsubscribe, I won't be offended.
"Give it a month or so to really get to know people. Really focus. Find 2-3 people that you want to really nurture."
Send a referral to them, send a thank you note, send a basket with a bottle of wine, etc. It takes time to nurture relationships, it's not overnight.
Event Schedule
Paige is a member of several groups that meet regularly to help fill her event planner. For example, she is in several alumni groups and women's communities in New York.
"It's always an opportunity to network, to meet people who can help you, who are going to be your biggest fans."
Every week, Paige goes to a 7:00 AM Thursday morning meet up with a referral networking group. The same people go every week, plus guests, but each person has their specialty. Paige is the only video marketer in the chapter. Then you train all of these people as your sales team. She asks her network to recommend her if they hear that someone is remaking their website and might be interested in video, for example.
To be successful in a formal referral group, you need to speak to the people in the room. In Paige's referral group, she has actually done video for some of the members so they have first-hand experience working with her which makes their referrals more genuine.
But, it's not for everyone. You have to be comfortable standing up in front of people and "performing." It's perfect for Paige since she is an actress and loves being in front of people.
Networking vs Client Work
Once Paige hired an editor to edit the video content, she was free to focus on networking and selling. Still, in general, her time is split 50-50 between outreach and client work.
Why spend so much time networking and finding clients? They aren't going to come in on their own.
"There's a big misconception there that it's going to be easy to find clients. They'll just come to me once I have this grand idea and I put it out there in the universe. And its kind of the opposite."
Paige hired her editor, her first and currently only employee, about a year and a half ago. She realized that she dreaded editing. She kept putting it off.
"I need to outsource this. I need to find someone who can help me and someone who is really really good at it, probably better than me."
Paige put out feelers and accepted applications for some editors until she found this wonderful editor who blew her away. The editor started as a trial and brought her computer to Paige's home office. Then she told Paige that she wanted to be full time with Paige Media. It took a few months more before Paige grew enough that she had enough work for a full-time editor as well as a real office, outside her home.
"I can't even tell you how valuable she has been to me. It makes me emotional to think how much she means to me."
Paige's Business Structure:
For some clients, Paige will teach them how to shoot a video and do all the setup and strategy and they will send her the video for editing. For other clients, she will do the shoots as well. Paige will do all the preproduction, scripting, storyboarding, scheduling, etc., but hires freelancers to do the videography.
Paige is looking to the future as phone cameras get better and can easily capture high-quality video for a client's needs. So, Paige plans to do more consulting and training followed up with editing versus doing the all-hands-on-deck approach to production. She would rather do the strategy and bring in the creative stuff.
Editing is a pain point for her clients. It takes so much time and skill to make it look polished and professional. So editing will always be offered.
Paige is also working on a line of video courses to teach people how to set up an at-home studio, how to edit an i-movie, how to develop a video marketing plan, and more. Paige's goal is to convert the course students into clients for her editing packages so they won't do the editing themselves.
Find Paige online:
---