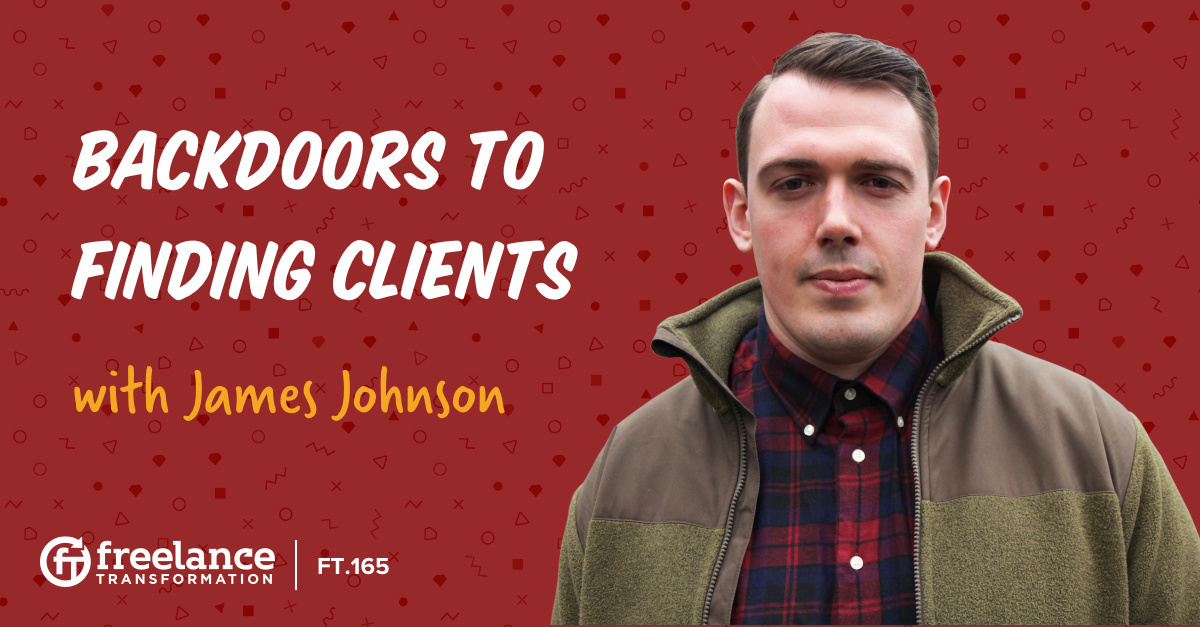 FT 165: Backdoors to Finding Clients with James Johnson
James Johnson is a freelance writer and founder of the Freelance Writers School. His grassroots approach to finding clients is a complete game changer. James teaches his unconventional methods to other freelancers in order to help them build relationships and find their ideal clients, and he's sharing his techniques on The Freelance Transformation right now.
Listen now:
Listen on iTunes Listen on Stitcher
Podcast RSS Feed | Download MP3
James shares with us:
There is more than one way to find clients. Set your pitches aside for a moment and tune in to today's episode. James Johnson is on the show today to talk about the ways you can think outside of the box and snag the kind of clients you really want to work with.
Outrunning the Other Freelancers
When James quit his dead-end job and committed to freelancing full time, he started where we all start out. Websites like UpWork and Facebook Groups that are full of freelancers who are sometimes offering outsourcing jobs (these are just a few of the many places you can search for work) but James wasn't convinced that was all there was.
All of that competition for so few jobs is daunting, so he started to branch out. He started going where other freelancers weren't. He stepped away from the job boards and started tackling local businesses in his neighborhood that potentially needed content writers.
Instead of looking for job boards and people who were trying to hire new freelance writers, I started looking for people with already existing freelance writers that would then look to expand their team.
Not everyone has the same local opportunities, but James' techniques still apply to online searches. Instead of slugging through job boards, start looking at what other freelancers in your niche are doing. For James, he started looking at other writers' portfolios. Another freelancer's portfolio can open you up to agents and companies who are already familiar with working with freelancers, giving you an entirely new world of clients to pitch to.
As James explains it, outrunning these other freelancers means using an "upside down method" to finding clients. Don't immediately take the obvious and "easiest" route, because most times it's really not that easy. While the other freelancers in your field are searching job posts, you can start from the top.
Look at those freelancers who are already successful and find out who they're working with. Having a list of businesses who are already hiring freelancers can open you up to brand new clients. For example, before James was using these backdoor techniques, he was getting 1 client for every twenty pitches. After going from the top down, he was getting 1 client for every 5 pitches that he did.
Delivering Real Value
As freelancers, we well know that finding clients and actually having clients are two very different things. We talk on this show enough about delivering value in order to attract and keep ideal clients, but how do you deliver real value to new clients who don't know who you are?
Take yourself out of the freelance community where you're competing with everyone, and put yourself into a community where you're the one freelancer.
James talks highly of Facebook Groups. But instead of using Facebook to connect with other freelancers like yourself, start looking for groups of people that need freelancers with your skills. Join groups with companies looking for someone to solve their problem.
You can deliver value by simply answering their questions, sharing your resources, and engaging in the conversation that they have already started. When you start giving away what you know on a public forum without asking for anything in return, these people are more likely to trust you and think of you when it comes time to hire a professional.
Karma is very, very, very practical. If you give, it does come back around. I'm a firm believer that it does come back around and get you as long as you're active about it.
Giving is key to building trust with potential clients so change up your pitching style to be more generous. You're not just trying to find work and make money, you are trying to help people fix their problems. The trust you build with them will be what ultimately convinces clients to hire you over the others. James recommends setting boundaries for yourself so you don't give too much away for free, but developing a relationship with your clients and your community will be how you deliver real value to them with the work that you do.
What's Stopping You?
The most important thing we talk about on today's episode is the fear of rejection. It's what makes working for ourselves so hard. That fear is what stops us from getting started, but you can't keep putting off what you need to do today.
James shares three of his favorite backdoor techniques for finding clients, but they will only work if you actually get up and do them. He has a few tips for that too, and building confidence is an important part of actually testing these techniques out. If you're hesitant to try, James recommends finding the minimum effective dose of work that works for you.
Treat it like you're a kid again. Because you are learning a new skill, you're learning something that you've never done before, so find ways to give yourself wins that will build confidence.
Take baby steps out of your comfort zone. Give yourself a little bit of a challenge to build up your confidence, but don't try to take on too much. That will only intimidate you and make you less likely to look for new clients. Give yourself the time and the room to learn without expecting too much. You want to develop your own reasons for doing this, not just relying on what everyone else thinks you should be doing.
If you're taking action, and you're giving, and you're helping people, you're eventually going to get over it and through those rejections.
The most important part of building confidence and getting started is just to keep trying. Taking action is the only way you're going to move forward in your business. The more you work, and the more action you take, the more you develop your strategy. The stronger your strategy, and the more likely you are to find clients. James reminds us to stop focusing on the result and to spend our time focused on the action because it's the action that truly runs our business.
Resources mentioned:
Find James Johnson online:
---