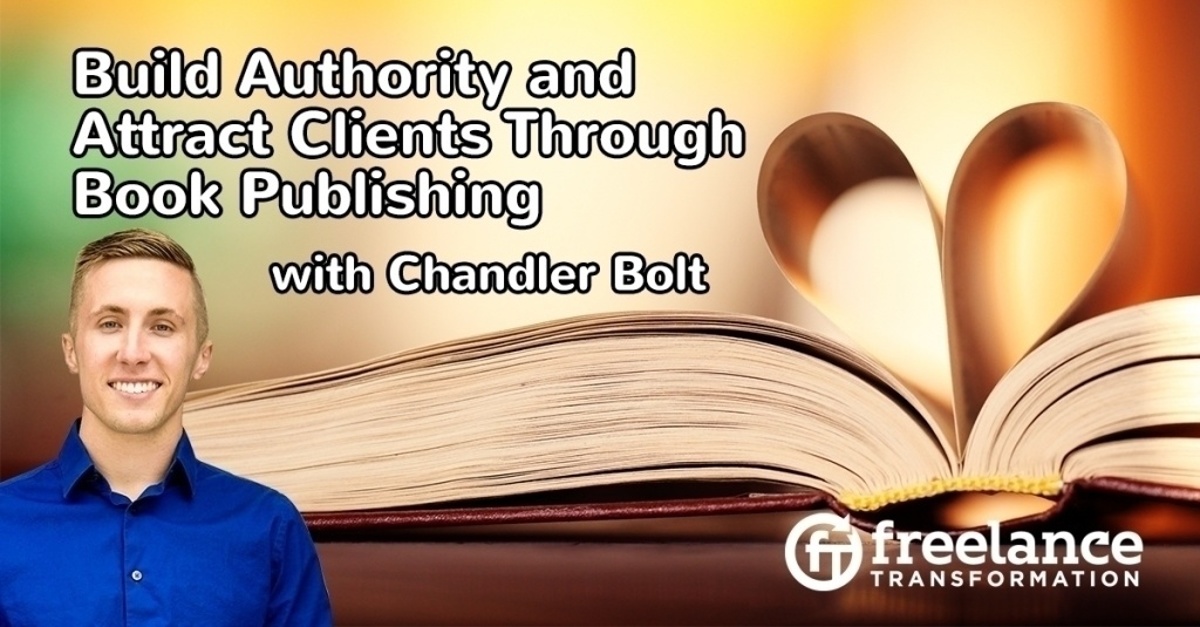 FT 102: Build Authority and Attract Clients Through Book Publishing with Chandler Bolt
Past FT guests, such as Philip Morgan, Jane Portman, and Jonathan Stark, have written and self-published books as a very effective way to establish their authority in their field and as a means to attract their ideal clients.
Chandler Bolt is the founder of Self Publishing School and teaches students how to write and self-publish their first book. Chandler shares why a book is a feasible endeavor with a lot of benefits, his process for writing a book, how to get a book published, and critical tips on how to get listed and found on Amazon.
Listen now:
Listen on iTunes Listen on Stitcher
Podcast RSS Feed | Download MP3
Chandler shares with us:
Chandler teaches people how to write, market, and publish their first book to grow their business.
"The worst players make the best coaches."
Chandler was a C-level English student who dropped out of college to start his own business. This meant that he wasn't very good at writing, but had to work hard to learn it. He figured out a method that anybody can follow.
Why write a book?
"The worst part of freelancing is that it is on a per project basis."
A book can provide some passive income and get you higher quality leads, more conversions, and lets you charge more. A published book means money is not tied directly to your time because a book is a silent salesman. It is doing the sales presentations for you before you even talk.
Chandler has a clever opt-in: get a free audiobook of his book in-exchange for an email when people buy his book. That kicks off the sales cycle and gives him a great email list of people who are already sold on him being an expert because they bought his book. They're coming to you!
Chandler also gets emails through 10 or 11 little bonuses spread throughout his books, such as a template for a contract that's on his website, so readers give their email for the template. Don't overdo it though. You don't want it to seem like you are with-holding content.
How to market a book:
To have a good launch, create a launch team. The team is composed of people who support your book, such as friends, colleagues, clients, or anyone. Chandler even has an application for people to sign up to be part of his launch team.
Members of the team get a free advanced digital copy of the book, get to see the behind the scenes of a successful book launch, have a chance to meet and network with like-minded people, have access to you, and get their name in your book! In return, they will leave a review of the book on launch day, share the book with their friends, and share the book on various platforms such as podcasts and blogs.
You want to get on Amazon because about 70% of books are sold on Amazon. If you have a credible book and not stealing other people's material, then it is easy to get approval to publish. The public ultimately decides whether or not it is any good and if it warrants more attention.
You can publish on your own, but it is much much harder because you don't have access to the traffic and infrastructure that Amazon has. So, Chandler recommends using Amazon.
But even on Amazon, you can't just publish and sit back, or you'll hear crickets. You have to drive traffic to the book. The launch team and reviews are critical here because they give you early momentum, or Amazon Juice, as Chandler calls it. Amazon is a search engine for buyers, so you have to treat it like a search engine.
You need to pick good keywords that people often search for so you are found.
Amazon gives you the option to select two categories, so take advantage of that and cross-categorize. Put yourself into two different parent categories, i.e. Self-help and business. Then niche down into sub-categories, so you can see how many books are in a category and what their rankings are. A competitive category has the top two or three books ranked higher than 2-3,000 other books in the category. Might not be the easiest category to get started in.
Try to choose one of the more competitive categories and one less competitive category. That way, in the less competitive category, you will rank high and get social proof which you can leverage to get more pr. In the more competitive category, you get broader exposure.
How to price your book:
Chandler recommends giving your book out for free for the first 2-3 days of the launch of your first book. This strategy will drive thousands downloads because these free-bees get featured on Amazon and other sites.
If you are using this book as a lead magnet, then you get more exposure. The goal is not really to make money from the book, but to get leads.
After a few days, you can bump up the pricing to $0.99 for the Kindle version for a week. Now, you are exposing your book to the paying side of Amazon and can publicize your book on promo sites such as Buck Books, Book Marketing Tools, Bknights, Reading Deals, or Awesome Gang.
Then, you can slowly bump up the price to it's normal price between $2.99 to $9.99. You can keep 70% of the book royalties at this price range in Amazon.
Book Lifespan:
There are two general trajectories for books. For most books, they fall off the map after a few months because they aren't promoted long-term. But, if you keep working on it, it can become more and more successful and perpetuates the benefits of leads and sales.
For example, The Miracle Morning by Hal Elrod is selling much more today than the month that it was launched because Hal keeps promoting it. He has created selling systems to promote the book. He optimized for keywords and categories and also developed assets such as podcasts and interviews.
"There's no substitute for one-to-one individual touch."
Chandler also creates an email sequence, the review sweeper, that follows up with people who have given him their email when they bought the book or got the audio-book version. At 3 weeks after they gave him the email, he sends a short email asking them what they thought about the book. They reply to him via email, and he (or someone on his team) writes back, thanking them, and asking them to post the review on Amazon, with a link to the review page, of course. This simple shows Amazon that the book is still relevant and drives further promotion!
How to write a book:
"People worry that if they niche down, that they're going to lose out on people. That couldn't be further from the truth."
Before you write: You have to specifically define your market. Niche down! Then your book should be based on the pain points that your very specific market is facing. What solutions can you explain to them?
"It's easier to sell pain pills than it is to sell vitamins."
Step 1: Get a blank sheet of unlined paper. Write the topic of your book in the centre of the paper. Now, brain-dump, or mind-map. Put down every idea that you have. Every book that you've read, every client conversation, everything you've learned about. Spend about 15-30 minutes on it. Once you get going, you will get rolling!
Step 2: Forming an outline. Group your mind map into themes or sections. You want to have about 4-7 sections. This will become you outline. Order these sections into a sequence that you can use for the book. Then, for each section, pick 2-3 chapter topics. Now, you have a chapter by chapter outline.
Step 3: Write it. There are two strategies.
Strategy 1: Mind-map each chapter for about 10 minutes. Then convert the mind-map into an outline for about 10 minutes. Then spend 45 minutes writing the chapter. Rinse and repeat. Voila, book! You could have a book in a week!
Strategy 2: Speak your book. Mind-map and outline each chapter like above. Then spend 8-10 minutes speaking about the chapter and record it. Then get it transcribed using a service like Rev.com, the Rev app, or Dragon Dictation.
Chandler's summary and video of trying out dictation software can be found here.
With 30 minutes to an hour each day, you can finish a book from blank page to publication in 90 days. Chandler has also seen people write and publish a book in 45 days or 9-12 months. But if you follow this strategy and write everyday, you will have a book!
Once you have the rough draft done, read the book out loud. You will find mistakes, things that don't sound right, and places that need to be flushed out. This is your self-editing stage.
"A good editor will go a long way. A good editor can make my third grade papers turn into best selling books."
Next, bring it to an editor. There are two types of editing. There is content editing and copy editing. In content editing, the editor will focus on the ideas on the page. They will find places that are weak and need restructuring and will either do it for you and guide you. The copy editing is more about grammar. It is worth it to find a good content editor and the same editor can often do both types of editing. You and the editor will often do one or two passes on content editing and then one or two passes on copy editing.
You can find a content editor on UpWork. Post the job with the type of book, the word count, the scope of the project, whether you want a content editor, copy editor, or both, and the timeline. To filter serious responses to his proposal, Chandler puts in a requirement somewhere in the middle of his posting for the proposal to start with the words "purple cow" so he knows that they pay attention to detail rather than spamming the job board. After that, you can filter for the right person who is qualified and the best fit for you.
Then, you need to come up with a title and book cover, and move on to the launch.
Ready to start your book? Go spend 10 minutes mind-mapping, then browse through the resources.
Resources Mentioned:
Find Chandler Online:
---