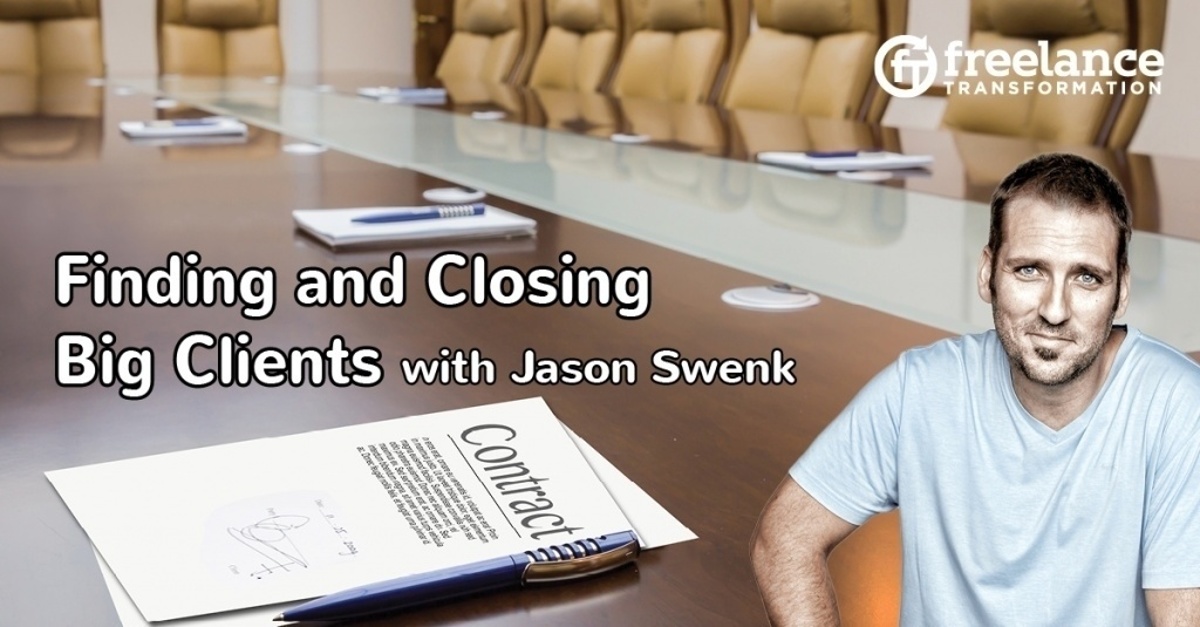 FT 065: Finding and Closing Big Clients with Jason Swenk
Whether you choose to build an agency or be a solo entrepreneur, you will need clients, and if you want to grow, you will need to figure out systems to find and close big clients. Jason Swenk has mastered the process of finding clients, working with them to develop a proposal and win the project. He did this as an agency owner himself for 12 years, working with big clients like Porsche, AT&T, and Home Depot. After he sold his agency, he has been consulting and helping digital agency owners figure out their strategies to build and scale their agencies.
Jason shares the secrets on how to specialize, find brands, reach out to targeted companies, turn research into proposals, and close the deal. Jason learned all these secrets by having to figure it out on the go while scaling his agency, and shares them so you don't have to make the same mistakes and go through the same stresses.
Listen now:
Listen on iTunes Listen on Stitcher
Podcast RSS Feed | Download MP3
Jason shares with us:
How to find and reach out to big clients: The key to finding clients is to have a specialization that you can do better than anyone else. Then, be persistent because it takes a long time for outreach and content marketing to pay off. To find a specific client, you need to do your research, find a problem that an industry and a specific prospect is facing and find a solution for them. Then tell them that you have the solution and set up a meeting to talk about it. To find out what problems they are facing, ask them and listen. Don't sell yourself and say how good you are. Focus on them. Jason follows the three Is:


What is their biggest Issue?
What Impact is that issue having on their business?
How Important is it for them to solve the issue?

How to write a proposal: Once you have figured out the problems and mapped out a solution, you work with the client to write out the proposal. That's right! With the client! You need to have the buy-in throughout the whole process. Don't submit a proposal to a client and then sit back and wait! Work with the client to write the proposal. Here's the process:


Start with an executive summary describing the problem and the solution they want, what you and the client have already discussed and agreed on. This is not the place to tell them what you will do!

Then layout the timeline and the services you will offer, again, already agreed on with the client.

Put pricing in at the end. But really, it doesn't matter all that much how pricing is broken down or even how much it will cost. If you have asked the three Is and you know that this is a very important issue that needs to be solved urgently, then the client won't care about the cost.

And most important, walk through the whole proposal with the client, asking them if there are any questions, if everything sounds good, does this make sense, is there anything that would stop you from working with us from what we have shown you so far. Don't let the client look through it alone and jump straight to pricing to compare to other proposals. How will they understand what you are offering? You have to be right there with them.

Have an over 80% conversion rate for proposals, as Jason does.

How to close the deal: Once you have gotten to the proposal stage, you should know if it's going to be a deal or not. A big part of this is making sure you vet the prospect and only do the proposal for people who are qualified. Jason has found that he mostly gets in trouble only when he breaks his own rules, such as vetting. To vet, he uses the acronym: NBAT


Need: Make sure you use the three Is to figure out what your client needs and how to solve them.
Budget: It is sometimes tricky to get the client to share their budget. But Jason has a way around that. If the client says that they have no budget, he responds with "Cool! I love working with people who don't have a budget so we can spend countless amounts of money and test new technologies we've never used before!" After the horrified stare he adds, "I'm just messing with you, you do have a budget. So in order for me to understand if I'm the right fit for you and help you out and know what services I can provide for you, I need to know some sort of range." If that doesn't work, it is usually because the client doesn't know what services they need and therefore don't know how much to budget. Which Jason sees as an opportunity to sell a paid discovery call, or a workshop where he lays out a plan to solve their problem and suggests that they can shop around or work with him to implement. Once you get the client to say that it is a good plan, if they don't, keep making changes until they do, then you ask if they want you to help them with this. Almost always, the answer is a yes. And you are good to go.
Authority: Make sure you are talking to the person or persons in charge of the project and who hold the decision-making power.
Timing: Is the problem you are trying to solve urgent? Is this the right time for the company to solve the problem?

How to start an agency: Jason has laid out 12 systems on his website on how to start and scale an agency. These are the first 5:


1: Clarity: What do you want to build? Why do you want to build it? What don't you want to do? Create plans and strategies to achieve that. Without asking these questions, you won't know which clients to accept and which to say no to, which will derail your business before you get started.
2: Specialization: You can specialize in an industry, a technology or a service that you can do better than anybody else. Once you are the best, your messaging will bring customers to you.
3: Attack the market: Once you know who your clients are, you can now make a list of who to call, who to send mail to, who to put out ads to, what keywords to buy, etc. Go out and find the exact clients you want.
4: Attract: Find out where your audience hangs out and sell yourself as the expert. Put out valuable content in modern accessible ways, such as podcasting and interviews on podcasts.
5: Strategic partnerships: Diversify the way you get leads. Find multiple channels for your sales funnel. What would happen if Facebook changed how their newsfeed works and suddenly all of your previous leads are no longer getting Facebook updates from you? Diversify.
Resources Mentioned:
Find Jason Online:
---