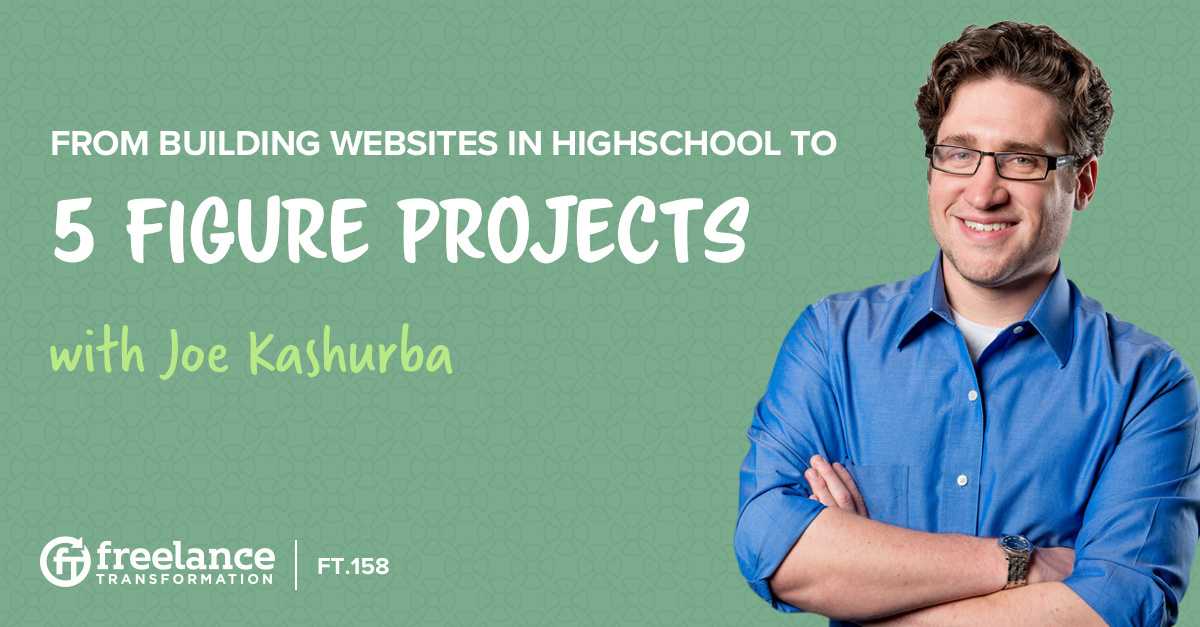 FT 158: From Building Websites in Highschool to 5 Figure Projects with Joe Kashurba
Joe Kashurba, CEO & Founder at Kashurba Web Design, discusses steps he took to turn his high school side business into a successful agency. From getting bigger clients and higher paying work to hiring the right people and building a successful team, Joe has experienced it all!
Listen now:
Listen on iTunes Listen on Stitcher
Podcast RSS Feed | Download MP3
Joe shares with us:
We all have to start somewhere. Starting out as a freelancer is an experience all of its own. But when you're ready to turn your side job into a full-time career, there are a few steps you have to take to get there. Success just doesn't happen overnight. It takes time, dedication, and a lot of mistakes before you finally earn those five-figure projects.
From High School to High Paid
Joe got his start in high school. What he wanted to be a video production business, turned into a web design career when people learned he could build websites. At that point, he had taught himself everything he knew from a "Programming for Dummies" book.
That was really the moment when I knew there was something there for sure, so I made the decision to turn into a business.
Teaching himself how to program turned out to be a very valuable asset. Building websites from scratch is something Joe is naturally good at, but that doesn't mean you can automatically turn a talent into a business. It does give you a place to start, and once a freelancer finds that launchpad there is really nothing that can stop them. Joe dove right into figuring out how exactly he could use his unique talents to attract the right kinds of clients.
Solving Problems
Finding the perfect client is the trick to being a successful freelancer. It's important to find a niche that needs your specific skillset. But what happens when you pick the wrong niche? When Joe first started his career, he was trying to attract the wrong clients with the wrong product. He advises new freelancers to take a few steps back and re-frame your brand and your purpose in order to figure out what it is you're trying to bring to your clients.
There are tons of businesses who really want an expert to come in and get them results or solve their problems, and they were willing to pay a premium for it.
Broaden your brand and reach out to the clients who really need someone like you to solve their specific problems. According to Joe, that's how you build your ideal client base. Joe breaks down the two types of problems clients face most often and how he designed his business to cater to those specific issues. Whether you can help with marketing, lead generation, or software development, you need to get yourself out to the clients that need you the most.
Joe's tactic for finding your ideal client is to make a list of your best clients. Why were they the best? Why did you enjoy working with them? And, most importantly – why did they choose to work with you? Your answer to that last question will be what makes you stand out and attract the bigger and better clients.
Higher Paid and Higher Value
In order to have a truly successful business, freelancers have to let go of hourly rates. Value-based pricing will guarantee that you are getting paid what your work is actually worth. Joe doesn't do true value pricing as defined by an economics professor. Instead, he offers great advice for when, how, and why to raise your own prices to better attract your ideal clients.
If somebody's asking you "how many hours is this going to take?" what they're really saying is that they don't see the value that they're going to get
The project-ized approach to your business is an easy way to design packages that reflect the value of your skillset. Your packages can cater to each individual project you take on, or you can design a few that clients can choose from. This is where your list of best clients come in handy. Take a look back at how you project-ized your most successful clients. Joe recommends focusing the consultation on your client's specific goals and steering them towards the skills package that works best for what they need.
Sometimes it takes you as the sort of expert going in there to help them understand what they're really trying to accomplish.
Joe shares his own tricks for attracting his favorite clients and offering them the perfect skills package. Don't be afraid to cold call companies that might need your help, or reach out to specific people online who are looking for a specific kind of expertise. Because when you package up your skills and offer it to them in neat little sets, it is easier for clients to understand exactly who they're working with and what they are going to get.
Hiring High-Quality People
Not only does a project-ized business model work for attracting clients, it also works for building a team. When each client is already assigned a package, you can break down the job into a process. Each process comes with a series of steps that you can easily train and assign to assistants and project managers you hire either online or off.
That productizing piece was becoming really, really narrow in terms of what services we offer. And productizing everything was really a key piece to being able to build a team.
Putting together a menu of packages and prices means you're clear about what you do and what you expect from the team you hire. It's easier to bring new people on board when they already have an idea of the job they're going to do, and it's even easier to train for that job when it's broken down into steps. Joe's assembly line model for hiring will help you train people in the specific processes of your project so you can slowly remove yourself from every step and start focusing on what you really want from your business.
Joe's biggest piece of advice for hiring is to start small. Don't immediately start hiring for a project manager if you don't have a process in place yet. Instead, Joe recommends hiring one contractor and giving them one piece of one project to see how they do. If they meet your expectations, you can move on to the next step in your process together. If not, you've learned a lesson that wasn't nearly as expensive as it could have been.
Remember, every part of being a freelancer means always learning something new. Searching for clients and building a team are all learning experiences you are bound to take on in your freelancing career. The advice in today's episode is invaluable in that regard and will really help you on your way to becoming a successful freelancer and agency owner.
Find Joe Kashurba online:
---