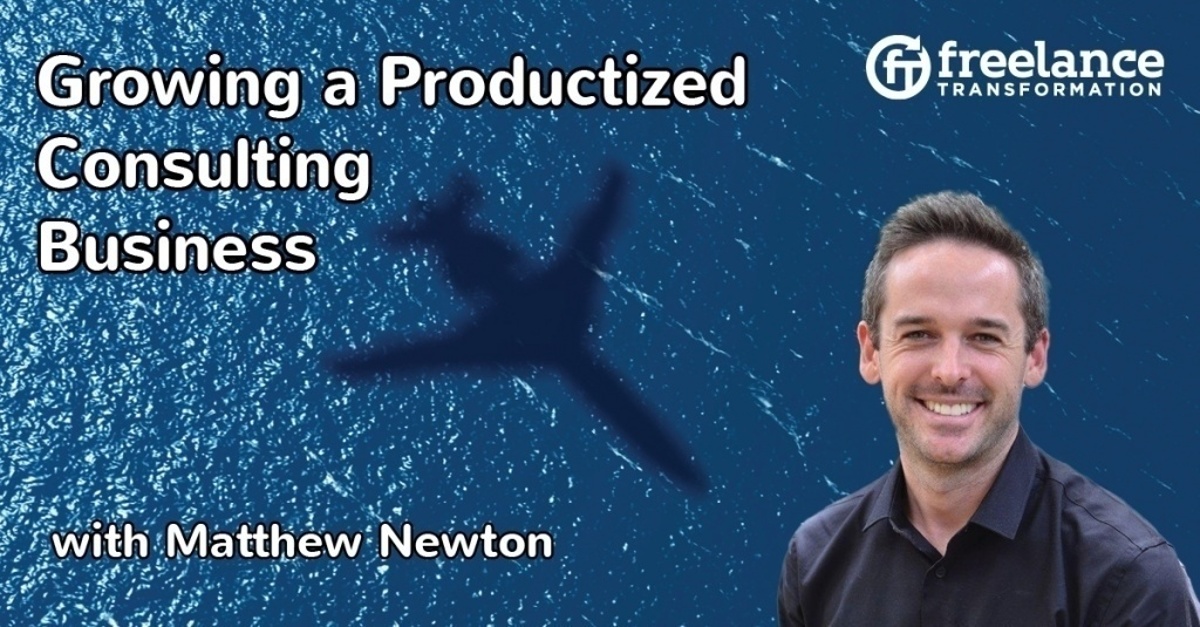 FT 064: Growing a Productized Consulting Business with Matthew Newton
In productized consulting, you package up your services and offer the same set of services to all your clients. So rather than customizing every project for a client, you instead offer a set menu of services with standard pricing for each service. Of course, each project will be different since each client is different, but the processes and the systems are the same. This approach allows you to scale quickly and find security in monthly payments, avoiding the feast and famine cycle.
Matthew Newton, founder of Tourism Tiger, has built a great example of a productized consulting business. Mat knew from the start that he wanted to scale his business, so he set it up with scaling in mind. He tells us why he chose productized consulting rather than building an agency, how he chose a niche, how he markets his business and finds clients, and how he is growing the business.
Listen now:
Listen on iTunes Listen on Stitcher
Podcast RSS Feed | Download MP3
Mat shares with us:
Why Mat chose productized consulting:


Mat has a chance to grow his business the way he wants to, and grow it quickly. Mat has always liked finding ways to systemize projects and build processes and guidelines, all of which can easily apply to productized consulting where the projects follow very specific stages.
Mat is also excited about the product he is offering. He is proud of the features that are in development and is motivated by being able to help people through his work.
Productized consulting is often priced as a monthly fee for ongoing services, such as upgrading website content and features. Monthly pricing takes the stress off and has freed Mat from the feast and famine cycle.

Cons of productized consulting:




One of the biggest challenges for Mat is marketing in his niche, tourism companies. It takes a lot of effort to get a client and to make an income monthly, you need to find a lot of clients.

There is a lot of up front investment to get the business going and the initial ramp up phase is very slow since you have to build relationships and find clients.

Mat has found that he often has to deal with a lot of people who have little business knowledge and although he advises them, they don't always make the best business decisions. He has found this frustrating and often disappointing since he is motivated to help his clients do better.

How Mat chose to specialize in tourism: Mat researched other industries that make a lot of money and might need his help to build a website and market themselves, such as accounting, law, dentistry, etc, but none of those clicked with him. He changed his strategy and started thinking about industries that he is interested in and had experience in from previous work. He thought about the tourism industry and found that he had ideas that he wanted to share and knew he could help them. His rule of thumb is: you shouldn't start a blog unless you have 50 ideas that you can write a blog post about right off the bat. He had 50 ideas and more and actually ended up writing a book about the tourism industry while he researched it. It turns out that he is really interested in the industry, which is really important since running a business is stressful and challenging. You have to be interested in solving these challenges otherwise you will burn out.

How to market a productized service:




Marketing in the tourism niche is very difficult. Mat has found that most tourism companies are very internally focused and will publish their own content, but not share someone else's content. That has meant that content marketing has been a challenge since no one has an audience of tourism companies. On the other hand, Mat has been able to stand out by sharing content from large tourism companies and getting their attention. Attention from marketing people in the large tourism companies has led to guest posting and webinars.

Out of all the content marketing, Mat has found most success with webinars. His goal is to run two webinars a month for outside people, aka potential clients. And he has discovered some hacks to make webinars more successful: send videos and other content to the people who have signed up before the webinar to build anticipation, recognize attendees by name during the webinar, have a dedicated followup process to get the most out of it.

How to manage the day to day while growing:




With scaling up in mind, Mat is dedicated to making systems and processes for everything in the company. For example, the projects are managed on Trello and broken into standard stages, and a team member is always responsible for a specific stage. Mat knows how long each stage should take so he can quickly see if a project isn't on track.

Mat's company builds websites for travel and tourism companies and he has decided to use Wordpress as the base of all his websites. In fact, he has built a system on top of Wordpress that makes website creation into a standard process and is specialized for tourism companies. He also continues to develop his builder and always keeps his clients up-to-date. The main point here is that he has standardized the website creation process and will not do custom css. If a client wants custom, Mat decides if it is worth it for him to add that customization as a feature that he can then offer to other clients and generate more value to the builder.

Mat has mostly separated himself from the day-to-day management of the company. He hired a 6-person team (marketing, sales, designer, developer, project manager) which has allowed him to step back and take on a CEO role, focusing on vision and company strategy.

The four mistakes he made when starting out/working hard to fix:




Didn't set up a proper sales funnel

Didn't systemize the sales process

Should have built more direct relationships with companies in the space

Should have focused on the functionality that he could offer the customer that no one else could offer
Resources Mentioned:
Find Mat Online:
---