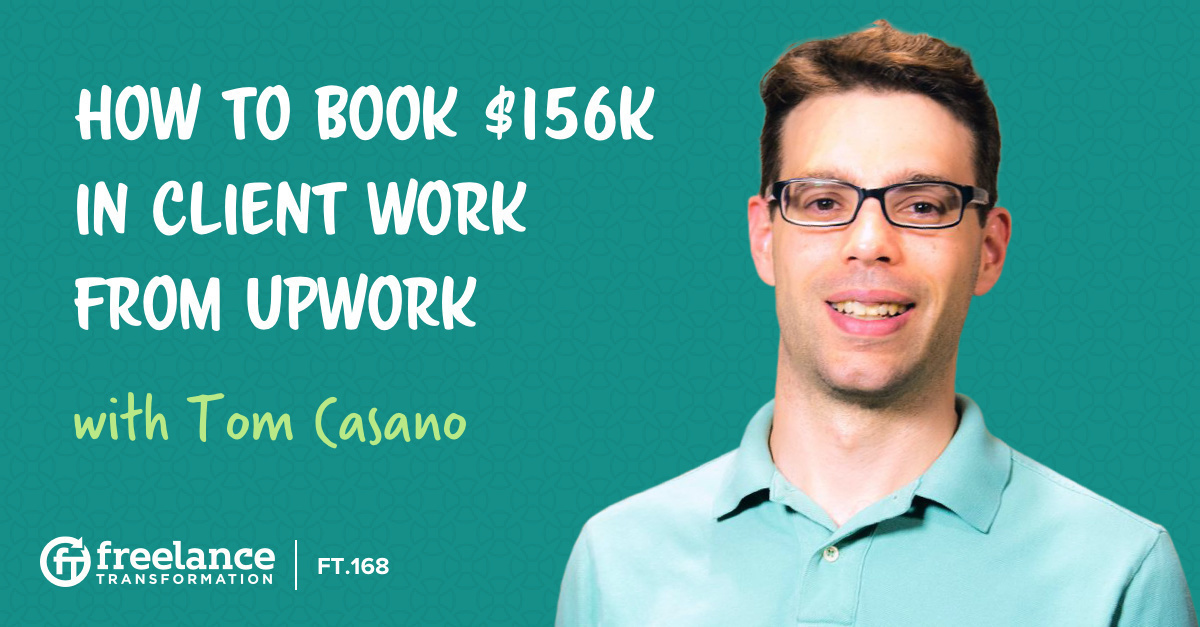 FT 168: How to Book $156K in Client Work from Upwork with Tom Casano
Tom Casano is an SEO consultant and founder of the Sure Oak consulting firm. He ramped up his business over the past 16 months by optimizing his availability on Upwork.com. On this episode, Tom discusses what cues you can look for when filtering through clients, and his proposal strategy might just change the way you look at job board sites!
Listen now:
Listen on iTunes Listen on Stitcher
Podcast RSS Feed | Download MP3
Tom shares with us:
Job sites like Upwork aren't just oversaturated watering holes for freelancers. There are ways to find real, high-paying clients on these sites. Don't believe me? Well, our guest today is here to prove this point exactly.
Seize an Opportunity on Upwork
Tom has been outsourcing as a client on Upwork for a while, but he decided to flip it around and try it out as a freelancer. He knew there was no harm in trying something new, and he had everything to gain by offering up his skills.
You can really capitalize on an opportunity on a platform like Upwork…if you're looking for business, if you're looking for clients, there are these platforms out there where people are looking for you.
He navigates the site with us and goes through his stats in real time to show just how much he's actually earning through his profile. If you can optimize your profile with a great picture and description, you will start to attract higher paying clients almost immediately. Tom recommends giving a little extra and creating a two-minute introductory video. Bringing a human element to your profile is key to your success on job board websites. The more you offer about yourself, the more likely clients are to want to work with you.
It's Time for Success
Tom covers the core ways you can be successful on Upwork. A lot of his strategy deals with the ways you personalize your profile and your proposals. There are certain changes you can make to your resume or job title that will help you stand out to potential clients.
We've got to think of someone else reading our profile. If they're looking at ten other profiles, why are they going to read yours? Why are they going to choose to work with you?
You want to spend some time writing copy for your profile. There must be compelling reasons as to why clients should want to work with you. Tom thinks more is better for a profile. Because the more background you put in the profile, the more time you can spend personalizing your proposal to individual clients.
There are ways to copy and paste a profile from other sites like LinkedIn, but that removes the personal element that you need to be successful on job board sites. Tom goes through his own Upwork profile to show us how having a standard approach to an online profile is a strong strategy as long as you know where and when to make yourself shine.
Closing the Deal
Tom walks us through the process of creating a profile and finding a job. Sites like Upwork come with numerous filters freelancers can use to find jobs. If you know the kind of clients you want to work with, these filters are your best bet. Tom shares his strategy for using filters that fit your skills. He also has a secret "find" technique for finding clients worth upwards of $10,000.
I think it's really great to see if they sound like being more of a bigger, more of a corporate, more of a serious company.
Finding these kinds of clients on huge job board sites isn't as overwhelming as it seems. You can use the filters available, and you can also look for certain things on the client's own profile. Markers such as "budget spent" and "average hourly wage" are a big indicator of how serious a client is. You will also find other important information, such as names or social media connections. Tom discusses why both of those are important when it comes to writing a personal and effective job proposal.
Having that human element, having that relationship, deepening that trust…that's ultimately all you really need to get to.
Things like job success scores and top-rated statuses are also important for finding jobs on sites like Upwork. The rating system is the norm on job board sites, but Tom takes a different look at this strategy. He switches the roles and makes sure to look at himself as the interviewer. Instead of trying to impress the client with his proposal, he tries to find out if this client would be a good fit for him.
When you have that opportunity with someone, you need to build that rapport.
Tom's experience as a client on Upwork makes him a valuable source of information when it comes to knowing what clients want to see. There are cues you can follow to let you know when a client wants to have that conversation. Tom warns that some clients are all business online, but most of them are looking to build a professional relationship with a freelancer.
It's really important to get the connection of the feeling to it because people make decisions – believe it or not – based on feelings or emotions versus pure logic.
Creating a human element is at the very core of what Tom talks about in this episode of The Freelance Transformation Podcast. Building a relatable profile online and writing proposals that showcase your talent and dedication to helping clients realize their goals is going to be how you stand out as a freelancer on job board sites.
Resources mentioned:
Find Tom Casano online:
---