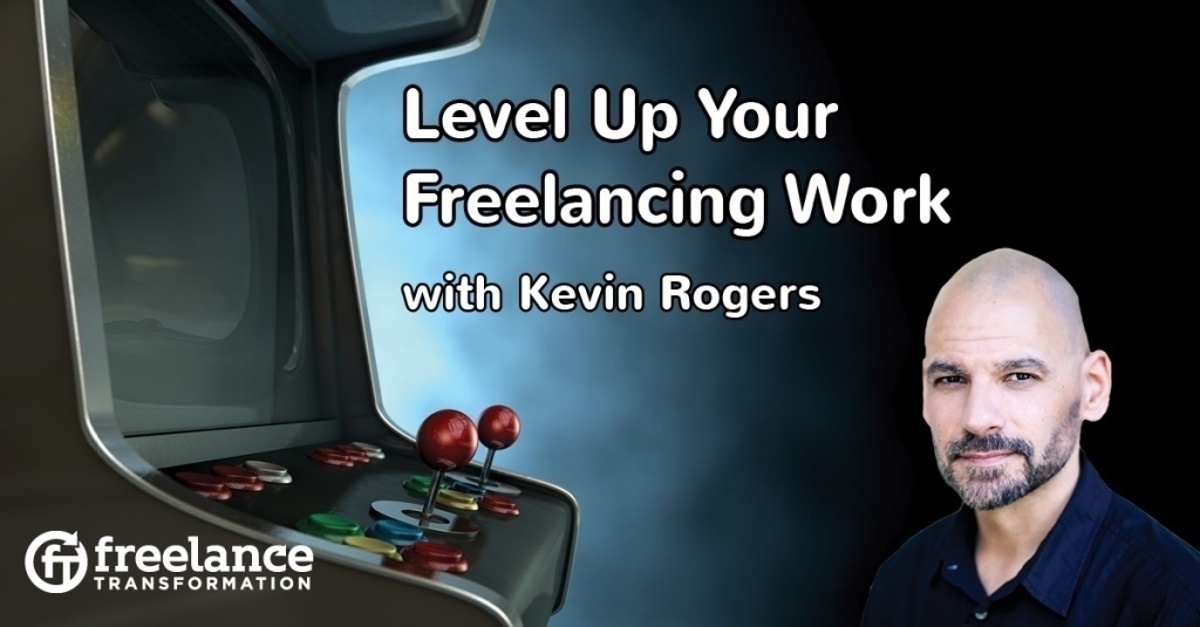 FT071: Level Up Your Freelancing Work with Kevin Rogers
Today's episode features the story of a someone who is always pushing himself and taking on new opportunities, passionately living in the moment and loving what he does for work.
This is the story of Kevin Rogers, now a prominent copy chief who connects clients with freelance copywriters and coaches freelancers along the way. But his current position is a long way from the 18 year old comedian who toured the country for a decade in a beat up Chevy Nova, hoping he would have enough gas to make it to the next gig. It was an awesome life for a twenty something, but not sustainable.
Kevin shares why and how he made the transition. Kevin's success can be attributed to his inspiring personality, his desire to strive to be his best and constantly challenge himself, and, of course, the many mentors who showed him what was possible.
Listen now:
Listen on iTunes Listen on Stitcher
Podcast RSS Feed | Download MP3
Kevin shares with us:
Kevin's path to freelancing:
Kevin is a very entertaining guy, which is no surprise since he comes from a comedy background. Starting at 19, he toured the country for 7 years as a comedian, driving from gig to gig in his '74 Chevy Nova. And it was amazing! That is until he no longer thought it was ok that his career was to drive 6 hours to gigs where he talked to 48 drunk strangers for $400. Not quite worth it.
While he was on the road, he also met many comedians who had been touring for decades and had vowed to himself that he wouldn't become an old bitter road comic like some of them. He gave himself until he was 30 to either make it big or find other options.
Then, he fell in love and got married and knew that he really needed to get more consistent and reliable income for his family. But it was one of the hardest things he has ever done.
Before copywriting came into the picture, he went to bartending school, then was a bellhop for a bit, and then ended up running a friend's telemarketing business. Running his friend's company was actually a turning point for Kevin. Not only was he making a lot more money as a manager, but he discovered the magic of business: other people give you money for the things you do! He decided that he had to figure this business thing out.
Then another buddy introduced him to the idea of copywriting because he understood sales and was a good writer from his previous work. To Kevin, this was a sign from the universe, an awakening! There was actually a thing out there for him that lets him do everything he loves and exercise everything he has learned in life. It lets him be creative and also pays well.
How Kevin got started freelancing:
Every freelancer remembers the very first sale they got because that first sale makes freelancing real. Someone is paying you for your services. It's magical!
Kevin's first sale was thanks to the advice from his friend, Vin Montello. Vin had found a listing on a copywriting job board for a 5 step email auto-responder series and thought that Kevin could do it. Vin told him to tell the client that he charges $100 per email, but he would charge $350 for the full project. Kevin responded with, "Cool! What's an auto-responder?"
He was entering a new world, but entering it with excitement and a passion to learn. He ended up getting this job despite not knowing what an auto-responder was and despite not having a portfolio. He actually made up a sample auto-responder series about golf, which he knew very little about. When the client got back to him, he wrote that Kevin was a little higher priced than some of the other people, but that he really liked Kevin's confidence.
Avoid the beginner trap:
I hope you noticed the error in thinking here, that the client thought that $350 for a 5-email auto-responder series was priced high. Of course it was a great way for Kevin to get started. But compared to the value that the email series is worth, probably just a few sales of whatever the series was selling would more than pay for the cost of the series, $350 is nothing. Unfortunately, a lot of freelancers get trapped at this low-tier price range.
Freelancers get trapped because they have finally figured out a way to get paid directly on their own, no middle man, no boss. That first sale is liberating, but then paranoia sets in as you get trapped thinking that you will only continue getting clients if you continue charging that price. That means that the only way to make more money is to work more. Eventually, you will burn out.
How to raise prices:
Kevin was inspired by master marketer, Dan Kennedy, who said the the only difference between me and another copywriter is that I can say that my fee is $40,000 with a straight face. Kevin has since found out that it is actually not that hard to justify such a rate to the client either.
Let's do some math. Lets say that the client is selling some product online. If you as the freelancer are able to raise the conversion rate by 1%, which means increasing sales by $10,000 for the next month, then asking $20,000 for the project seems perfectly reasonable.
This is a great realization, but that first client would probably never have gone with Kevin if he had asked for $20,000 instead of $350. So the type of clients matter as well. Specifically, the clients have to understand that you are providing huge value.
How to Network:
That's where networking comes in and pushing yourself to take chances and challenger your abilities.
Kevin was very serious about building up his skills and sought out the best to learn from. One of his greatest mentors was John Carleton. Not only did John teach him valuable copywriting and business skills, but also introduced him to the big names of the industry, like David Garfinkle and David Deutsch, as an expert panelist at hot seat events.
Kevin repeated this process to keep learning new skills. First, he finds heroes; people who have the career that he wants to have. Then, he stalks them online and reads everything they write and studies everything they do. And finally, if they hold events or coach, he invests in it by signing up.
And when you are the biggest fan in the room, don't go up to them and make one of the most common mistakes: "What can I do for you?" or "How can I serve you?"
Sure they will appreciate your passion, but they don't know who you are or what you are good at. They don't know if you are crazy or not or if you have some ability that could help them. When you ask those questions, you are essentially asking them to invest their time into figuring out what you can do for them, to do the work for you.
You would do much better if you research what they are doing, then figure out a specific way that you can help them, like answering reader questions in the comments section on their blog. You don't steal the show, but you are providing value to other blog readers by referring to their work elsewhere and clarifying their points. It may even become something bigger.
How to find out what works for you:
Now for some soul searching. Kevin started out as a copywriter, the one sitting behind a desk and typing for 8 hours a day after coming home from his day job. Then he transitioned to full time copywriting. Then he realized that his limitation was the amount of time it takes him to write copy. He tried to learn how to write faster, but still couldn't get himself to write without editing along the way.
That's when he had an internal team meeting with himself. He asked himself what he enjoyed and what he disliked doing. He discovered that he hated the torture of trying to discipline himself to sit down and write and he wasn't very productive, but he loved the romance of being a writer. He also realized that he really enjoyed the brainstorming, the editing, and working directly with the clients to come up with the game plan. So, he embraced being a copy chief.
As a copy chief, he oversees the work of freelance writers, coaches them, and interfaces with the clients. He no longer writes the copy himself, and gets "numb-butt" from sitting at the computer all day writing. He's been doing this for 10 years and loves working with clients.
In the last year and a half, it was time for something new. He started a community website, copychief.com, to help a bunch of freelancers for a lower rate for each student, but an overall higher income for Kevin. He also wrote a book, 60 Second Sales Hook, which came out of a marketing conference, and produces several awesome podcasts.
The path to freelancing is different for everyone. For Kevin, it was all about finding mentors and passionately building his skill. What is your path?
Resources mentioned:
A few of Kevin's mentors, inspirations, and those who helped him along the copywriting and freelancing path:
Find Kevin Online:
---