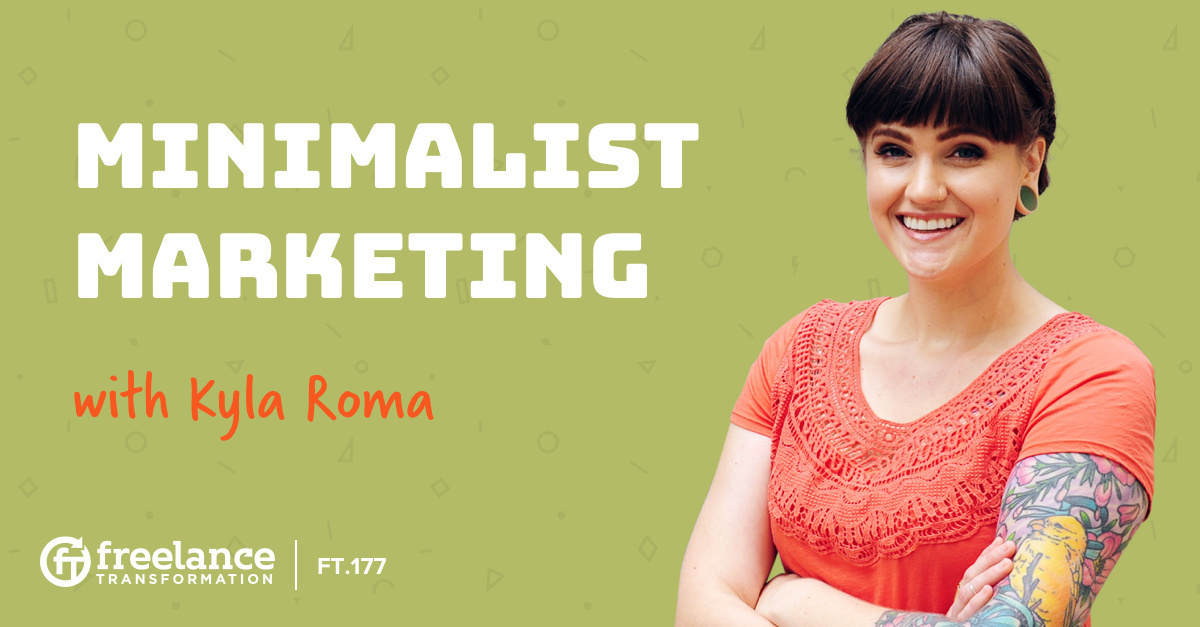 FT 177: Minimalist Marketing with Kyla Roma
It's time to stop overcomplicating lead generation. Your marketing strategy does not have to give you a migraine. There are ways to keep marketing simple, and we've got marketing guru Kyla Roma on the podcast today to show you how to do just that.
Listen now:
Listen on iTunes Listen on Stitcher
Podcast RSS Feed | Download MP3
Kyla shares with us:
Kyla is a marketing and profit consultant who uses her minimalist marketing strategies to build an audience and attract clients. It's all about playing to your strengths and finding a marketing strategy that works best for you and your ideal audience. We talk today about how you can harness your strengths and apply your unique skill set to a winning marketing campaign.
Keep Marketing Simple
Kyla got her start as a self-taught web designer. She was able to build a pretty hefty client list through social media and referrals. Building these relationships online opened her eyes to the marketing skills she didn't realize she had. Kyla played up this strength and used her skills to help businesses rethink their marketing strategies.
I realized that was my unique passion and something I was really gifted at. I just focused in on what my strength was and kept on going in that direction.
In order to design a successful marketing campaign, you need to play to your strengths. Kyla says you can't compare yourself to others during this process. There are a lot of different formulas out there but only one will work for your marketing strategy. Take notice of what you're good at and look for ways to work that into your marketing plan.
It's important to always remember your audience in this equation, too. As you assess your skills and strengths, check out what your audience is doing. Use social media to reach out to clients and customers and get their feedback. Kyla takes time each week to look over customer inquiries or marketing trends to see areas where she can perform better. There is a big difference between a marketing routine and a marketing campaign, and Kyla discusses the ways freelancers can balance both.
Marketing for the Solo Entrepreneur
Marketing for yourself is a different ballgame, and the biggest challenge Kyla helps her clients overcome is creating content. It can be hard to insert your business plan into existing content. Kyla's advice for freelancers is to only generate content that is directly related to what she calls "the business engine".
If your content isn't directly related to the business engine behind-the-scenes, then that's a really tricky thing to put in at a later time.
You can pivot, but it's a process. And an overwhelming one at that. It's not something that happens overnight, so you want to give yourself enough lead time so you can think about marketing in a less reactive way.
It's much easier to market as solopreneur if you can get a pulse on who your audience is. To start, create some content that inspires your clients to take action. See what kinds of things they respond to and who actually follows through. This can be really telling and will help you hone your marketing strategy. Kyla shares the ways she breaks up content into different pieces to better reach her audience. A tweet can become a clip in your Instagram story, which can later be expanded on in a blog post or email newsletter.
If you aren't thinking about the customer from the get-go, you're probably doing it wrong.
You want to create content that speaks directly to your audience's concerns. Start with a brand awareness campaign by generating relevant content and encouraging people to interact with you. Offer helpful information or incentives that will attract new clients. If you focus on your audience and offer content that truly benefits them, then your marketing strategy will get a whole lot easier.
Time to Take Action
Aligning the content you share with how you help your clients is Kyla's secret to a successful marketing strategy. An audience does not want to be convinced to buy something, they want to be convinced that you know what you're talking about. Share your work, share your expertise, and establish yourself as a trustworthy and reliable resource that clients will be excited about working with. People are much easier to convert into clients when they are already aware of what you do.
The more that you're talking about those things that speak directly to your customer's concerns the more qualified your email list is going to be.
If you want clients to take action, then you really need to take a look at what they're most concerned with. Create time to chat with potential clients and meet with people in your niche so you can have a better idea of what's happening in your business. You can't design an effective marketing strategy with your head in the sand, so get to know your audience by actively engaging with them.
The perfect business and the perfect marketing plan that you have in your head can really crush the really good, functional stuff that's going on in your actual business. Try to be aware of that perception gap.
Building these relationships will not only maintain your reputation online, it can also build your client list through trusted referrals. Remember, marketing is a long game, and you want to dedicate the right amount of time to building your brand. Play to your strengths and develop a marketing strategy that works for you and your customers by taking the time to get to know them. Customers will take action when they know you are a genuine person who just wants to help.
Resources mentioned:
Find Kyla Roma online:
---