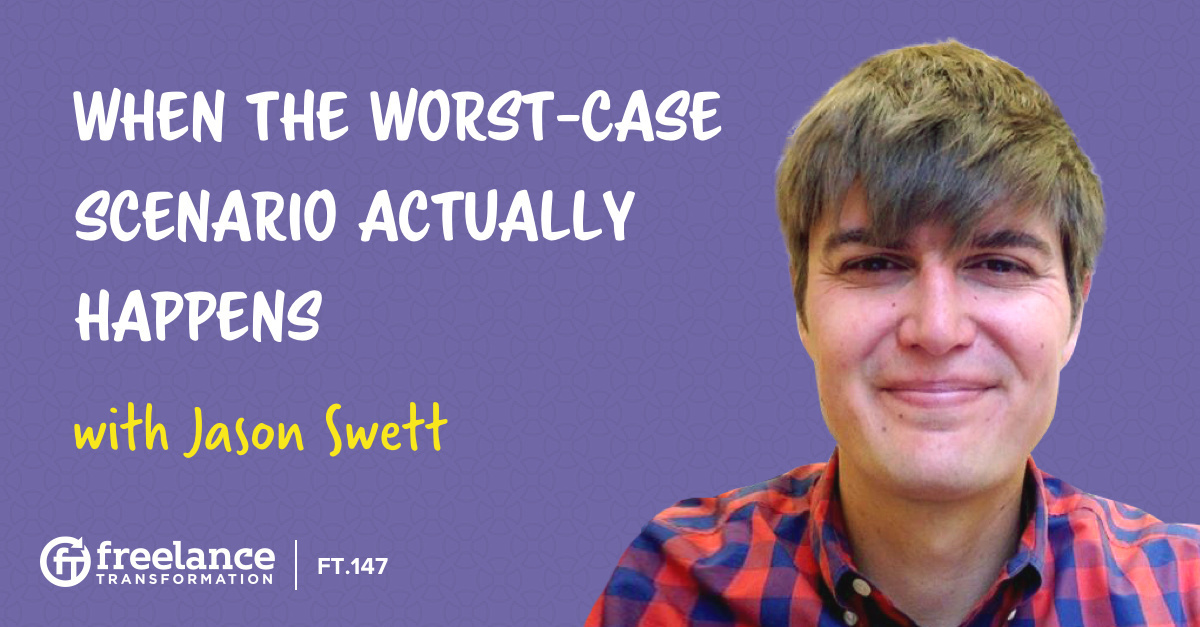 FT 147: When the Worst-Case Scenario Actually Happens with Jason Swett
2018 is right around the corner! Are there any big life changes coming your way? Could this be the year when you actually quit (or lose) your job and start your own freelancing business? Jason Swett, a programmer and app developer, survived the worst-case scenario during his very first year as a freelancer. He has some entertaining stories, followed by some great advice on how you might be able to survive your own "firsts" as a full-time freelancer.
Listen now:
Listen on iTunes Listen on Stitcher
Podcast RSS Feed | Download MP3
Jason shares with us:
What's the actual worst that could happen?... I won't get any work, and I'll run completely out of money, and we'll get evicted from our apartment, and we'll have to go live with relatives... I'm not going to die.
Surviving the Worst Case Scenario
Jason Swett started his freelance career on a very rocky journey. After being let go from his full-time employer, he toyed around with the idea of programming on his own. It was possible, but not without its own hiccups. He had a family to support, and his lease was up. Jason always knew that full-time employment wasn't the answer for him, so he weighed out the pros and cons of actually working for himself.
The worst outcome is not that bad. And not only is the worst outcome not that bad, it's not even very likely that it's going to happen.
Except in Jason's case, when those things actually did happen.
Being put in the worst-case scenario doesn't mean it's time to give up. On the contrary, it means that it's time for your career to evolve. Jason has always had an intellectual approach to business, and he's always been looking for ways to improve his skills and build his brand. Living through the worst-case scenario means that you can continue to learn and move upwards, and Jason let his experience teach him some very valuable lessons.
First of all, confidence is key to surviving the worst-case scenario. Even when those around him were wary, Jason always had confidence in his abilities to deliver long-term and to eventually build a sustainable freelance business. He focuses on the value of his work and lets that motivate his goals and his performance. He shares a few of his motivational tactics to help you move past your financial fears and his tricks for developing fair rates and pricing that will help boost your confidence.
Jason talks numbers in this episode and his refreshing perspective on a freelancer's financial path will give you some insight on how to design a rate that speaks to your skills and your goals. When you become confident in the rates that you charge, you are more likely to connect with the kinds of clients you want to work with.
Finding That $100k Job
If you're looking for that dreamy $100,000 job, then you have to find the clients that fit that price. It's all about your mindset, and your freelance career might need a shift in perspective this new year. According to Jason, the only way your business will evolve is if your style of thinking evolves too. It is best to stop relying on clients to put a price on your value and start valuing your own skills and experience.
The key, I think, is that I didn't absolutely need it. And I didn't really want it. And when you don't need or want a particular job, that's when you have the power.
It's important to come to the table with the right kind of attitude about what you are able to offer; that is if you want to build a business relationship that boosts your bottom line. You can't play like you absolutely need the job because a potential client will not respond well to that kind of desperation. To avoid that, there are specific questions you can ask to find the perfect client at the perfect price.
Jason recommends asking your clients why they want to work with you right now instead of at any other time. Seeing it from their perspective will give you a better view of your own goals and where your client can (or cannot) fit in.
Don't reduce yourself to an hourly wage, and try not to compare yourself to hourly employees when looking for clients. Their rates are based on things like paid time off, something freelancers don't have the luxury of. As a freelancer, you have to consider the emotional costs as well as the hard physical costs when it comes to deciding on a client.
Most freelancers of any kind don't think about their costs the right way, because even though you don't have to pay for equipment…you still have a cost because you're trading your free time.
For a freelancer, finding that dream client means having confidence in the value of your own work. If you don't feel comfortable with a certain price or a certain job, take a moment to consider what could make you feel that way. One of Jason's biggest takeaways today is remembering that success favors success, and you should only work with the people who want to see you succeed.
Make the Referrals Happen
Your success is directly related to your referrals. And your referrals depend entirely on how well you work with other people. In Jason's field, it's not his clients who are referring him. His coworkers are the people who recommend him most to their own clients and other team members. Because when they need more of your skillset, they're going to call on you before they call anyone else.
Jason breaks down the ways in which referrals influenced his new career change. He's evolving from programmer to mentor, and this leap would not have been possible without all of the support from his coworkers. Working with people in similar industries can keep you sharp, and networking your way through the industry can exponentially build your client pool.
Make sure to form relationships with the people you work with. And keep in touch with them over time.
Freelancers have the unique opportunity to build real relationships with their clients and coworkers that full-time employees do not. Because we are our own boss, we can talk directly to our clients about value, expectation, and motivation. This creates a deep connection between us and our work, and it's this connection that can help your freelance career evolve in the coming year.
Resources Mentioned:
Find Jason Swett Online:
---