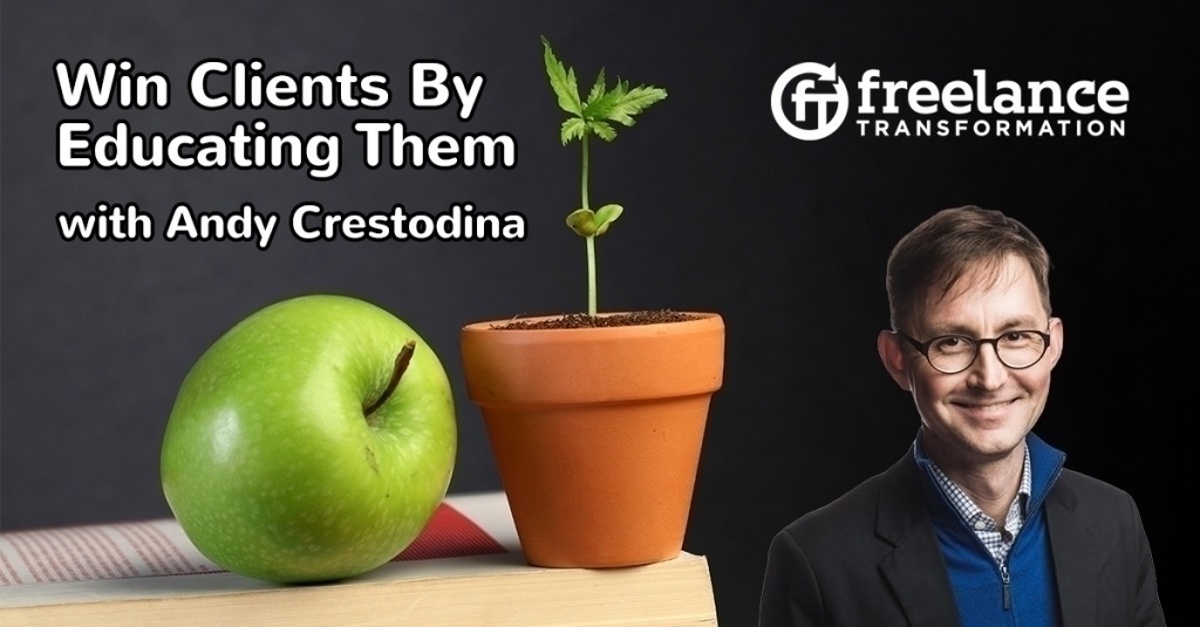 FT 119: Win Clients By Educating Them with Andy Crestodina
Andy Crestodina is the co-founder of Orbit Media Studios, a Chicago website development agency that gets tonnes of local leads and excels at standing out to clients. How? He implemented a content marketing strategy from the very start, and one that didn't rely on having a massive audience or huge success right out of the gate.
Andy is also the author of Content Chemistry, a beautiful and comprehensive book on content marketing that doubles as his business card when he goes to meet clients. Andy shares how his agency used education to teach his way into landing client work.
Listen now:
Listen on iTunes Listen on Stitcher
Podcast RSS Feed | Download MP3
Andy shares with us:
In college, Andy, a typical Chicago suburban guy, studied Chinese and got a teaching degree to teach in China. Then he took a 180.
Andy became obsessed with how art and technology started to combine and form something entirely new on the internet. In 2000, Andy started building websites with a friend from high school and college roommate, founding Orbit Media.
But that teaching degree turned out to be really useful for understanding content marketing. Now he does a lot of speaking, which is no unlike being in a classroom, and a lot of writing, which is not unlike curriculum development.
"Some of the best marketers are really just teachers."
The start of Orbit Media:
The start of Orbit Media was actually completely different from what it is today. While working a day job as an IT recruiter, Andy and his friend made choose-your-own-adventure interactive comic books with sound effects, animation, and original music. It bombed as a business.
But when they started building websites, they reused the name, Orbit Media, for their web development agency.
It was January 2000 when Andy started building websites. He had friends who told him that it was too late to get into the web because there was already so much competition. That didn't stop Andy. They had a hodgepodge of client's from his friend's work, which was fun, but they weren't making anything. And it was a hard time to get started with a terrible economy.
"We were very poor, but really didn't care."
Growing Orbit Media:
"Our moto in the beginning was to be an outsource partner to agencies."
Andy reached out to agencies to do programming or animation. This sustained them for a few years as he got better at search, customer service, and hiring.
"We built it up slowly from nothing. I think if it like a tree. IF you just keep growing roots and stay in the same place and keep doing the same thing, it kinda gets easier because people know you for that thing. Eventually you get slightly more and more relevant each year, until, before you know it, you are taking care of people and somehow it all works out."
Content Marketing:
People don't need Andy's work everyday. The average website lifespan is 2 years and 7 months. And it takes people a long time to decide who to hire.
So, in 2009, Andy decided that he needed a way to stay in touch with people during the long sales cycle and long buying interval. So, Andy started a list and started writing articles once a month with the goal of maintaining the relationships with these potential clients. He started with 200 people on his list, from current and previous clients, family and friends. He wrote about social and email marketing, analytics, and publishing.
Then, Andy realized that he could use the content he was writing to build brand awareness, relevance, and authority and build into his sales funnel. He started doing SEO on his articles to rank high for specific search phrases. He also started optimizing for buyer key phrases such as "Chicago web design."
Then, Andy realized that the content is a networking tool that can let him collaborate with other industry leaders and conference leaders. Andy works hard to publish things that involve many people.
"There is a principle of friendship at the core of my approach to marketing."
Then, Andy started doing speaking events, including the monthly "Wind and Web" which was an evening of drinking some good wine and teaching marketing. The monthly presentations at his office and the monthly blog articles started to feed into each other. He started getting great feedback from people that the content he was providing at the presentations and on the blog were useful.
"I've been a big believer in live events since the beginning. As a format for content, it's just super powerful because the trust building is amazing."
There are two kinds of website visitors:
The people who are clicking through and were doing something else when they came across something that inspired them to visit.
The people who are searching for help and answers, either for research or for commercial intent.
The first group of visitors are those you want to nurture for future sales. The second group are feeling the pain of a problem and need your help. You can focus your SEO to get more of the second group coming to you.
Step one is to find a topic, niche down, set up a specific landing page and service, and optimize to rank for a buyer-related key phrase, i.e. podcast production consultant. People who search for that phrase and click on your link are super targeted.
Step two is conversion rate optimization (CRO). Now you focus on trust, testimonials credibility, e-contact forms, answers to questions, reducing uncertainty and specific calls to action. You want to generate demand.
Following this formula of SEO and CRO, as well as referrals, Andy has generated $5 million a year in revenue.
"If you generate enough demand, you have only two choices. You have to raise your prices or you have to hire people."
You can focus on a geographic area or an industry. Andy does a lot of local work in Chicago. He prefers this strategy because he is very high-touch and likes to meet with people in person, i.e. hosting the "Wine and Web" events.
The curse of search:
"SEO does not create demand. It only captures existing demand."
There is a ceiling to inbound and content marketing. There is a point of diminishing returns. Andy is starting to experience a flattening in revenue as he hits this ceiling of demand for web development in Chicago.
"You can't get more visits than the number of people looking for that topic."
That's when you have to consider some sort of outbound marketing, opening in new locations.
SEO and Linking:
The most honest way to get links and build your ranking is to try to create the best content about that topic. Then, follow that up with building sincere and authentic relationships with other bloggers, event producers, podcaters, and publishers. People will link to it because it is good content.
Visuals also tends to do well. For example, the Periodic Table of Content that shows the different formats you can publish in.
So do interesting summary articles that give people guidance, such as The Ideal Length for Blog Posts, Tweets, and Everything Else in Your Marketing. Or The Average Lifespan of a Website.
"Everything we publish is either a unicorn or a donkey."
Try to figure out what makes a unicorn, or a hit. And try to create a system to repeat those. A lot of research goes into getting unicorns. Especially doing your original research which puts original work on the web. You want to be the primary source of a new statistic that is important for the industry.
Want to learn how to do research yourself? Check out Andy's blog post: What's the Best Content For Links and Shares? 5 Ways to Use Data to Win.
What do people frequently say but has little evidence behind it? For example, blogging takes time. But how much time does it actually take? Andy sent out a survey to 1000s of bloggers over several years. He wrote an article about this: Survey of 1000+ Bloggers: How to Be in the Top 5%. Now, he is frequently cited because that statistic was missing.
Then, build relationships with people who build content and make your data visible to the poeple in your niche. Very repeatable (not necessarily scalable). You can also summarize other people's research in something like an info graphic, and then outreach.
Importance of Relationships:
Step one: Create a giant evergreen content that answers big questions and won't go out of date. The goal of this piece is to make you look like an expert. Go all in. Lots of detail. Lots of research. That way, if you meet some big name or lead, like a Forbes publisher, you have a thesis that you can share.
Step two: Zero-waste marketing. Start writing for people who are already in your pipeline. If you only have 10 people in your pipeline, or two leads, figure out what these people are talking about, what they care about. Write to these people! It's not just marketing, it is sales support. It's guaranteed value.
Don't post and pray. It's sad. It's not going to work.
Doing follow-up calls and sales isn't fun. It's always awkward and almost apologetic that you are bugging them after 2-months of not hearing from them. Instead, you can call them and say something like, remember how we talked 2 months ago about this topic, and you had this question? I just wrote an article about it and thought you might find it helpful. I wrote it because I was thinking about our conversation.
You can even include your prospects in your content. Interview them! Come up with a list of questions that you can ask several prospects, all in the same industry, and include it in a round up article. For example, you do graphic design for veterinary clinics. So you ask them what their top five questions or challenges are for marketing veterinary clinics. Many people don't like getting a sales call, but they will be happy to be interviewed.
"Big companies are trying to be small. Every big company out there is trying to be more human. They are trying to be like you, the freelancer."
Andy's solution:
"The trick it to be human, and authentic, and collaborate."
You make the wikipedia for yourself and outline everything you know. Then stand back and look at the outline. You can turn your LBOW (Lifetime Body of Work) is composed of all your knowledge and all the things that you have published and written about in emails or spoken about at presentations. Basically, Andy's LBOW was in his blog which he turned into a book with only a fraction of additional effort.
Andy doesn't make money from sales. He uses it as a $20 business card and he gives it away to every prospect as a sales support tool. It is an owner's manual to a website to help the prospect get value. It also opens doors to speaking opportunities at conferences and podcasts. Essentially, it generates demand to keep the business going.
"Content marketing is an extension of the service that you offer. It is a way to give more value to more people more efficiently by putting things out there in a way that is durable, downloadable, and accessible to anyone who cares to get that piece of advice."
Resources mentioned:
Find Andy online:
---