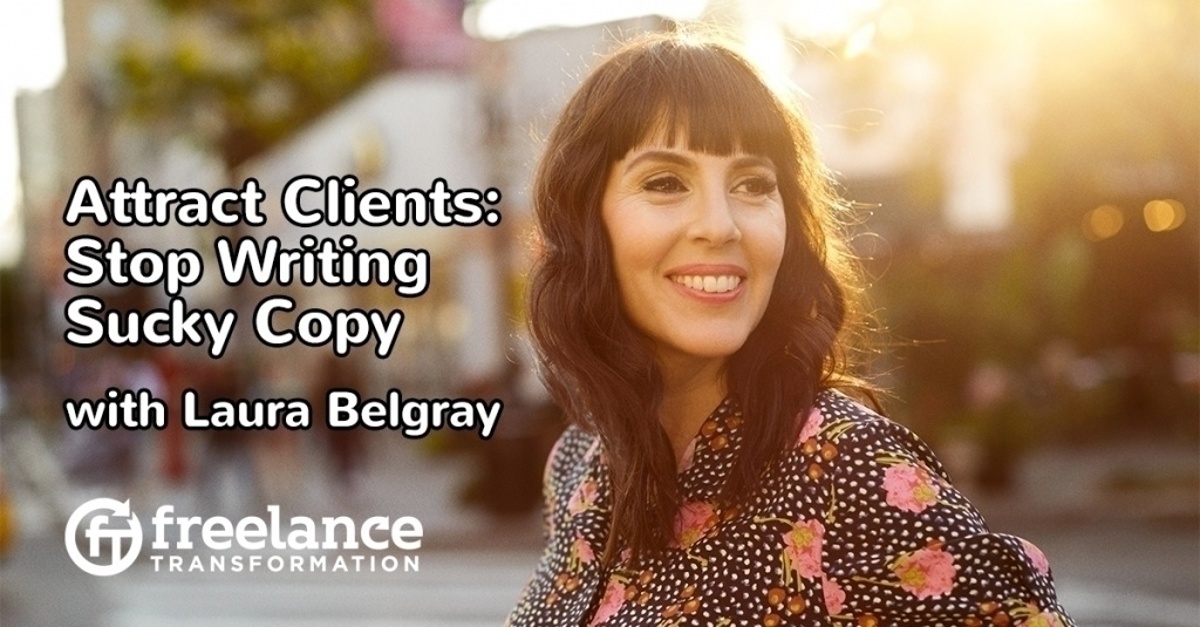 FT 105: Attract Clients: Stop Writing Sucky Copy with Laura Belgray
Laura Belgray, of talkingshrimp.com, is a freelance creative copywriter who helps people with all the words they use in their businesses. She started out writing promos for TV networks and won numerous awards for her work. While she continues freelancing for the big networks, she also offer copywriting for small business and has collaborated with Maria Forleo to create a copywriting course called The Copy Cure.
Laura shares the strategies she used to get started as a copywriter, why good copy matters when you are trying to get your audience to know, like, and trust you, how good copy can help your business, and how to write good copy yourself.
Listen now:
Listen on iTunes Listen on Stitcher
Podcast RSS Feed | Download MP3
Laura shares with us:
Writing Network Promo Spots:
Promos are the commercials that networks place to promote its own shows. It can be on air or in-print in magazines or the side of busses.
Laura started as an ad-side copywriter at Spy magazine, then New York Magazine. Laura broke into the promo world through a friend at VH1. She actually had no experience with promos at the time, but that didn't stop her from going to the pitch. Instead of showing the typical promo reel that normally proves expertise, she showed printouts from a message board that she was hired to populate. The producer thought she was funny and liked her stuff so she was hired for her first promo. Through connections from VH1, she met people from Nickelodeon and launched her career in promos.
Lesson: Networking and showing whatever you have, with confidence, when you transition to a new medium. Laura didn't have to work up from being an intern or assistant, which is the other track and is very difficult.
Writing Copy for Entrepreneurs:
Laura never intended to have entrepreneurs as clients. She had her promo gig. But all that changed when she made friends with Marie Forleo in a hip-hop dance class. So, Laura's story is tied in with Marie's story.
At first, they were both students of dance together, but Marie quickly advanced to teaching the classes that Laura kept going to. Marie employed an early concept of an opt-in by starting each class with a personal story then passing around a yellow legal pad for people to sign up to her newsletter about life advice, since Marie was also a life coach.
Marie also taught some online training that Laura decided to try out. The training was for entrepreneurs and had an online community where people helped each other out. Laura started helping other students with copy for their businesses, just for free, on the side, for fun.
"I started giving people a lot of help in there and Marie noticed that. She invited me to speak at her first live event."
So, Laura spoke about the "5 secrets to non-sucky copy". People started coming up to her after the talk and asked her for help on their about page, facebook page, and other business related copy.
Laura stumbled on the familiar strategy of providing value to potential clients while demonstrating your expertise. She didn't have to sell herself, she provided value and the customers came to her.
"I think that I would be really struggling to make as much as I need and as much as I want if I were just serving TV clients."
Through this opportunity with Marie, and building up her business after that, Laura found that the chance diversification of her business really saved her.
"I'm lucky to have this other stream of income, and other audience, which is entrepreneurs, people who really invest in themselves."
Why is Copywriting Valuable:
"You have 3 seconds or so online to make an impression to somebody whose showing up at your website."
You have so little time to draw people in. You have to use that time effectively. Laura says that it is like someone walking in on you in the bathroom. The same amount of time it takes someone to realize that you are in there, on the toilet, is the same amount of time they take to make an impression of your website.
"Great copy gets attention. It lets people know: this is what I do, this is who it's for, this is how it will help you, this is what you should do next."
Know, Like, and Trust
Over the long term, copy also helps people to get to know who you are, like you, and trust you. That way, people will want to come to you.
People want to work with people they are familiar with. Most of the time, they don't know who to go to for help. They have no way to evaluate who a good copywriter might be, for example. That's assuming they even know that they need a copywriter. They need the social proof and will go to their friends for recommendations. That's why you need to be known already.
Your content is the secret to getting you known. Personalize it.
"Work your personality and your personal details into those."
Include the little stories that make you you. These stories bond people to you and will help them remember you. When people read this, they think, "Me too."
Is this unprofessional?
"I happen to think that personal, and informal, and conversational is the new professional especially online."
You can put personal things into whatever you write without being unprofessional. Some people may be turned off by it, but then you probably wouldn't have had a great client relationship with these particular people, so it's ok.
"People trust you because they get to know you."
When people get to know you as a real person, they tend to trust you more. If you share knowledge and expertise and sound like you know what you are talking about, then you build trust. Testimonials will also give you credibility and help you increase what you can charge.
To show your expertise, you can showcase your work on your site as a portfolio. You can write about why people need better design, copy, code, etc and what that looks like.
Find Your Voice:
"The details that you choose, that you select, to include, somehow tell us who you are and give you a voice."
Share concrete details about yourself, your life, or your business. Making these into a clear picture will show off your perspective and your personality.
"It should sound like you are talking to a friend, because don't you want to work with friends?"
Common mistake:
"The mistake I see the most is not using that primo real-estate, which is the above-the-fold, top-of-the-site, big, old header."
Many people put a big picture there without copy. Or they put copy that doesn't say or mean anything. For example, The Tragic Triple: "Breathe. Smile. Live." "Engage. Connect. Convert."
"I would rather see something completely clear than clever."
If people don't understand something, they look away, and your message is lost. Be clear first.
If you want to brainstorm clear and fun taglines, try Laura's free Tagline Tackler.
Here's a good example:
"Creating lifetime memories one mini-meatball at a time"
If the tagline was just "Creating lifetime memories" it isn't very specific. It could apply to a photographer or painter or who knows what. But by adding "one mini-meatball," we know that this has something to do with food. And it is a tagline for a restaurant.
Ḫow to Write Good Copy:
"I think: What will I say to my friend right now?"
Always start with a purpose, a call to action. This can be wanting them to buy something, go to a blog post, write back to Laura, etc. Make this the first line of the email – but it won't stay the first line of the email.
"Hey Matt, I have a new product out, go buy it."
Then, Laura works backwards and lead up to it, because it would be really rude to start like that. Laura figures out how to gracefully and compellingly work up to the call to action. Often, Laura starts with a story about something that might be tangentially relevant and move slowly towards the thing she wants them to do.
You can also work with someone to help you write copy. They can help you make your ideas clear while maintaining your personality. Work closely with them so the copy is still your voice.
Instead of writing an email, make a video with a one liner, asking your audience to watch.
Try recording yourself as you talk. It can be easier to start talking about what you want your audience to do than staring at a blank screen and wondering what to write. It will give you something to work with when you transcribe it.
Or write something short. Don't go for a blog post right away. Start small.
If you want to learn how to write better copy, you can take Laura's course, The Copy Cure. There is a free sample class that teaches you the three secrets to copy that connects and converts.
Also, start collecting copy that makes you laugh or makes you think that you want the thing being advertised so you start to get an idea of what good copy looks like. Reading fiction will also help develop your writing. Fiction is often published after going through editors and is really well written. Fiction is often better written than non-fiction.
Resources Mentioned:
Find Laura Online:
---