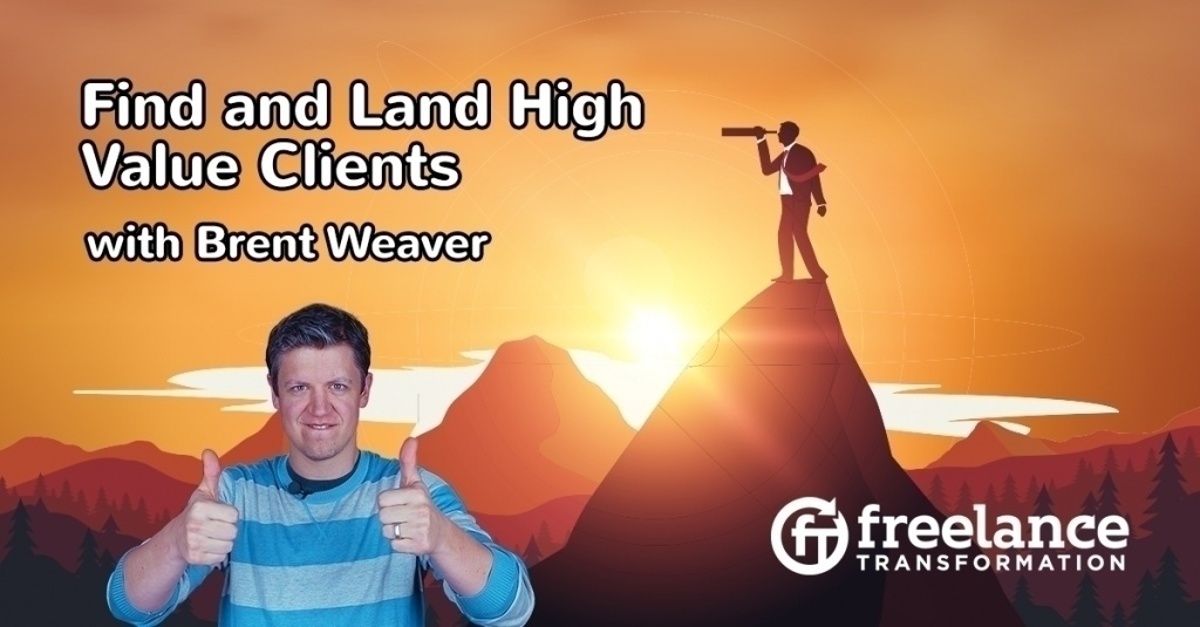 FT 118: Find and Land High Value Clients with Brent Weaver
Often as a freelancer it's tempting to just work with whatever clients come our way, instead of figuring out who is really an ideal client and what you have to do to get in front of them. But being intentional about finding and winning the right clients can make a massive difference in the kind of freelancing business or agency that you end up building.
Brent Weaver, of Ugurus, shares how he built and ran a web agency for 13 years until selling it. Now he helps other agency owners to build their business with Ugurus. Brent shares his experiences of identifying who high value clients are, how to intentionally connect with those clients, and the intentionally length process that he goes through when he believes that a client is a great fit.
Listen now:
Listen on iTunes Listen on Stitcher
Podcast RSS Feed | Download MP3
Brent shares with us:
Brent started, grew, and sold an agency over 13 years (1999-2012) and has switched his focus to helping others grow their own businesses and help them avoid all the trials and tribulations and failures that he he went through over a decade of learning on his own agency.
Why did Brent get into the web space?
Way back when, Brent was in high school, working minimum wage as an inventory stock boy at a local store. He and his buddy decided to try to make a bit more so they started making websites. Their first project was putting an order form online for a candy store in Michigan which took them a few days to make and and raked in $500! Not bad. From there, they grew and it turned into something bigger.
After high school, he went to college, keeping the business alive with his partner on weekends, evenings, and over the summer. But it wasn't very profitable.
"We had some really, really bad clients. But we were doing really good work, and learning a tonne."
Brent ended up taking a semester off of college, moved to Australia, and worked for Invest Australia doing internet communications technology research and analysis. It was amazing, but also the worst 6 months in terms of professional life, ever. It had a lot to do with the corporate world – having a boss, being at work for set hours, dry meetings, doing research all day... Brent hated it.
Except for working on the department website. It took him two days to complete, though they expected it to take 3 months. That's when he decided that he did not want to do economic research the rest of his life. He would rather run his own business. So, he dropped out of college with the amazing opportunity to pitch a $50,000-$100,000 website project.
"It was the worst pitch of my life. I just did what I thought you should do from the movies."
They didn't get it. But they realized that they were competing with a huge agency. When they did the math, if they had gotten the project, they would have gotten $85,000 for a month of work.
"Maybe there's something here. Instead of us trying to find real jobs, like most people do after they graduate college, we could start working on our business more while life is still relatively inexpensive, we have relatively low responsibility, and there really isn't a whole lot of risk."
Lessons learned from running an agency:
1. How to find and generate the right opportunity:
At first, this meant telling people about the skills that they had. They told family and friends that they build websites to get the referrals and word-of-mouth business. But, the clients you get are determined by your network. So at first, they were getting really random clients and taking whatever came.
"That is a really bad business strategy."
But this is so common.
If you are a kid dropping out of college and don't have a professional network of business owners, then your word-of-mouth referrals are going to be all over the place. Compare that to a pay-pal executive who decides to go off on his own and start his own thing. His network is already full of high-value potential clients and people who would know other high-value prospects. The quality of your network matters.
So Brent became more strategic with who he hung out with, where he spent his time, and which clients to build relationships with in order to get better referrals. He became aware that most of the people in his network and the networking events that he went to did not have the pull strings or finances to approve a $45,000 website project.
"I started to realize that not everybody was my ideal client."
For Brent and his partner, ideal clients have businesses that are doing $1 million + in business so they would have a large budget for a website. His challenge was to figure out where these prospects hung out so he could target his advertising and figure out which events to attend much more strategically. Industry conferences are great! It's a lot easier to go to an industry conference with a bunch of people who fit your target client then try to organize something yourself and find them one-on-one.
"It is good for you to have some kind of connection or passion for the market or a passion for the problem you are solving."
Try to become a fixture at these conferences by giving talks or workshops or have a booth and bring unique value to the people attending the conference.
Now 10-15% of his time goes into developing a strategy to target his ideal client before executing a marketing campaign.
Ask the clients you like to work with, "Where do you hang out?" This can help you move into the industry circle so much faster.
Also, be creative and resourceful. If it seems really expensive for a ticket, bargain. For example, Brent wanted to go to a conference that cost $5000 a ticket. With a monthly overhead of $10,000, this was a lot! So, Brent contacted the organizers with idea after idea on how he could provide value for the conference in exchange for a ticked, such as videotaping testimonials, interview influencers, etc. He kept getting "no", but he didn't give up. Eventually, they came back and offered an exchange of design work for a conference pass.
"We basically got this $5,000 ticket for doing 40ish hours of design work, which at the time was a really good deal for us. And, gave us a positioning client in this conference who was now basically a customer with us."
There are also other cheap ways to get tickets, budget airfare, and cheap accommodations.
"Don't be discouraged by pay-to-play type groups. Conferences are a basic level of pay-to-play access."
If it is expensive for you to attend, it is expensive for them too. But they are investing in their business, their networks, and their education. These are businesses that are growth-minded and will give you the opportunities to work on interesting, state-of-the-art projects. This is how you get a great ROI.
If part of your intention for going to a conference is to get clients, make sure you do the follow up. Block off at least 2 weeks after the conference and fill it with 50+ meetings.
Qualify the person you are talking to as a potential client who fits your ideal client profile, a competitor who might be able to refer business to you and vice versa, or a strategic partner that serves clients who match your ideal client profile and could refer business to you and vice versa. The goal of the event is to schedule the follow up meeting.
"Bust out your phone and schedule the meeting."
For a while, his goal was to get as many business cards as possible at the conference and follow up (cold call) afterwards. That wasn't nearly as effective as setting the meeting for next week right away.
2. How to convert the opportunity into high-value deals for your business (aka sell!):
The first conversation is qualification: are they a good fit for you business? So, you need to know who is a good fit for your business, who are they types of people you are looking for, who are red flags for you?
"For a lot of people, the first time they talk to a prospect, they are already trying to win the business."
Don't try to win the business right away. You need to make a decision about whether this business is worth pursuing.
There are indicators in the first 15 minutes of the conversation. Ask about their revenue, their team size, did they have a website, are they spending money on digital already? For example, Brent doesn't want to convert people about the value of a website. They should value digital already.
After qualification, Brent maps out the process moving forward. This is the deep-dive discovery over 2-4 meetings. During the meetings, Brent goes through the business, their specific problems and consequences of the problems, their goals, and the opportunities out there.
"We're going to work towards some sort of solution and proposal through that process."
This is not the sales process like: "What do you need? This is how much it costs."
If the prospect doesn't want to do discovery, red flag.
After the discovery process and proposal stage, the closing rate was over 90%. And it is because Brent chooses to work with the client, keeping an eye out for red flags along the way and disqualifying the prospect if something tells him it isn't going to be a good fit.
It took over 1000 pitches (and fails) to figure out how to close projects that he wants to do.
"Law of selling: Relationships = Interactions / Time"
It takes a long time to build up a relationship to the point that they are willing to write a 5 or 6 figure cheque. You need to build a very strong relationship and dive deep with your clients to gain enough trust to make sure everyone is on the same page and know that you will give them the value they are looking for.
A lot of clients will build several websites over the lifecycle of their business. On the other hand, the average agency does 30-50 websites a year. The agency has so much more expertise! And you have to show the client that you have that expertise. And the best way to do that is to have multiple discovery interactions to develop more clarity over time. You need to sit with the facts for a bit, do more research, and question all the assumptions that weren't stated. At the next meeting, you clarify. By the time you get to the proposal, you and the client both know exactly what the project is and is not.
"Scope creep to me is always the result of failed discovery. You did not allow ample time to get all the stakeholders involved in the process during your sales discover, to dive deep enough, to give yourself plenty of time for research and preparation, to figure out all the angles and unpack everything."
You spend more time in the sales process. Spending 10 hours in sales for a $3,000 website might not pay off (unless you charge for it as consultative selling), but it makes so much sense for a $10,000 website or $50,000 website.
3. How to scale and manage the operations side of the business: Once you have a client, what happens. How do 14 people work together and deliver an amazing experience for your client?
"People should figure out what they love doing and are great at. And everything else, the things you only like doing, but are only kinda good at, or the things that you don't like doing, whether you are great at doing or not, you should get rid of that stuff."
Brent made this realization when he started tracking his time. He found out that he spend almost a third to half of his time doing work that was not billable and that he and his partner were not efficiently dividing up labor. They started dividing and conquering.
Brent was good at sales, but he was spending too much time managing clients instead of selling. That's how the agency fell into the feast and famine cycle. They wouldn't have another project lined up.
Brent stopped managing projects, stopped training, stopped doing support, and focus on sales. After setting up systems and processes, they doubled their revenue in a year. Then double again the year after, and again, and again. Brent was in charge of selling to new opportunities and hired an account manager who became in charge of selling to existing customers. Then, Brent optimized his sales process by figuring out what part of the process could be automated or outsourced to make his time more efficient.
They also had to find really good people to deliver the work. At first, they hired recent college grads and interns. But, they were stepping in too often and doing the work for them because they weren't really A-players, they were new. Then, they started hiring high-quality employees who knew their craft really well.
The next step was building an accountability chart, processes, and checklists to control consistency. Brent's business partner, Steve, was really good at this so he took it on. It's a nice trick to partner with someone who is good at the stuff you aren't good at.
Tips for scaling: Streamline your processes around a specific tool or market. Create packages or productized services to simplify your operations. Create teams for marketing, sales, and production for each specific niche. Don't hire the first person or some person you know does something. Instead, take the time to explore the market and find the right person for the seat. They should be smarter and better than you at the skill. They should create better processes for the company and help the company grow. In Brent's experience, it takes 3 months to hire for a key position.
Why sell the agency?
Brent started blogging about his agency and the behind-the-scenes processes. He loved the agency, the team, what they did, but he started thinking about what he wanted to do for the next ten years. He had started receiving thank you letters and letters asking for advice based on his blog posts that he had been writing for two years and found that he really enjoyed the education side of things and helping other entrepreneurs. After some soul searching, he decided it would be a really cool thing to start something new.
That new thing is Uguru. Because of the boot-camp program with Uguru, he has helped other businesses make over $9 million in revenue. And, Brent has a thank you folder on his computer with over a thousand messages from agency owners and freelancers telling him how their lives have changed due to his program.
"To empower digital agency owners to achieve freedom in their business and lives, that gets me up in the morning. That became my purpose. I wanted to go all in. I had to go all in."
Resources mentioned:
Request Your Copy of the Ugurus Web Design Sales Kit
Find Brent online:
Ugurus.com
---