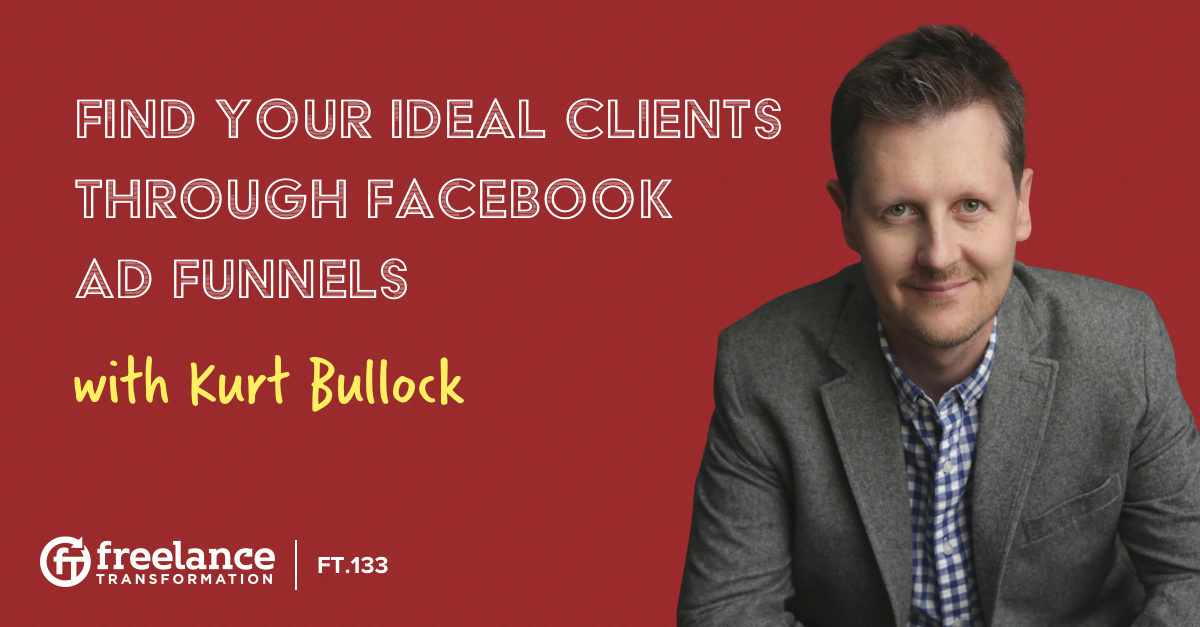 FT 133: Find Your Ideal Clients Through Facebook Ad Funnels with Kurt Bullock
We've got another Shopify expert on today's episode of The Freelance Transformation Podcast. Kurt Bullock is the founder of The Produce Department where he helps Shopify store owners develop their technical marketing and sales skills. He used to be a record producer for MTV, so how did he get involved with Shopify?
Freelance careers can take you on all sorts of professional adventures, but Kurt found his niche in marketing. Kurt talks about developing the skills to create perfect marketing funnels and how you can make Facebook's algorithms work for you. Tune in now and hear how you can build your own customer funnels and transform your freelance career for good!
Listen now:
Listen on iTunes Listen on Stitcher
Podcast RSS Feed | Download MP3
Kurt shares with us:
I couldn't be where I am now without having gone through all those different steps in this process.
Taking the Right Steps
The trick to a successful freelance career is knowing your strengths. It may take you awhile to discover what you're good at, but you'll never find out if you don't try. Kurt's freelance career started in record producing, went into small business marketing, and exploded on Shopify all because Kurt knew how to play to his strengths.
Really, I was figuring out what I could do well and learning about myself as an entrepreneur.
Kurt had experience in marketing, but he wanted to find a niche that allowed him to really indulge his love of technology and software. The opportunity presented itself when his brother needed to translate his wholesale business and make it more e-commerce-friendly. He turned his family needs into an opportunity to set people up for success with various e-commerce packages, and everything started to snowball from there.

I followed my interests along the way.
But where do you go once you've found your niche? How do you tap into that potential pool of clients? Kurt says your best bet is creating a client funnel.
Understanding the Client Funnel
A funnel-based approached to marketing and advertising uses content to raise awareness and encourage consumers to move through a process that eventually leads them to do business with you. Kurt gives us a step-by-step process of one of his specific funnel campaigns in order to help us understand what really goes into a practice like this.
Interest-based targeting is a good way to start out and it's also a good way to scale later on.
First, you want to engage your clients with useful content. Don't just create ads. Create blogs or posts that really speak to what your customers need. Then give them something of value, what Kurt calls a lead magnet, and make sure they have to give you an email address to access it. Once you have their email, you can communicate easily and continue to share content that's important to them in order to encourage more and more interactions. Because the more times your clients interact with your funnel, the more likely they are to ultimately contact you directly and start doing some business.
De-Mystifying Facebook Funnels
The biggest funnel we talk about on today's episode is the Facebook Funnel. You can make Facebook's algorithms work for you by following Kurt's advice. The tips and tools he gives away on this episode are extremely valuable for those of us looking to build a broader audience.

Facebook is much better at finding these people than I am.
Facebook uses a specific type of interest-based targeting that can give you access to your niche. In Kurt's case, his niche is Shopify owners. He does his research and looks into what kind of apps, tools, and plug-ins store owners are using, and then he uses Facebook to help him target people looking at those specific interests. The funnel starts as Facebook directs interested users to Kurt's page. From there, they engage with his posts, click links that bring them to his website, and ultimately get on the phone with him for a strategy call. But while Facebook does all the math, you're the one responsible for catching your client's attention.
What Content is Likely to Work?
I try to think of it as going one or two levels deep when I do this targeting.
Half of the battle of a freelance entrepreneur is finding out what content works and what doesn't. If you can give Facebook the right information, they are going to give you the numbers. But Facebook can't create the content for you. In order to create effective lead magnets, you need to offer your clients something they can actually use. Do your research and find problems that your niche is facing. When you know what your customer needs you can give them exactly what they want.
Providing value is what I want that first piece of content to do.
Giving your clients this kind of value up-front establishes you as a trustworthy and reliable source. They will be more likely to go through your entire funnel campaign when they know the information and/or products you're providing are actually useful.
Kurt has a few tricks for creating useful content and advertising it correctly. If you already have blogs and posts waiting in the queue, all you need is to add some images and tweak the headlines. You want something that's valuable but you also want it to pop. Stand out from the crowd by providing useful content that's unique to you and your style of business.
Resources mentioned:

Find Kurt Bullock online:

Start your own client funnel with Kurt here!
---