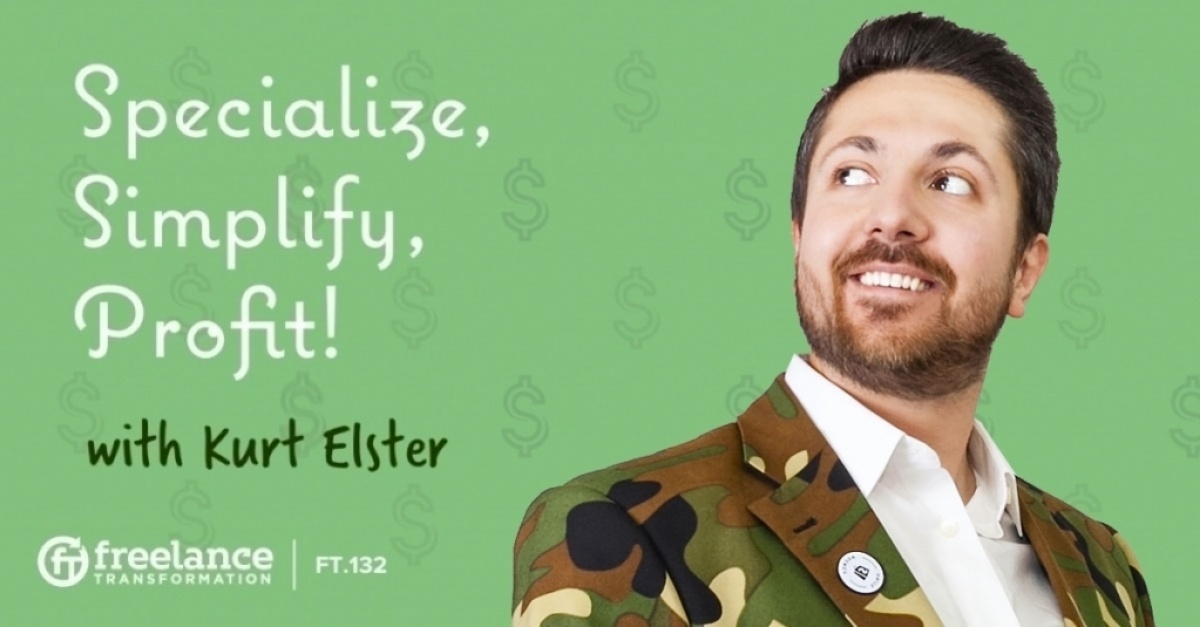 FT 132: Specialize, Simplify, Profit! with Kurt Elster
Kurt Elster appeared on the show two years ago when it was just getting started. In Episode 8, Kurt shared how he was building a business as an e-commerce developer on Shopify. Now, two years later, Kurt is known as the "Shopify guy". He's tapped into a niche, and content marketing, in such a way that his business has vaulted to the next level, and Kurt has since worked with big-name clients like Penn & Teller and Jay Leno.
Listen now:
Listen on iTunes Listen on Stitcher
Podcast RSS Feed | Download MP3
Kurt shares with us:
As is so often true, success and profit come from simplifying down and doing a few things really well, rather than trying to do everything for everyone. On today's episode, Kurt is going to update us on how you can specialize in a niche to find the right kind of clients that will help you build your brand and your business.
Kurt is the "Shopify Guy"
Shopify projects make us happy, other projects make us want to tear our hair out, why am I doing anything other than Shopify?
Kurt's entire brand is built around developing and perfecting Shopify platforms. If you don't already know, Shopify is an online site that gives people the opportunity to create websites and sell their products online. But just because a website gives you templates and a model doesn't mean you automatically know how to use it. And that's where Kurt comes in.
If you visit Kurt's site – Ethercycle – you'll dive face first into his business model. He offers tools and apps, or you can work with him directly to develop your site or even market one specific product. It's Kurt's niche connection to Shopify that makes him such a freelance success story, but it wasn't always this way. It took a few failed attempts until Kurt realized what he really wanted to do. He bounced around the e-commerce world for a little at first. Website development for local businesses introduced him to Shopify, but finally deciding to go all in with this unique niche was the hardest and most successful business decision Kurt ever made.
I am not afraid to admit it. You definitely have to embrace that experimented fail forward idea.
Going All In
When you decide to go all in with a niche, it's kind of intimidating. You may think you need to cast a wide net and get as many clients as you can, but Kurt says that's counter-productive. When you can do everything, no one is going to remember you. But if you do one thing really, really well, it's going to stick out in people's minds. For example, Kurt specifically does Shopify development so people can recognize him as a Shopify expert.
You need to give [your clients] a clear picture of someone you want to help…so now if they ever see that it will 'click' and they will be like 'oh yeah, I can refer them to Kurt!'
When you're in a niche market, you are at the top of someone's list. You're right in the front of the minds of the very people you want to work with. Because you specialize in this one thing, it's much easier to establish yourself as an authority figure in your niche.
Translating a Niche into Clients
Unfortunately, finding the perfect niche does not automatically generate clients for you. For Kurt, finding his niche meant perfecting his content marketing and really relying on his skills to get him referrals. Kurt is so good at Shopify development that he was able to get referrals within 60 days, but building a pipeline is much harder than that. Kurt discusses how he uses podcasts to combine his content marketing and outreach into one successful campaign.
Content marketing is definitely a longer-term play…and the trick with content marketing is consistency.
When you decide to specialize in a niche, you have to have the patience to play the long game. The positive side of this is the amount of personality and connection you can develop with your clients during this marketing campaign. Kurt's technique for guesting on podcasts and eventually hosting his own podcast created a personal connection between him and his audience. Beyond advertising and establishing yourself as an authority, Kurt says that guesting on podcasts will encourage people to work with you because they'll feel as if they already know you. As potential clients engage with you on Facebook or listen to you on a podcast, they're building a relationship with you that will pay off in the long run.
But don't stop there! The most exciting part about specializing in a niche market is your ability to stay on top of trends and changes. Because you're focusing on a smaller, more unique market, you have the chance to really stay on top of how that market is evolving. Kurt does advise that the market will change faster than you think, but as long as you stay on top of it, you really have nothing to lose.
Even if you think you've mastered everything, things are gonna change, it's gonna keep going.
It's easy to be the master of a niche once you've figured out your content marketing and outreach campaigns. You can stay on top of evolving trends and make sure your clients stay connected to the most up-to-date tech and tools you can offer. If you can drop your fears aside and take the leap into a niche market, Kurt's advice today will really springboard your business to the next level.
Resources mentioned:
Find Kurt Elster online:

---