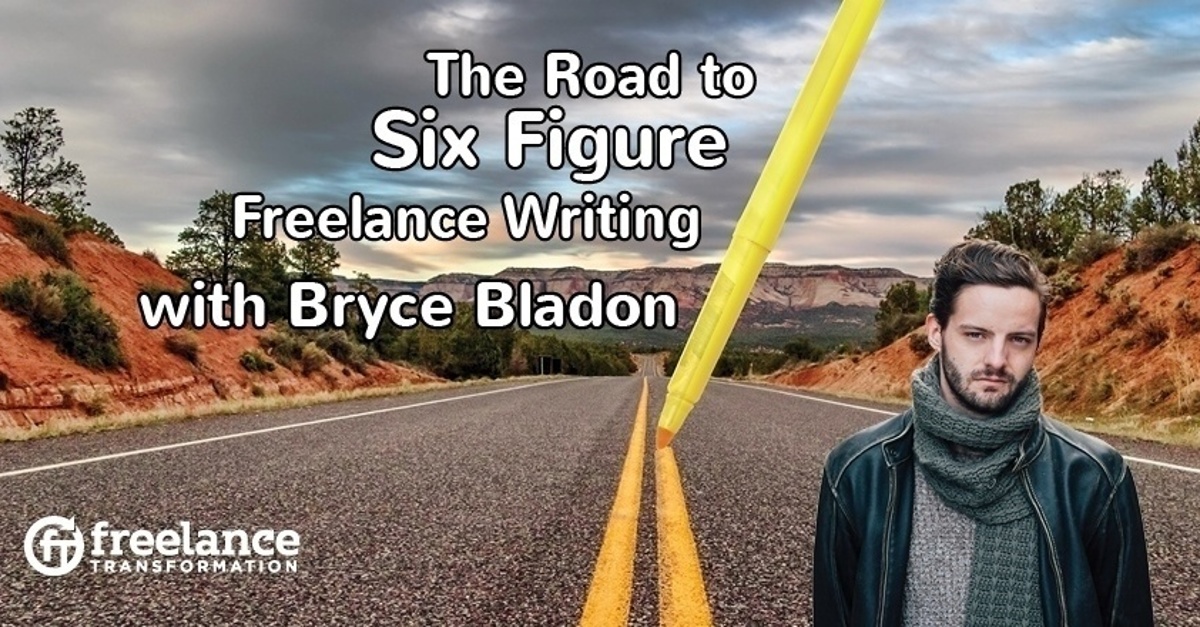 FT 059: The Road to Six Figure Freelance Writing with Bryce Bladon
Bryce Bladon, author of Hell to Pay, loves to write and makes his living writing. When he saw that the national average income for freelance writers was only $22,000, he knew that he had to do something different. Bryce discovered that he was most successful when he niched down and started charging what he was worth rather than selling himself as a commodity.
Bryce shares today how he built up his consulting and writing services over the past seven years to now earn six figures a year and gives advice how any freelancer in the creative fields can do so too. He gives advice on how you can niche down and specific examples of niches in writing and also explains how to get away from hourly pricing and start charging based on value.
Listen now:
Listen on iTunes Listen on Stitcher
Podcast RSS Feed | Download MP3
Bryce shares with us:
Why the average yearly salary for freelance writers is hovering around the poverty line: Freelance writers often, to their own detriment, sell x amount of words for some fixed rate. Then they try to compete with other writers by charging a lower rate than the competition. They are treating themselves as commodities. It's a fool's errand. Stop it! You have expertise and talent which can make the client more money than just writing by word-count. This goes for any creative freelancer. To get out of commodity based offering, try specializing.
How to sell a niche: When you specialize in one thing, you can start anticipating the needs of your client and address issues long before they become problems for your clients. You appeal to one type of client, and the potential clients who don't fit in your niche will disqualify themselves. That way you only work with the clients you want and become even more efficient in helping those clients in your niche.

When you put together a portfolio, present only projects in your niche and focus on the outcome: explain what you did, how it translated into real-world success for your client, what the success looked like in efficiency or profits, and how the product met and exceeded the client's needs.
When you meet a potential client, listen to them! Don't talk about what you do. Instead, ask questions: What's going great for them? What makes their company so great? What do they specialize in? What are they passionate about? Then talk about their challenges and think of ways you might be able to help them.
Remember: Clients aren't stupid. They hire you because they don't know how to do something, and until you show them how, they may never know what to do. You are their expert and, in a niche, you have probably seen similar problems before so you can tell them what to do.

How to charge for work: Calculate how much you need to live, then charge clients based on the value you offer them.


It's a pretty simple, back-of-the-napkin calculation: If you want to earn x this year because you spend y per month, you need to make z per hour. Tip: You should roughly expect to spend about 20 hrs per week on billable work and the other 20 hrs per week on business upkeep and looking for clients.

The hard part is determining the value-based price. Here's the definition of value-based pricing: setting prices based on perceived estimated or assumed value of your product or service, not the historical or technical costs. Did that help? Thankfully, Bryce also has a worksheet to help you figure out the price to charge in his book Hell to Pay. Value-based pricing is about positioning yourself as an investment for your client. The basic idea is to break down the client's problem. Figure out how painful the problem is for your client and how much money the client can make or save if their problem is solved. That's why it is so important to talk to the client. The more the clients share with you, the better you will get at pricing. And the amount you charge is going to constantly change as you increase your worth to the clients!
Resources Mentioned:
Find Bryce Online:
---