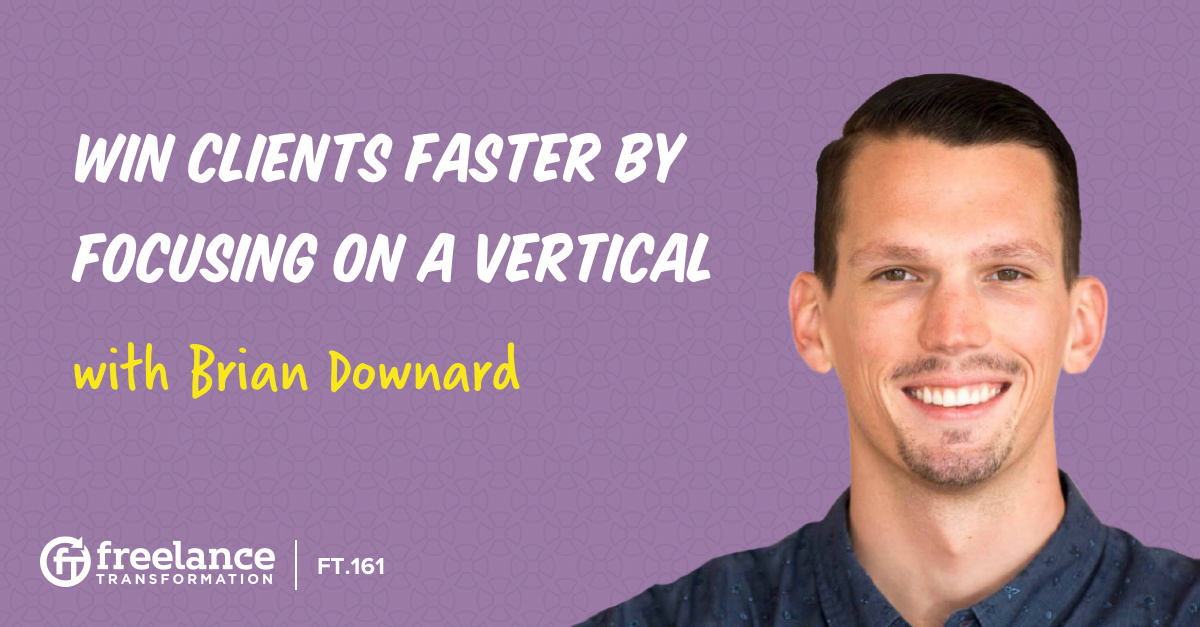 FT 161: Win Clients Faster By Focusing on a Vertical with Brian Downard
Brian Downard wasn't always serving one kind of client. He started in app development, but he found his calling in lead generation for home and garden businesses. Serving one vertical like this is even more specific than finding a niche. Brian talks about what inspired him to focus on this particular vertical and the mistakes and the successes that he's made that ultimately shaped his business and his brand.
Listen now:
Listen on iTunes Listen on Stitcher
Podcast RSS Feed | Download MP3
Brian shares with us:
The Economics of Home & Garden
Brian aims to serve the underserved. He was initially attracted to the home and garden sector because it's one that doesn't come up on many people's radar. Brian works mostly in online lead generation and reputation management, and he saw this specific niche as one that needed his skillset the most.
It's not something I just decided I wanted to do, it's where I found my opportunities.
Seizing opportunity is what being a freelancer is all about. Brian knows that home and garden purchases are often the third largest investment people will make, and having the freedom to choose his own clients gave Brian access to this very lucrative market. What he didn't plan for, though, was the role the seasons would play in his business.
It's definitely not just a matter of capitalizing on the busy times of the year but finding ways to keep clients happy during the off-season.
Because his particular vertical is seasonal, Brian had to think on his feet and adjust his business model in order to meet the needs of his clients in a way that protected his own bottom-line. He shares some of the ways he evolved his business model in order to attract other potential clients in this vertical.
Brian's Sales Approach
Brian puts a lot of work in up-front to find his clients. It's not as hard as you think. He talks about how he spends no more than 30 minutes a day mining data and building a list of potential clients through social media and referrals. He advises that it's much easier to tackle it one piece at a time rather than trying to bite off more than you can chew. His biggest piece of advice is to talk to clients instead of just pitching to them.
It's the realization that you don't go into a sales meeting or phone call wanting to pitch the person what you think they need…if you flip that around and say 'tell me what you want help with and I'll see if I can provide that service', it's going to be a lot easier to close the deal.
Brian's cold outreach tactics aren't so cold when you realize he always tries to find something in common with the people he wants to work with. He calls this his "common denominator". He uses it has a conversation starter. Whether it's name-dropping a person you're both familiar with or talking about sales problems that plague all entrepreneurs, finding something in common with your clients is the fastest and easiest way to seal the deal and build a sales relationship.
The most successful part of Brian's sales approach is his use of case studies. Brian defines case studies as the work he's done for previous clients, and he uses these success stories to showcase the quality of his work. The case studies give potential clients the hard data they are looking for. Conversion rates, sales numbers, and positive referrals will all work in your favor.
Work for free or for a discounted rate until you get a result. Because once you get a result you can sell that a million times over. My case study on this client was the reason I was able to close so many new businesses.
You can use case studies to do what Brian calls "pre-framing". This will set you up as an expert in the eyes of your potential clients. Instead of simply selling your skills, show clients what you're capable of by giving them examples of your work. Clients are more likely to hire you if they can see in real time what kind of value your skills will bring to their business.
Vetting for Clients
The trickiest part about focusing on only one vertical is how to lock in the right clients. When you're limiting yourself to one niche, you have to make sure you're picking clients who will actually benefit from your services. Brian shares his experiences and the mistakes he made when working with the wrong kind of person.
You have to pick the people you want to work with because you want them to be successful. They're going to be your case study…If you pick the wrong person and can't get them a result, they're going to ultimately blame you.
The biggest piece of advice Brian gives for vetting is to look for people you want to succeed. Setting them up for success is at the core of his business model, and he doesn't want to work with people he can't help. If you can deliver exactly what your client needs, then you're more likely to have a long-term and successful sales relationship.
Vetting works the same when you're hiring your own team. Brian isn't too keen on building an agency. Instead, he wants to help other solo-preneurs build a team. He uses his experience vetting the wrong kinds of clients and employees to help other freelancers avoid the mistakes he made. Hoping for the best and planning for the worst has helped Brian create a successful business, and his advice today will only benefit you as well.
Resources mentioned:
Find Brian Downard online:
---