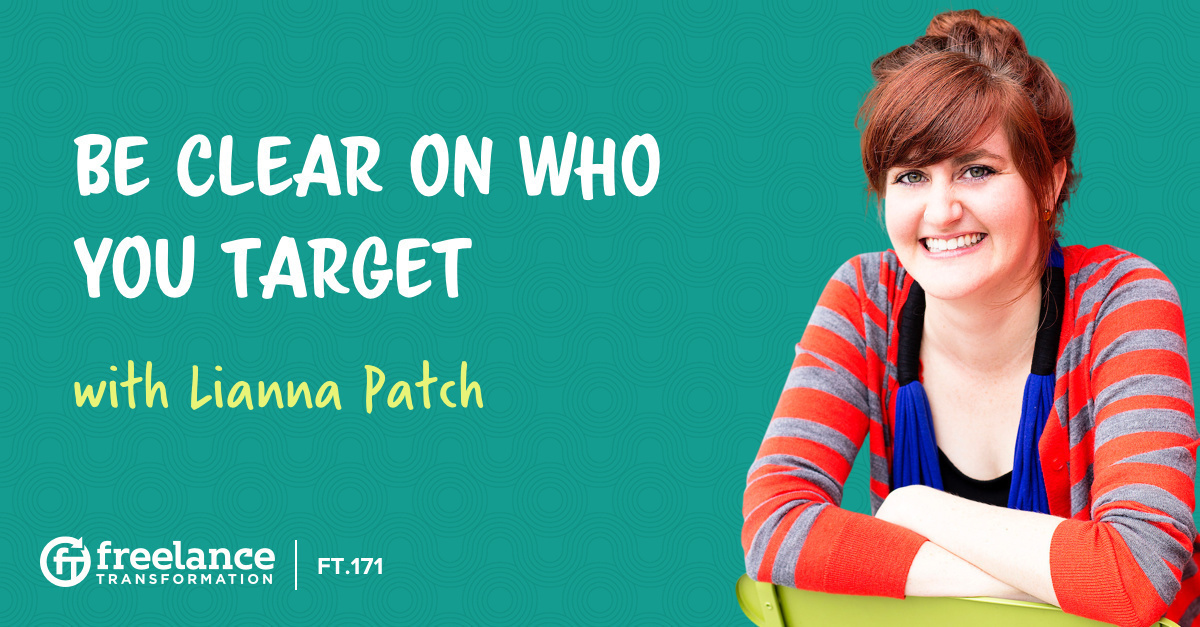 FT 171: Be Clear on Who You Target with Lianna Patch
Lianna Patch is a conversion copywriter and conference speaker who uses her amazing sense of humor to create interactive content for her clients. She's injecting personality into her business and working with clients she genuinely likes. Her advice today will loosen you up and help you build the client list you actually want to work with.
Listen now:
Listen on iTunes Listen on Stitcher
Podcast RSS Feed | Download MP3
Lianna shares with us:
Start imagining your ideal client. Get as specific as you can. Pick out the things you love most about your freelance career…
Bring on the Funny
After nearly a decade of copywriting, Lianna decided that her writing needed a little more humor. Comedy was always a passion. Improv classes broke her out of her shell, and weeks of comedy classes inspired her to study the psychology of humor.
Humor makes people like you more. That's a universally accepted fact. If you can put someone at ease by making them laugh, then you can more easily form a relationship.
Lianna wanted to bring want she knew about comedy and humor to her writing process. She knew that writing funny copy would attract clients to her page and wanted to test the theory. This is your luxury as a freelancer. You call the shots, and you don't have to sound so professional if you don't want to. That's exactly why Lianna lightened her approach to customer interaction.
Having a sense of humor in your work will make you more approachable to clients. You'll come off as genuine and sincere, especially online. A funny bone makes you memorable, and you'll stand out from the rest if you can make them laugh. But how do you use humor effectively in your freelance business?
Using humor in your business isn't easy, but it's a healthy challenge if you're up for it. If you can make it "fun and weird," as Lianna says, you will forever change the way you interact with your clients. She shares her tips for using humor and how she writes it into her copy.
I don't want people to read an article I've written and be like 'cool, alright, on to the next thing.' I want them to read it and say 'oh, I'm going to do this!'
Being inspirational is one way to use humor in your copy. Light-hearted jokes about where your client's business could be will catch their attention. Inside jokes are even better. Cracking a joke will inspire more of a connection to your business, and clients will more likely to stick with you.
The How, Where and Why
The trick with humor is being strategic. You want to get a sense of how your sense of humor comes across to others. This takes practice. Lianna recommends pitching guest posts if you're a writer, and if you're a consultant, small workshops are a great way to cut your teeth.
Get a sense of how you come across to other people, because you might find that you actually talk a little bit too fast for people to understand.
Starting small is the biggest piece of advice Lianna offers today. Being funny is hard enough, so stick to your strengths and take baby steps. Tools like Facebook Live are an easy way to test an audience or a joke. Look around for local opportunities to host workshops or speak at small events, and don't be afraid to offer advice on message boards or Facebook groups.
If it's in your wheelhouse, Lianna recommends using video to connect with your clients. Your customers want to see you and this gives them a way to interact that's more engaging than a block of text on a page. Even more, you can watch the video back and check out how you look to others. It's a great way to learn your own body language and change it in order to better engage your clients.
Being Funny for a Fee
It is one thing to be funny, but it's another to put a price tag on your sense of humor. Working with your ideal client doesn't always make it easier to set rates, and I ask Lianna how she designs and structures her rates. Different clients require different projects, and Lianna offers a range of services to attract certain kinds of clients.
Lianna's funnel starts with an intake form that can either lead to custom projects or productized services. Offering two unique kinds of services gives you access to more clients. Your ideal client is out there, but they may not be ready for a campaign proposal. Instead, you can attract them with one product, like a landing page, in order to get the conversation started.
I don't work for you as your employee, I work with you as your partner to write great copy for your business.
Picking out the ideal client from her funnel comes with its own technique. Lianna knows how to use an intake form and she shares her techniques for picking out the ideal client. Her prices often bring out the best (or worst) in her potential clients, and the intake form is there to point out any red flags.
Your prices should reflect the fact that you are only willing to work with people who value your time and your expertise. When you're being funny, you don't have time to work with a rude client. Having a sense of humor will keep those kinds of clients out of your funnel and get you having fun with your business again.
Resources mentioned:
Find Lianna Patch online:
---