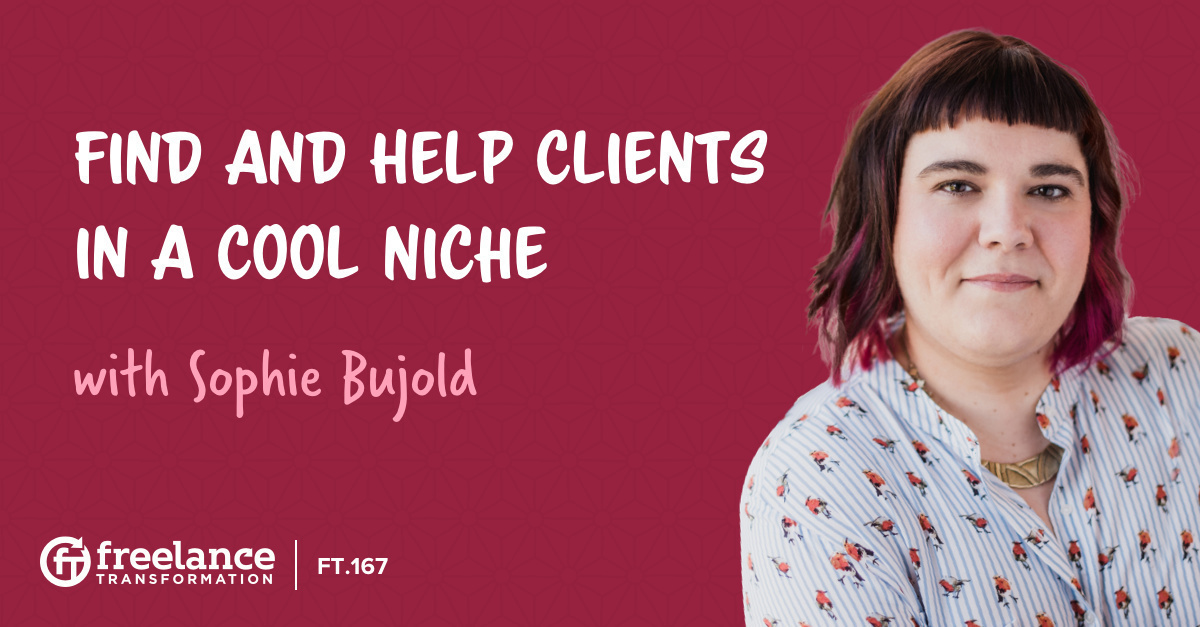 FT 167: Find and Help Clients in a Cool Niche with Sophie Bujold
Sophie Bujold is the creator of Cliqueworthy, an agency that connects clients with their ideal online communities. Sometimes her clients are starting from scratch, but most of the time these clients already have a community; they just don't know what to do with it. You can use your online community to carry your message and build your brand. Sophie shares some tips on this episode to help us find clients and build relationships online that are both sincere and successful.
Listen now:
Listen on iTunes Listen on Stitcher
Podcast RSS Feed | Download MP3
Sophie shares with us:
In order to be a successful freelancer, you have to create that human experience. Connecting with clients online can make that kind of experience really difficult, but it's not impossible. Our guest today specializes in building connections with clients by creating online communities.
Creating a Human Experience
It can be difficult creating a human experience through the computer screen. But if you want to find and empower clients with the work that you do, going online is the easiest way to do that. You can easily build a human connection by creating an online community.
Your message and the reason why you're in business can amplify so much more when there are people who believe in it as well and carry it forward, and that's what the community can do for the business.
As one person, you are limited in the amount of time and resources you can dedicate to your brand. Communities exist to share information and start conversations. Having a community can help you deliver your message and connect with clients. If you can create a space on the internet like that for your clients, it will give you that intimacy you need to create a sincere human experience. You can help others benefit from your mission by giving it to a community to share across the web.
Building a Community Online
Big change happens when communities come together. Finding out what your community needs in order to make that change happen is exactly what Sophie does with her business. She looks at freelancers and their agencies and helps them uncover what their unique communities are looking for.
The solution looks very different, but the problems are always fairly similar in terms of there being an imbalance between the expectation and the experience.
In order to break out of the norm, Sophie asks us to consider what emotions we want to invoke in our customer. What is your customer expecting? How should your customer feel? And, just as importantly, what do you need this community for?
Online communities act as a delivery service. They deliver your message and your mission across the web, but they also act as a direct or indirect revenue stream for your business. Finding the balance between the emotional and fiscal responsibility of your community is key to your success.
The process is not just us creating or analyzing in a bubble. It's also understanding their reality and their needs, and coming up with a solution that works for both ends of the deal.
Sophie works with her clients on an individual basis to create solutions that are unique to them. "It's a very custom experience," she says, and it is this kind of customization that allows her to build a trusting relationship with her clients. They work together to identify problems and propose solutions that will inspire these online communities to go above and beyond for her clients.
Finding Clients for the Community
A big piece of today's episode is how Sophie finds these clients. Building communities is very niche and makes it hard to find clients. Sophie does a lot of her networking online, and that comes with its own share of problems.
The challenge we also have is that the clients we're targeting don't tend to hang out in groups online.
Sophie's approach to this problem is a creative one. She takes the time to research various groups online before engaging with them, and she has joined a couple mastermind groups that put her in contact with other freelancers and agencies who may need her expertise. But most importantly, Sophie never approaches these connections with a sales pitch.
I never approach someone from the get-go with 'how can they help me?.' It's how I can help them and how can we create something great together.
Sophie uses what she calls "virtual coffee dates" to meet people and establish rapport. Her motivation is simply getting to know them, so these video calls are casual and over a cup of coffee. Because her process is so collaborative, it's important to know if she can work together with these people before she ever makes a proposal.
They need an opportunity to sit with us and ask questions and see if we even have the same business philosophies… just having that space to have a conversation and a build up a little more trust.
Personal connections never go out of style. Creating a relationship is not the fastest solution but it is the best way to sincerely build your business. A simple gesture – like a coffee date – that shows you genuinely care can go a long way in finding and keeping clients. So follow Sophie's advice and never make a sales pitch on the first call. Take the time to build a real community of connection, and see where it can take your business.
Resources mentioned:
Find Sophie Bujold online:
---