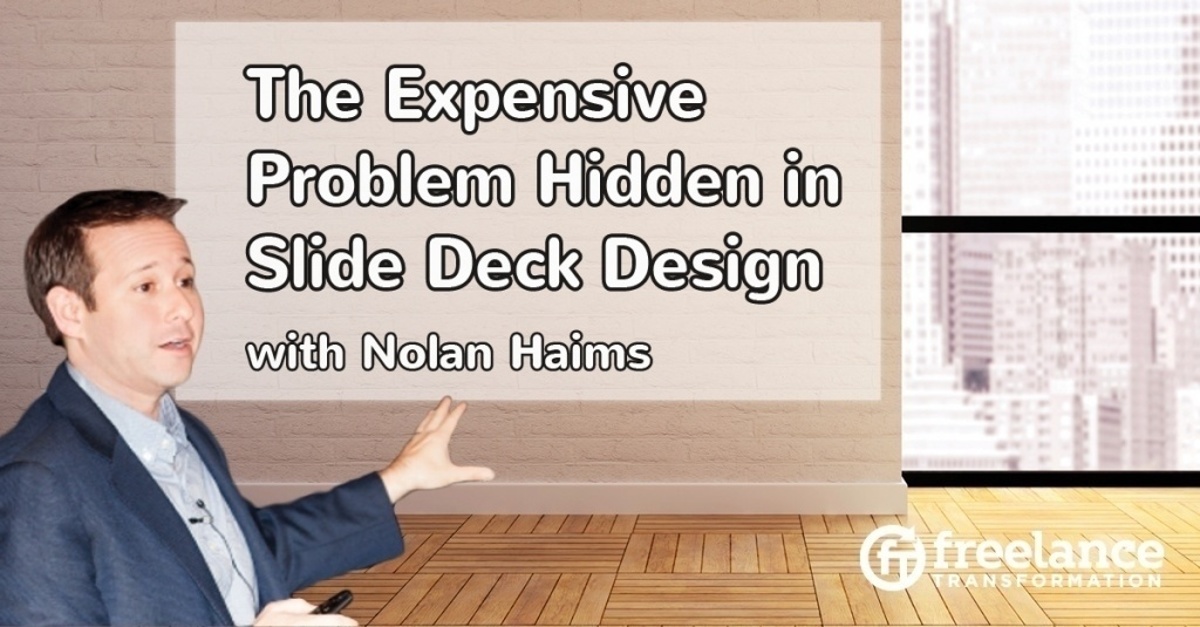 FT 068: The Expensive Problem Hidden in Slide Deck Design with Nolan Haims
Today's guest has found a very interesting niche by solving a very expensive problem:
Companies are constantly presenting important information as part of pitches to potential clients, investors, and more. But is that information being conveyed correctly and impactfully?
Nolan Haims is in the business of visual communications: he helps people communicate with fewer words. What that often means in practice is creating very effective presentation decks in PowerPoint, Prezi, and other presentation tools, or training his client's employees to do the same. But it's not just about making the slides pretty, it is about designing the content to tell a story, which is why this is not so much about technical work, but about consulting.
Listen now:
Listen on iTunes Listen on Stitcher
Podcast RSS Feed | Download MP3
Nolan shares with us:
What is the most important thing in sales? The presentation. Of course content is important, but distinguishing yourself and making your ideas clear is what gets you the sale.
Ultimately, Nolan is solving a communications problem for clients.
Nolan's background is theatre. He knows how to tell a story and move an audience. That's what he did as a street magician and as a theatre director, and now, as a visual communications specialist. He built a boutique visual communications firm outside New York to help people communicate with fewer words. His firm works on presentations for clients and trains clients to become better presenters, from improving public speaking skills to creating more effective data visualizations.
Nolan tries to get the best results for his clients, which means that he approaches each project as a partnership with his client. He won't just take orders from a client. Nolan looks at the content and finds the right approach to tell the client's story. When a client comes to him, Nolan asks the fundamental questions of storytelling: What are you trying to get across? How much time do you have? Who's your audience? What do you want them to walk away with?
Before starting the firm, Nolan followed the freelancer's path. He was working for a large PR agency and founded the presentation and visual communications department. On weekends and after work, he freelanced for non-profit foundations, helping them make presentations for boards, granting agencies, and stakeholders.
When he finally decided to quit his job at the agency and freelance full time, he didn't need to do any outreach because he had already built up a list of clients. In fact, he has never needed to do active outreach because he gets new clients through referrals.
Qualifying the client:
The first thing he does when he gets a potential client is ask them about their needs. It is important to him that they value presentations. For instance, if the client wants a presentation in three days, Nolan won't take the project.
The next big hurtle is the price. Nolan likes to say "I am expensive, probably the most expensive, but reassuringly expensive." Reassuringly expensive. Great phrase. By that, Nolan means that he gives his clients quality and they get what they pay for.
Working with large companies:
Nolan works with large companies, which often have specific challenges, such as getting paid. The people who Nolan works with on presentations are not the ones who handle the money directly, that's accounts payable. You need to make sure you are set up right away and ask for 50% upfront. Otherwise, the project will be over and you don't hold any cards. There is less incentive for them to figure out payment for you.
In large companies, the person hiring isn't necessarily the decision maker. This can be a catastrophe, especially for something like presentations when everyone has their own opinion on how to present. Nolan tries to always meet with the decision maker, often the presenter.
However, sometimes that doesn't happen and Nolan has made concessions such as a contract that allows three rounds of editing and then final approval by the true decision maker, but it costs more. Nolan always tries to find a way to make it work rather than turning down the project. And most often, the decision maker gets involved anyways because they are spending so much money on this.
Training:
When Nolan isn't building presentations with his firm, he is training employees on how to make better presentations. Nolan often gives free webinars and videos on presenting and he speaks at industry conferences, such as the Presentation Summit, and conferences targeting his ideal clients, such as communication conferences for communication departments.
Nolan gives a lot of his advice out for free in blogs, podcasts, and webinars. And if he gets one day of training, it pays for all the conferences and content marketing. That way, he doesn't have to go out and find clients. Clients come to him because they have seen him speak.
But why did Nolan leave the department that he headed in an agency to start his own firm?
Flexibility. Nolan loves that he can work from home and set his own schedule. He works whenever he wants, which means he can also go for a bike ride in the middle of the day or take a day off if a friend is visiting from out of town. Sometimes he has to hustle and work a weekend long into the night, but he then makes it up by taking time off in the middle of the week.
He can also take vacations whenever and for however long he wants. That's because he isn't a slave to his clients. He has a team who can step in and manage a client if Nolan takes off for a bit. As the owner of the firm, Nolan also gets a variety of work everyday so he never gets bored. Running his own firm is a lifestyle choice that lets him have a work-life balance that is hard to get in a 9-5.
Nolan's top three presentation tips:
Reduce content

Communicate with imagery as much as possible

Golden Rule of Presentation: Present unto others only as you would have presented to you
Find Nolan Online:
---